The option to work from home is a great benefit all by itself, but some companies make it even better.  Here are several work from home companies that provide equipment, and most of them give you a computer!
Most jobs listed are customer service phone jobs. Some are location specific. If any position requires residency in just one or two areas, I've indicated that on the list.  The others hire in several states.
There's no guarantee that positions are available now. Review each career site often to check their openings. I've given you the job title or general career area for positions that I know provide equipment.
If you'd like some pointers about searching company career sites, here's a post to help you find work from home jobs with ease.
And one more thing:
In addition to home based jobs, a computer and/or other equipment, most of these companies offer full benefits, employee discounts, and other perks.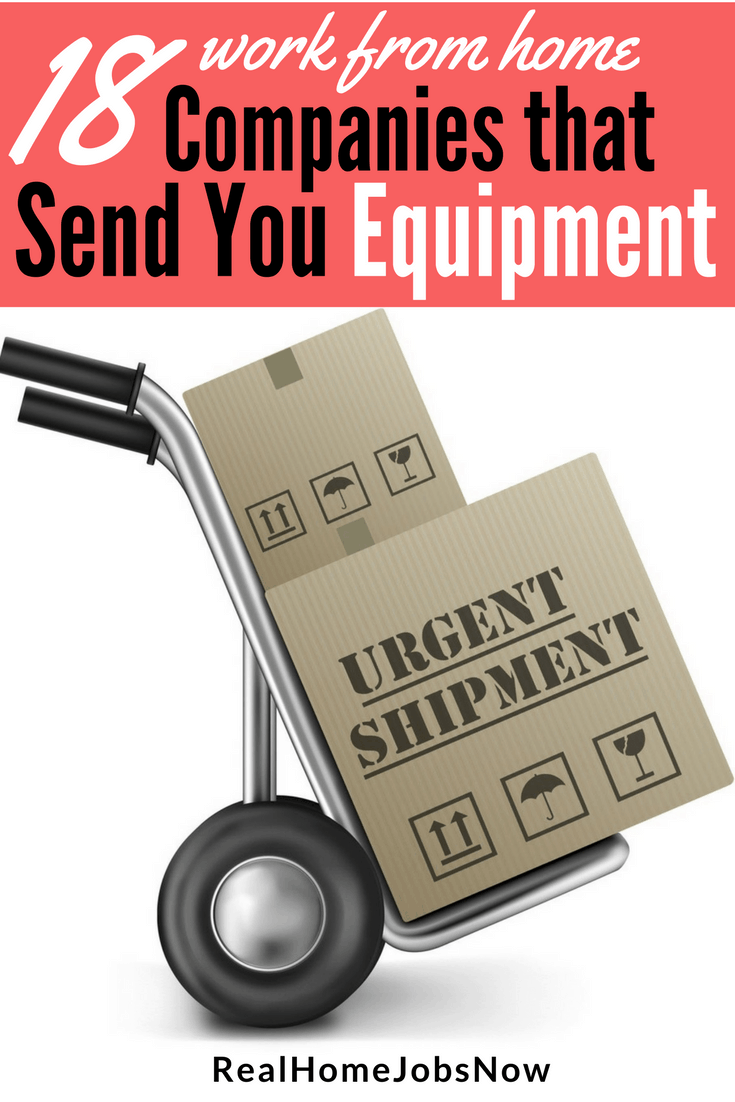 Work From Home Companies That Provide Equipment
#1  A Place For Mom
Senior Living Advisor
You will be provided with a laptop.
#2  ABC Financial   read review
Call Center Representative
ABC Financial provides all equipment.
#3  American Express
Travel careers
Depending on the position, American Express will install your internet and landline service, or provide equipment.
#4  Apple
At Home Advisor
Apple provides an iMac and a headset.
#5  Blackboard
Operations Advisor
This position may not be available frequently.  Operations Advisors are provided with a Chrome Box device, monitor, keyboard, and mouse.  Since they send a company to install the equipment for you, this position is location specific.  It has been posted for Killeen, TX, but it might be available elsewhere as well. 
#6  Buffer
Various roles
Buffer gives you a MacBook, and possibly other equipment.
#7  Care.com
Part-Time Backup Care Specialist 
I've only seen this particular work from home job offered to California residents.  Care.com provides a laptop and phone for this position. They also offer at least one other home-based job, but candidates must be near the Waltham, MA area for onsite training, and there is no indication of equipment provided.
#8  Enterprise Holdings
Customer Service and Sales
Enterprise provides you with a VOIP phone that you'll receive in the latter part of your training class.
#9  Synchrony Financial 
Part-Time Client Services Representative  (Phoenix, AZ area)
A computer will be provided to you.
#10 Lands' End 
Customer Care  (Madison, WI)
You provide high speed internet and a monitor. Lands' End provides a computer, required software, and phone set.
#11 Navis
Reservations Sales Associate  (Orlando, FL area)
All necessary equipment is provided for this position.  
#12 Nordstrom
Member Care Representative
You must have two monitors (I think these must be at least 19″), keyboard, and mouse. Nordstrom provides the computer (CPU).
#13 SEI
Tech Support
You provide high-speed internet, SEI provides the computer and other equipment.
#14 Shyp
Customer Experience Representative
According to Shyp, they provide a laptop, display, keyboard, mouse, and headset for this position.  
#15 Sitel   read review
Customer Service and Support Agents
Sitel provides everything except high-speed internet and a monitor.  Your monitor must be 19″.
#16 Vail Resorts (Denver area, CO or Salt Lake City area, UT)
Virtual Sales Agent
You provide high speed internet and landline phone service, Vail provides everything else.
#17 World Travel Holdings
Customer Care Representative
Provides you a computer, monitor, keyboard, mouse, phone, and headset for a refundable $500 deposit deducted over five pay checks.
#18 Zapier
Customer Champion, Marketing Specialist
Zapier provides a laptop and any necessary software.
Do you know of any other work from home companies that provide equipment?
Please share this post with your friends and family!