Many people are skeptical about working from home because they don't think they can do better than a few dollars per hour. Or they don't think that hourly pay exists at all.  But not only can you make hourly pay, there are work from home jobs paying $10 per hour or more!
Most of the positions are call center jobs, but I've included some non-phone options as well that pay starting at $11 per hour.
Related – Work From Home Jobs Paying $15 Per Hour or More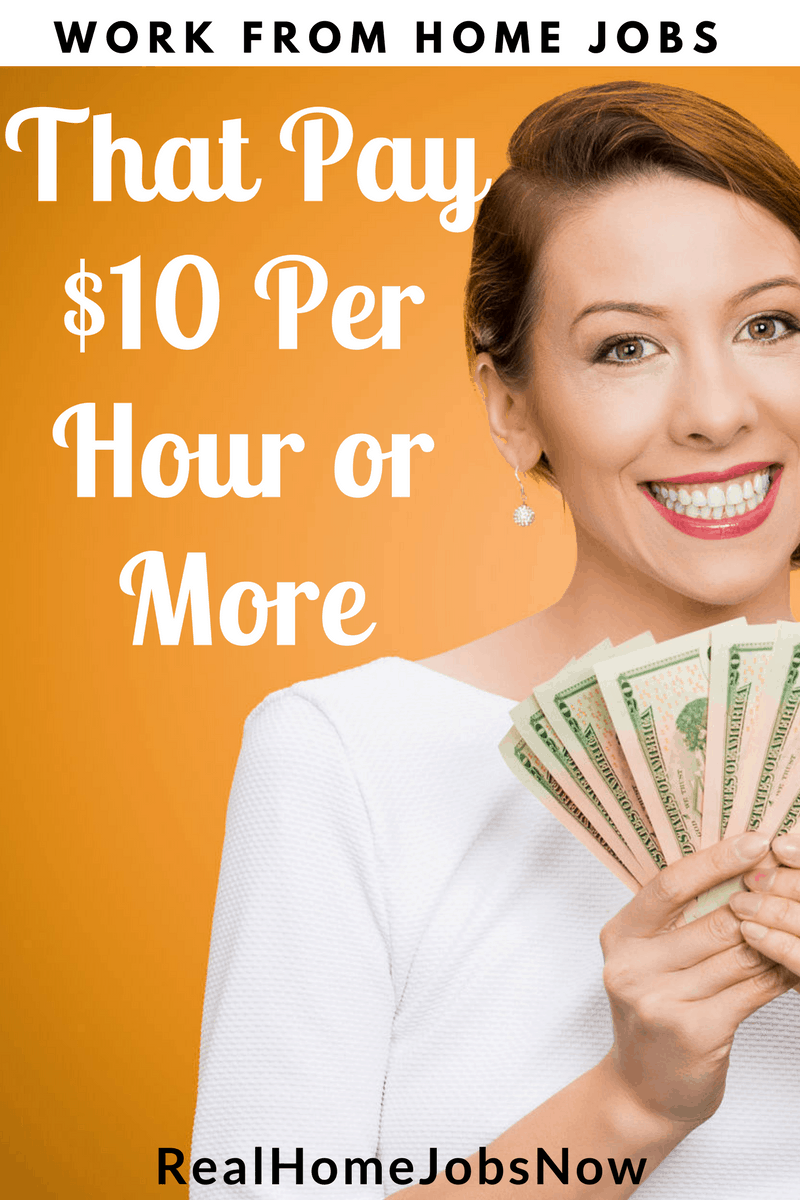 Work From Home Jobs Paying $10 Per Hour or More
Hilton
Hilton has customer care roles, including Customer Care Coordinator and Guest Experience Specialist that start at a base pay of around $11 per hour. Many work from home jobs with Hilton require residency in Texas, but they recently posted a position hiring in 30 states.
Enterprise Holdings
Enterprise hires Work From Home Customer Service Reps, Reservation Sales Reps, and Escalation Support Agents in multiple states and Canadian provinces. Pay starts at $12.50 per hour with the opportunity for commission (sales) and bonus pay (customer service). For Bilingual agents and Escalation Support Agents pay starts at about $14.50 per hour.
American Express
Most of Amex's work from home jobs are in the travel sector and pay $15 per hour or more. You will need travel industry experience for some of them, but there are positions that don't require it.
Land's End (Madison, WI)
Starting pay is $12.40 per hour as Customer Support Specialist. You must live near Madison, Wisconsin since training is onsite.
AimTruancy Solutions (Texas)
Aim hires Student Mentors and Parent Mentors to work from home part-time (6 hours a week). Earn $10 per hour, or $12 per hour if you're bilingual.
O'Currance Teleservices (Utah)
You must live in Utah to work as an Inbound Sales Representative. Pay is around $11 per hour, plus commission.
Support.com
Support.com hires Client Services Remote Service Technicians to receive inbound technical support calls. Techs are paid $11 per hour ($10.50 per hour plus $.50 cent per hour for reimbursement). They also hire Remote Services Technicians that earn $10.25 after training ($9.75 per hour plus $.50 cent per hour for reimbursement).
Capital One (FL and VA)
Work as a Customer Service Representative earning around $13 per hour (per Glassdoor). These positions are location specific, and you might be required to attend some onsite training. I've seen the position offered in the Tampa, Florida area and the Glen Allen, Virgina area. You are required to live within 100 miles of the job site. Capital One has at least two customer service positions – Work at Home Senior Customer Service Representative and Work At Home Customer Service Associate.
Amazon
Amazon offers both full-time and part-time Customer Service Associate positions to residents of Arizona, Kentucky, Texas, West Virginia, Wisconsin, Delaware, Minnesota, Florida, Georgia, Kansas, North Carolina, Tennessee and Virginia. The position pays a base of $10 per hour with bonus potential.
Xerox
Xerox offers work from home positions in several career areas, including customer service, sales, IT, and more. Positions are usually location-specific.
Granada Corp
Granada Corp. hires insurance agents and customer service agents to work from home receiving inbound calls. Insurance agents must have a Property and Casualty (P&C) license.  Jobs are location-specific, and pay begins at $10 per hour with bonus potential.
Museum Hack
Museum Hack hires for various home-based positions that pay over $10 per hour, including Marketing Associate and Remote Sales Representative, both starting at $12 per hour.
Navis (Orlando, FL)
Navis offers a part-time Reservation Sales Associate position to Orlando, Florida residents. Pay is $10.25 per hour, plus commissions and bonuses. Navis says that commissions and bonuses could add another $3 to $8 per hour to your base pay.
Princess Cruises
Work as a Customer Service Agent earning $10 per hour. I've only seen this position available in California, but it may be offered in other states.
Nordstrom
Nordstrom hires Member Care Representatives with pay at approximately $14 per hour.
Apple
Apple At Home Advisors earn $14-$15 per hour. Apple also gives employees an iMac and headset, along with other benefits.
ABC Financial     read review
Call Center Representative pay starts at approximately $10.50 per hour. ABC Financial also offers a full benefits package, no weekend work, and they provide a computer and other equipment.
VIPdesk Connect
VIPdesk Connect hires Brand Ambassadors to work from home taking sales and service calls for their clients. Pay for most positions starts at $10 per hour plus bonus potential.
Non-Phone Work From Home Jobs Paying $10 Per Hour or More
Uber
Uber hires remote Community Support Representatives to support customers via email. The position is not regularly available, but according to my research pay is around $14 or $15 per hour.
Time Etc
Virtual Assistants with Time Etc. work part-time, with no weekend work required. Pay starts at $11 per hour.
Search Engine Evaluation
Make $12 and more helping search engines like Google improve the quality of their search results:
Do you know of other work from home jobs paying $10 per hour or more? Let me know in comments.