Is fear of work from home scams keeping you on the sidelines?
Have you been searching for simple steps to separate the scams from the legitimate?
A little bit of research goes a long way!  Our main tool is probably one that you use every day.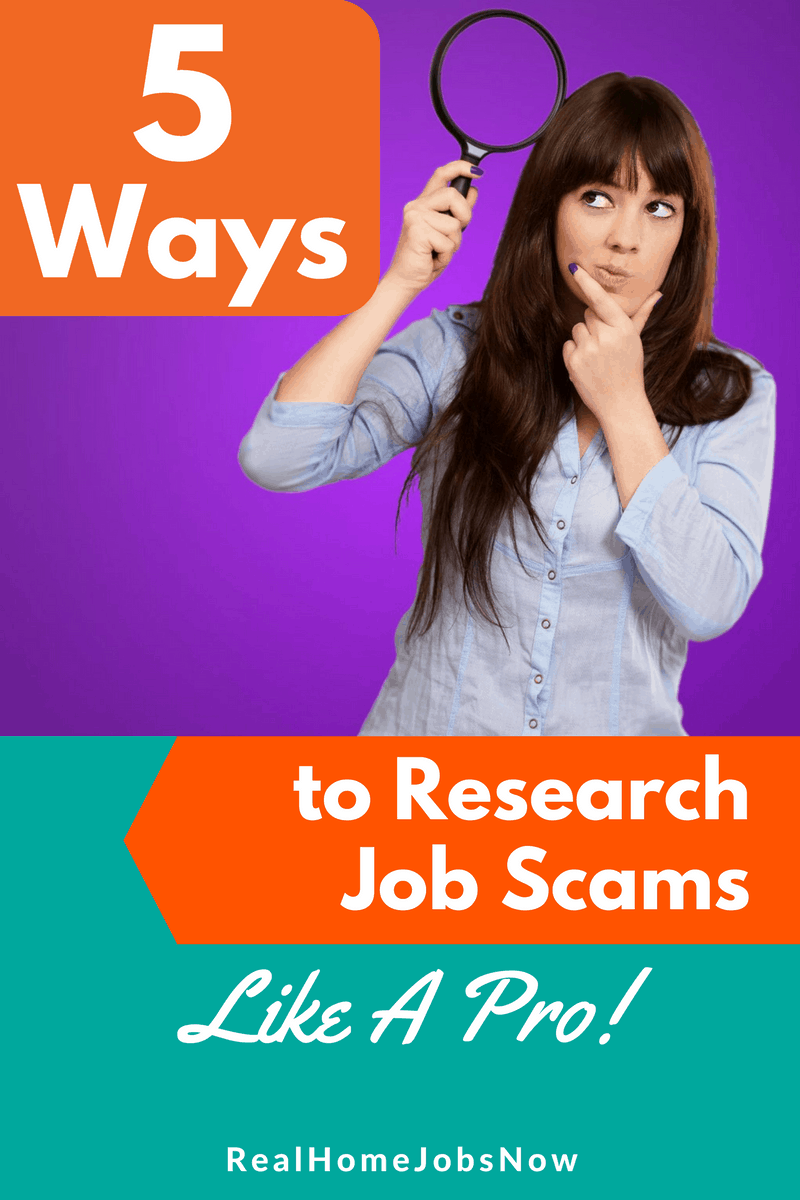 Research Work From Home Scams Like a Pro
1.

Google

Start your research with Google (or your favorite search engine). Just enter the name of the company you are interested in along with the word "scam" or "review" and see what you get.

That's honestly it, and it may be the only step you need to take depending on what you find.

Look for patterns in what people are saying. Are they noting the same or similar experiences?

Keep in mind that just because some may say that a company is involved in work from home scams, it does not mean that it is. Unfortunately, people have the tendency to label an opportunity as a scam if it doesn't work for them.

Read complaints to understand what the concerns are.  Are complaints
based on service or product issues,
from former employees saying that they were not paid,
or from customers stating that they did not receive what they paid for?
Reports of similar experiences will give you a sense of whether scam allegations might actually be true. If hundreds of people are reporting that they've been scammed, there's probably some truth to the claims.
You can also try a general search of the company name to see if you get additional results.
The first result will probably be the company's website. Several other sites may give you basic information about the company.
Again, make sure you actually read any complaints that you find.
2.

The Better Business Bureau (BBB)

Just a disclaimer here: I don't completely trust ratings that the BBB gives businesses. Some ratings may accurately reflect a company's practices, but there have been reports that ratings may not adhere to the BBB's own standards. Nor does BBB accreditation necessarily mean that a company behaves ethically.

Though the BBB isn't a definitive resource, you will likely find useful information.  If nothing else, the BBB can be used to report work from home scams and help others who are researching.

If you do find that complaints have been filed against a company of interest, continue to look for patterns. Also, pay attention to the contact and other information listed on the company's BBB Business Review page, and note if it matches what's provided elsewhere.
3.

Company Website/Contact Information

Use contact information to your advantage.

If a telephone number is listed, try calling to see if it's a working number. If a physical address is provided, look it up. Does any other company share the exact same address? If you find another company with that address, call them and verify it. Ask if any other company shares the space.

Don't think that you can uncover a work from home scam with just contact information?

Someone once attempted to recruit me as an independent agent, and they provided me with an application, direct deposit form, and other new hire documents.  The problem was that they kept talking in circles when I asked for basic company information (always a red flag!).

When I was finally given contact information I searched the business address and discovered that it was an unoccupied home for sale! Needless to say, they never received the "new hire" documents back.

Whatever contact or business information a company provides, use it to verify legitimacy.
4.

Licenses and Credentials

If you are interested in a company that requires professional licensing, do a search to confirm if any record of the company exists with the appropriate licensing organization. For example, companies/agents in the insurance, real estate, and construction industries all require state licensing.

This is an area where the BBB can be particularly useful. For companies that require professional licensing, the BBB will often list the major licensing organization's contact information and website on the Business Review page. Most licensing organizations offer online, searchable databases for ease of searching for their licensees.

If licensing is required but none exists, it is probably a work from home scam.
5.

General Licenses and Registrations

You can check with the state corporations division (for incorporated businesses, LLCs, etc.) or the city/county business licensing office to see if any record of the company exists.

Requirements vary from state to state and all businesses may not be required to have a general business license.

What if you can't find any information?

The best advice is don't be the guinea pig.

But if you are really interested, contact the company directly. If you find that the contact person is willing to talk to you in depth about the position and offer pertinent information (meaning proof of the company's legitimacy), it may still be worth pursuing.
Work from home scams are so prevalent because scammers count on the fact that most people will not take the time to research. Use these steps to save yourself time and money in the long term.