If you're searching for a promising work from home job with a credible company, employee benefits, and other perks, the Amazon work from home program may be a great option for you.
Amazon Hiring 5,000 Work From Home Customer Service Agents
Amazon recently announced that they will be hiring more than 5,000 part-time work from home customer service agents in the next year according to Market Watch. These new jobs are a part of the company's plan to hire 30,000 part-time workers in the U.S. over the next 12 months.
The best thing about many of these jobs is that they will include employee benefits, even for employees who are working part-time.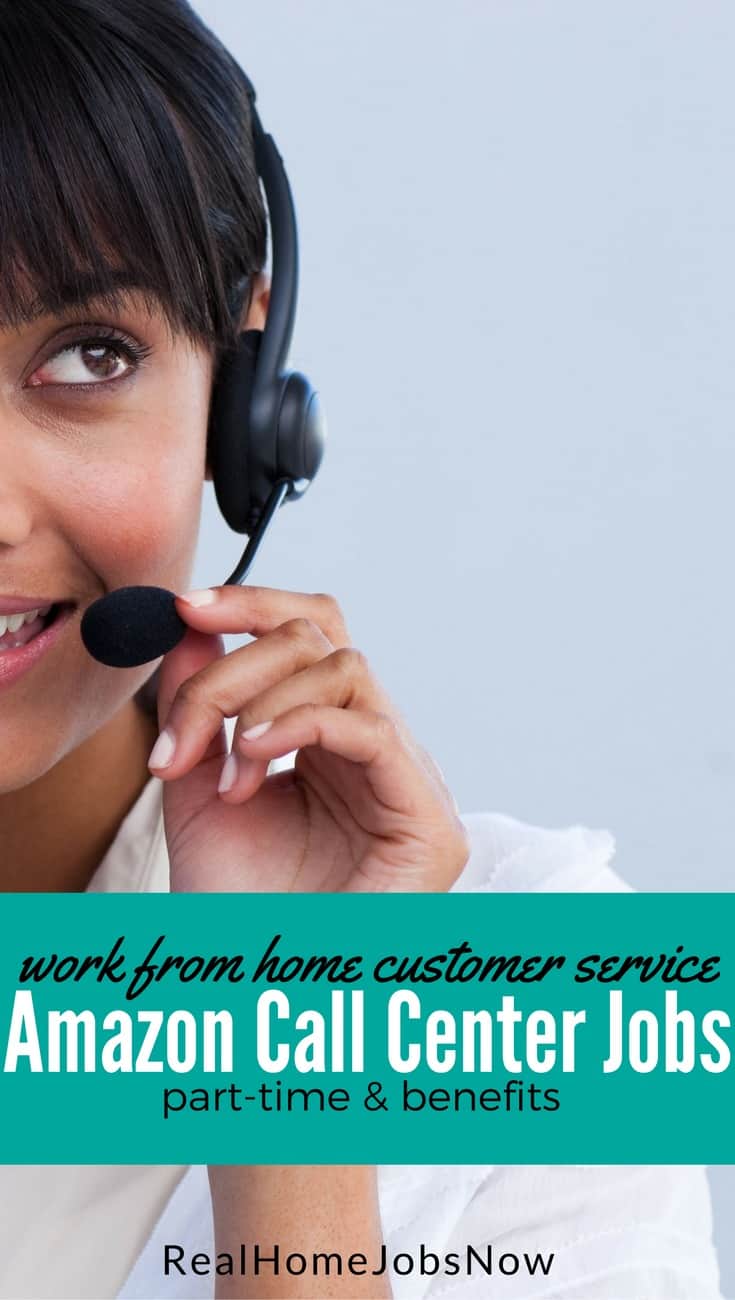 Amazon Work From Home Jobs Overview
Amazon was first established in 1994 and started out at a single retail website but soon evolved into a global business, major e-commerce website, and publishing partner.  Needless to say, you've probably heard of Amazon or shopped on the website before.
While Amazon has physical offices, they also hire for full and part time virtual positions from time to time for qualified candidates. Their virtual contact center is open 24 hours per day, 7 days per week.
Part-Time Customer Service Job Role
Working as a customer service associate for Amazon requires significant phone, email, and chat communication with customers.
Associates will be expected to escalate systematic problems with customers and offer solutions to improve their experience.
The responsibilities of this role involve being able to think outside the box, solve problems, answer questions, and resolve concerns presented by our Amazon customers. Being able to empathize with and prioritize customer needs is also a must.
Requirements
Amazon work from home opportunities are typically available to applicants who live in about half of the 50 states.
Although Amazon did not specify which states are eligible for hire when they released their statement earlier this month, other work from home customer service job listings on their website confirm that they usually hire applicants who reside in at least these 20 states:
Arizona, Colorado, Delaware, Florida, Georgia, Kansas, Kentucky, Michigan, Minnesota, North Carolina, North Dakota, Ohio, Oregon, Pennsylvania, South Carolina, Tennessee, Washington,
West Virginia, Wisconsin, Virginia.
Other requirements for this position include:
Must be at least 18 years of age and available to work 20 hours per week
Must be open to working holidays and weekend
High School Diploma or equivalent
Basic typing, phone, and computer navigation skills
Ability to complete I-9 work authorization paperwork in person
Once you are hired, Amazon will provide you with a headset. You need a computer with a 64-bit operating system (Windows 8, 8.1, Windows 10, or OSX 10.9 or higher) and high-speed internet
(10 mbps download and 5 mbps upload or faster from a reliable provider).
Related – Work from home jobs with equipment provided
Training
New customer service employees receive 2-4 weeks of mandatory paid training. Keep in mind that the training schedule may be different from your actual work schedule.
Employee Benefits
A huge perk of the Amazon work from home program is that you can receive employee benefits.
The benefits package for part-time employees includes life and disability insurance, dental and vision insurance with premiums paid in full by Amazon, and funding towards medical insurance. There is also a health care and dependent-care flexible spending account.
Part-time employees can also utilize the company's Career Choice program which helps train employees for in-demand jobs at Amazon or elsewhere. The program pre-pays 95 percent of the tuition for courses related to in-demand fields even if the skills aren't relevant to a future career at Amazon.
In addition, Amazon offers an Employee Assistance Program available to all employees and their eligible family members. This is a free and anonymous program for work-related or private
issues like legal or financial questions, family issues, or other work-life topics.
Keep in mind that some benefits may require that you work a certain length of time before you are eligible for benefits.
Related – Home Jobs with Employee Benefits
Pay and Reviews
Amazon work from home customer service agents can expect to earn $10-$11 per hour with potential bonus opportunities. Amazon tends to offer seasonal and referral bonus opportunities
which allow employees the opportunity to earn more.
According to Glassdoor reviews, current and past employees have generally given positive reviews on the position. Some say that Amazon provides a great learning environment while others recommend that you are self-motivated to succeed in the role.
Apply
Ready to apply?
You can learn more about Amazon's work at home customer service job openings and how you can apply here.
You may need to regularly check Amazon's site for home-based jobs, since it appears that they are rolling out more jobs over the next year.
Do you already have an Amazon work from home job?  Share your experience in comments.