How to get entry level work from home jobs is a concern for many, but there's no need for worry.
Lack of experience does not exclude you from being able to work from home.
Before you jump into the list of companies, let's talk briefly about your resume:
First – you definitely need one.
Whether a resume is needed is as common a question as whether you can work from home with no experience. Most companies will require a resume. There are some companies that almost guarantee you a position, but those are primarily in the extra cash category.
Second – though entry level work from home jobs require little (two years or less) or no prior experience, you will still be evaluated for what you can contribute. Tailor your resume to showcase the skills that match the job.
If you don't have much professional experience, you'll need to highlight education and transferable skills that you picked up in school, volunteer activities, and any other relevant experience.
Even if you are a seasoned professional, you might still be "entry level" to the industry that you are interested in.
When I applied for my first home job in 2008 (LiveOps), I had plenty of professional experience, but very little of it involved call centers.
So I tailored my resume to highlight roles and accomplishments that pointed to my abilities to work with no direct supervision, multi-task, successfully service customers, and meet specific goals –  all essential to a home-based customer service job.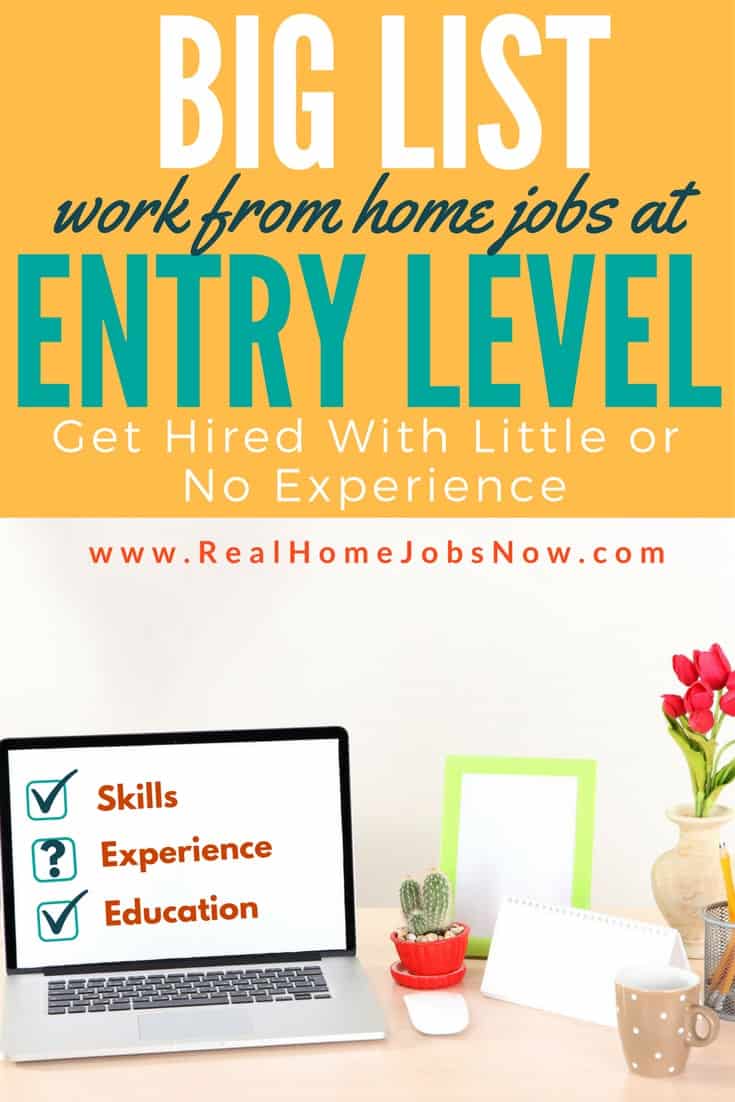 Entry Level Work From Home Jobs
Call Center
These are phone jobs that may involve customer support, sales, technical support, or a combination of all those responsibilities.  You will find many opportunities for online entry level jobs in this category.
Alorica (formerly West)     read review
Great VirtualWorks     read review
Telephone Mystery Shopping
If you think you might want to be a mystery shopper, but you'd rather stay at home, these companies are for you.
Yardi Matrix (formerly Pierce-Eislen)
Chat
Skip the phones with these these companies that hire for chat and email-based positions.
Data Entry
Data entry work from home jobs are non-phone and many are part-time.  There is plenty of competition for data entry work.
Lionbridge Smart Crowd     read review
Transcription
Transcription work can be very specialized, but these companies hire newbies.  You can learn more about home-based transcription here, and get some practice!
Search Engine Evaluation
This non-phone work usually pays a minimum of $12 per hour.  Here's more about search engine evaluator jobs.
Online Moderation
Moderators help keep online communities safe and running smoothly.
Modsquad  read review
Virtual Assistant
Most companies are looking for experienced assistants, but when you gain some experience, you can easily make virtual assisting a full-time job or home-based business.
Writing
There are plenty of opportunities if you are new to freelance writing.  When you are getting started, it may help to choose the type of writing you're most interested in, and select a company that matches your interest.
Don't Let Lack of Experience Stop You
As you can see, there is no shortage of companies that hire for entry level work from home jobs.
Hiring managers need to feel confident that you can do the job successfully, but many companies will provide training anyway depending on the type of work you want.
If the job description requires two years or less of specific experience, and your existing skills can support the work you'll be doing – go for it!
Let me know if you know of other companies that hire people to work from home with no experience.
Please share this post with your friends and family!