What can you accomplish in just 20 minutes? When you're a virtual assistant for Fancy Hands, probably more than you can imagine! Fancy Hands' founder launched the service in 2010 after using Craigslist to outsource small jobs that he didn't have time to complete.
Now, Fancy Hands allows other people to outsource small tasks at their convenience, while giving U.S. residents a chance to earn money from home completing those tasks.
Fancy Hands is based in New York, but assistants work remotely all across the United States.
Fancy Hands Virtual Assistant
Fancy Hands assistants are freelancers, and most work part time and treat the service as a source of secondary income.
Clients place requests for small tasks that assistants can complete in 20 minutes or less.
Clients may ask you to make dinner reservations. They may ask you to perform data entry work, or perhaps they'll need your help finding the best price for something they want to purchase.
Clients can submit tasks that might take longer than the 20-minute goal, but they will be required to redeem multiple requests to cover the extra time.
If you become a Fancy Hands assistant, you will select your own work from a pool of tasks whenever you're available to work.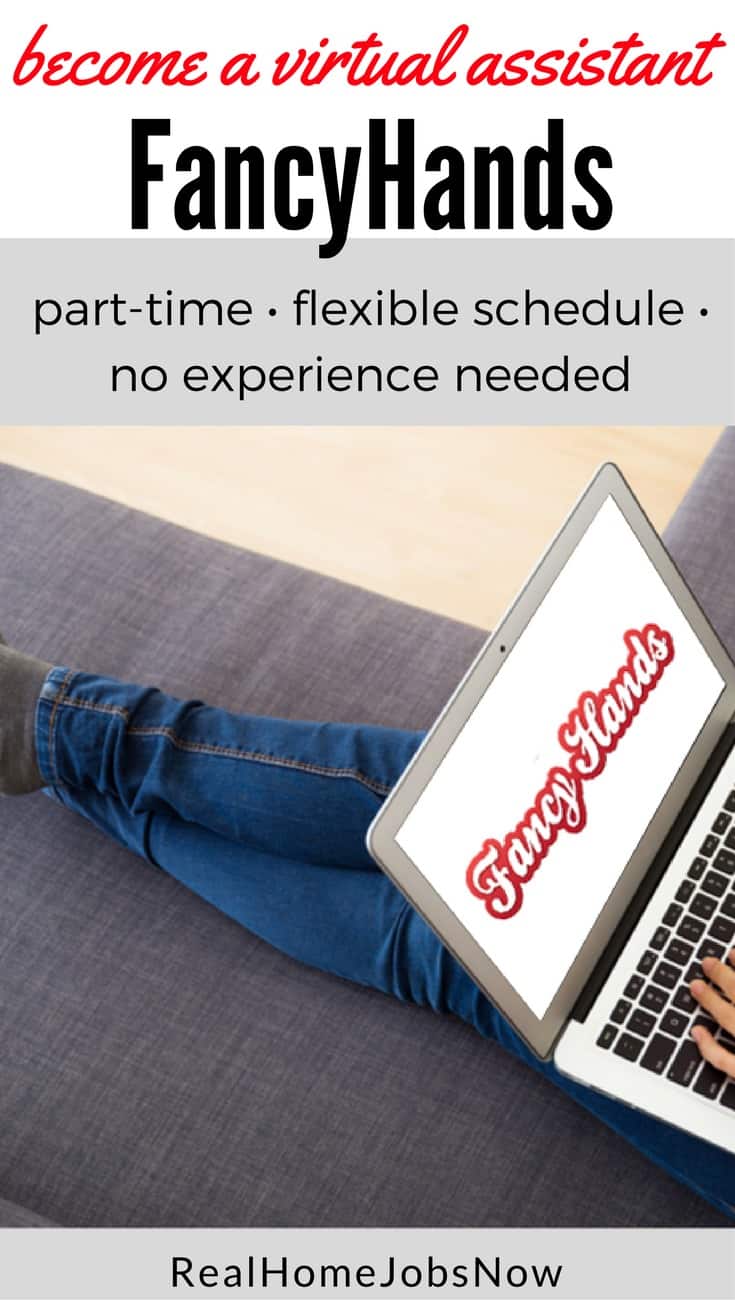 Pay
Entry-level assistants are paid between $2.50 and $7.00 per task. There is an opportunity for some assistants to be promoted to management positions, and those positions may pay more.
All payments are issued twice a month through Dwolla.
Scheduling Details
Fancy Hands wants assistants on duty around the clock, so you can work whenever you like and for as many hours as you want.
You can also work from anywhere, making this a truly flexible remote job.
Technical Requirements
Fancy Hands is very lenient when it comes to technical qualifications:
• Computer
• Fast internet connection
• Phone
• Headset
• Gmail account
• Chrome browser
You can use a landline, VOIP, or cell phone, and your computer isn't checked for speed or other requirements. If you can make phone calls and access basic websites for research, you can complete the majority of jobs requested.
Other Requirements
You must live within the United States to work as a virtual assistant for Fancy Hands, but there are few additional requirements. There are no drug tests or background checks.
Virtual Assistant Reviews
Fancy Hands currently has less than a three-star review at Glassdoor.  Many reviewers report that most tasks cannot be completed within 20 minutes, and that they are not approved for additional pay.  You will also notice praise for the company for allowing virtual assistants to set their own hours, earn money from home, and choose the tasks that they want.
Application Process
As of the date of this post, Fancy Hands is hiring virtual assistants!
Before you complete the application, Fancy Hands will ask you to download the Chrome browser and sign up for a Gmail account to ensure the best experience on their website.
Upon sign-in, you will be asked to give Fancy Hands access to your Google account. The site states that only your email address is revealed to the company if you agree to proceed with the application.
The application is short and only asks for basic personal information. You will complete an "Aptitude Test" where you'll answer a few basic questions to test your online research and other skills. You must also complete a few sample tasks, which may include an audio assignment.
If you're approved as an assistant, you will receive a welcome email from Fancy Hands.
Are you a Fancy Hands assistant, or have you ever worked with Fancy Hands? Please share your experience in comments.