The question of where to find global work from home jobs is one that I am often asked. The companies and resources on this list provide opportunities in over 60 countries around the world.
In Canada?  View work from home jobs for Canadians here.
Global Work From Home Jobs
Apple
Apple hires At Home Advisors in multiple locations around the world.  Apple has opened the Advisor position in the United States, Australia, China, Ireland, Japan, Korea, Singapore, Taiwan, and Turkey.
Appen
Click "View Current Opportunities" then select "Web Search Evaluation" in the area of interest box. Appen also hires for transcription and translation. Select Remote, Global in the Country search box to view available global work from home jobs.
iSoftStone
Hires search engine and ad evaluators, and crowdworkers in multiple countries.
Leapforce
Leapforce hires search engine evaluators in various locations around the world. As of the date of this post, I found openings for Personalized Search Engine Evaluator in 18 countries.
Lionbridge
Hires for search engine evaluation and crowdsourcing opportunities in countries around the world.
Buffer
Buffer provides a service to help manage social medial presence. The Buffer team works completely remote from multiple countries and continents.
ICUC
ICUC provides social media management services, and they hire moderators and other positions globally. ICUC is 100% remote.
Zapier
Zapier is 100% remote, hiring for various positions.
Rev
Transcription, captioning, and translation jobs globally.
LiveWorld
LiveWorld is a social media management firm that hires online moderators. They do not specify which countries, other than the United States, that they hire from; but they do have an application for non-US residents.
Shutterstock
Shutterstock hires image reviewers all over the globe, including Japan, Germany, Korea, Thailand, and more.
Eduwizards
Tutors in the United States and India can tutor for all subjects. Eduwizards also accepts tutors from China, Japan, South Korea, and the United Arab Emirates.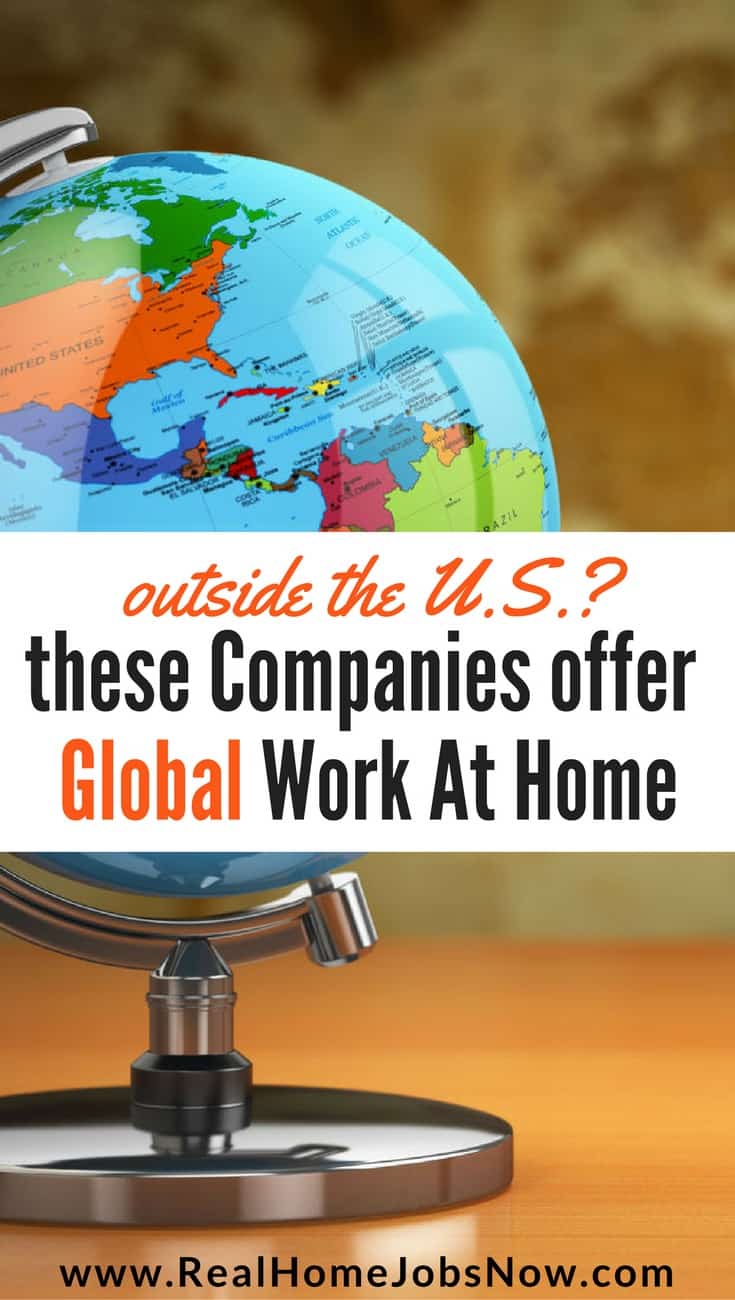 Job Boards and Other Resources for International Jobs
Indeed.com
Find global work from home jobs in 61 countries.
LiveCareer
Great resource listing various job boards where you may find international work from home jobs.
Time Doctor
Time Doctor's blog includes an excellent post with 38 work from home job sites in the Philippines.
FreelanceIndia
FreelanceIndia is a job portal providing projects over several categories to freelancers in India.
ExpatCareers
International job search site.
GoAbroad.com
Search jobs by country and type, along with a job board with recent international job postings.
OverseasJobs.com
Features overseas jobs and international employment opportunities.
These job boards are not specific to home-based jobs, so you'll need to search for them.  Use this post for ideas if you need help searching job boards.
Do you have other recommendations for worldwide work from home jobs?  Share in comments!
Please share this post with your friends and family!
Updated: January 12, 2018