Great VirtualWorks is a virtual call center company that contracts with independent agents to take customer service and sales calls from home.
Great VirtualWorks says you will be your own boss with the flexibility to set your own hours, and earn performance-based incentives. It also provides a great opportunity for those with little experience, since there are few prerequisites.
Great VirtualWorks Online Agent Opportunity
To work with Great VirtualWorks, you must have your own home business and provide a Tax Identification Number (TIN), which you can request for free via the IRS website. Make sure to check with your state as well to see if there are additional requirements for your business.
Since you will be an independent contractor, you are provided with a 1099 for tax purposes.
To provide services, you are required to pass a certification class. Depending on the certification you are interested in (and you can become certified for more than one!), class time is currently ten days for sales and five weeks for service. You will not be paid during training.
Great VirtualWorks says that their independent business owners earn $10-$15 hour, depending on performance. This will also depend on whether you are taking sales or
service calls.
You will be paid weekly. Please note that you must have a business checking account.  Talk to your bank about what they require to establish a business checking account before you get started.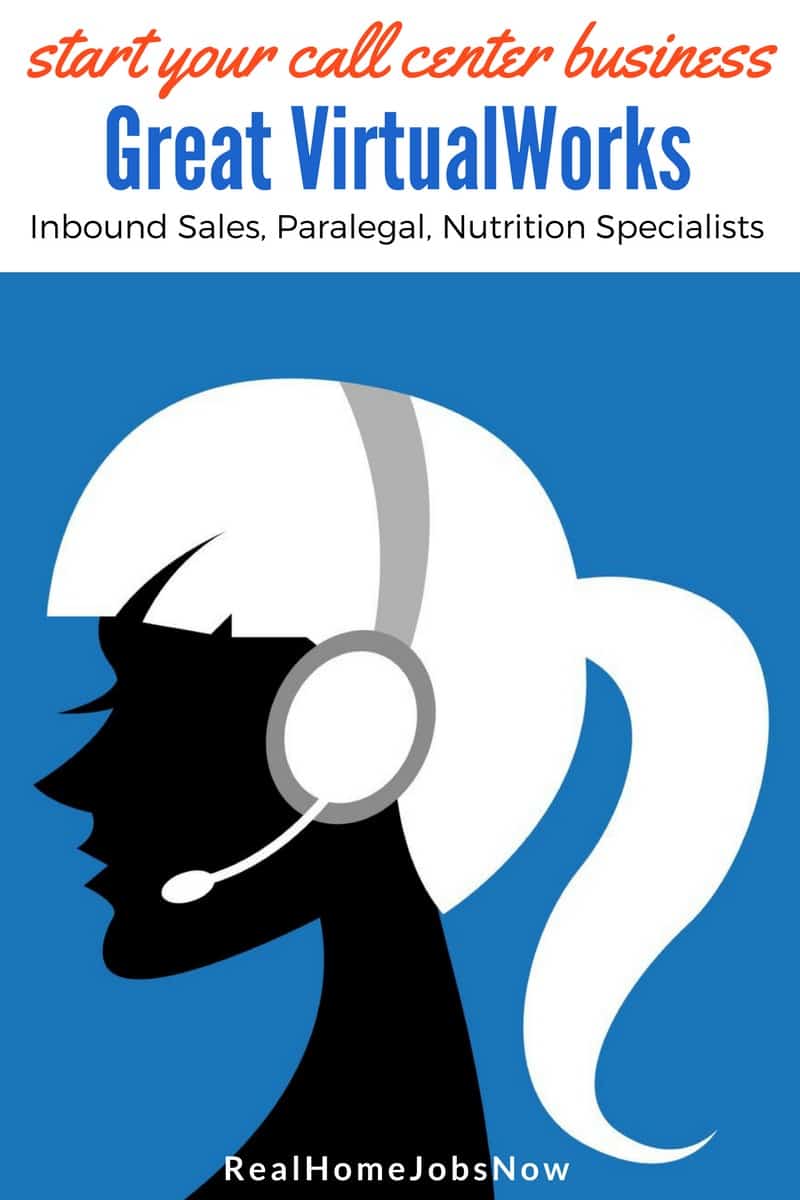 Scheduling
Though you are required to work 10-15 hours minimum per week, you can choose what those hours will be, as long as 5 of them are on Saturday and/or Sunday.
It appears that sales calls are currently supported 24 hours a day, 7 days a week, so that gives agents plenty of flexibility.
Technical Requirements
Great VirtualWorks has a list of tech requirements that you can check out here. Their software is not compatible with Mac.
No phone required! You will receive calls via VOIP.
Related – Work From Home Jobs with No Landline Required
Other Requirements
You must submit to a background check with a one-time fee of $25, payable to a third party processor. There is also an administrative fee of $8.95 per service cycle.
Great VirtualWorks currently contracts with home business owners in all U.S. states except California, Connecticut, Massachusetts, Maryland, New York, and Oregon, though this is subject to change.
You must be 18 years of age and a legal resident of the United States.
Application Process
If a contractor opportunity with Great VirtualWorks interests you, start the application process here.
To begin, you simply login and create an account. You will then complete an application and submit to an automated PC check.
During your application process, you will complete a voice assessment, so you'll want to have your microphone handy.
If your application is accepted and you successfully pass the assessments, you'll be required to undergo an automated background check, the instructions for which are sent to your email address. Other than the background check there are no necessary screenings or drug tests.
Once you've passed all steps and signed partnership documents, you're in! After a little training you'll be on your way to earning.
If you currently work with Great Virtual Works, or if you have ever worked with them, share your experience in comments!