HotelTonight work from home jobs provide full-time schedules and opportunities for advancement!
If you enjoy providing excellent customer service, the company is growing and looking for home-based employees to assist customers and hotel partners.
HotelTonight Work From Home Live Chat Agents And Customer Service Agents
If you've ever needed a last-minute hotel reservation, you know the stress of hearing "sold out" over and over again, or dealing with the sticker shock of high rates. HotelTonight makes those issues a thing of the past with great last-minute deals that you can book from an app on your phone!
HotelTonight works with hotels in cities all over the world to provide a win-win situation between customers who are looking for great rates, and hotels who need to sell rooms.
As you can imagine, a service like this is gaining in popularity, so HotelTonight is hiring work from home Live Chat Agents and Customer Service Phone Agents in Florida, Oregon, Tennessee, and Texas.
Related – Work From Home Chat Jobs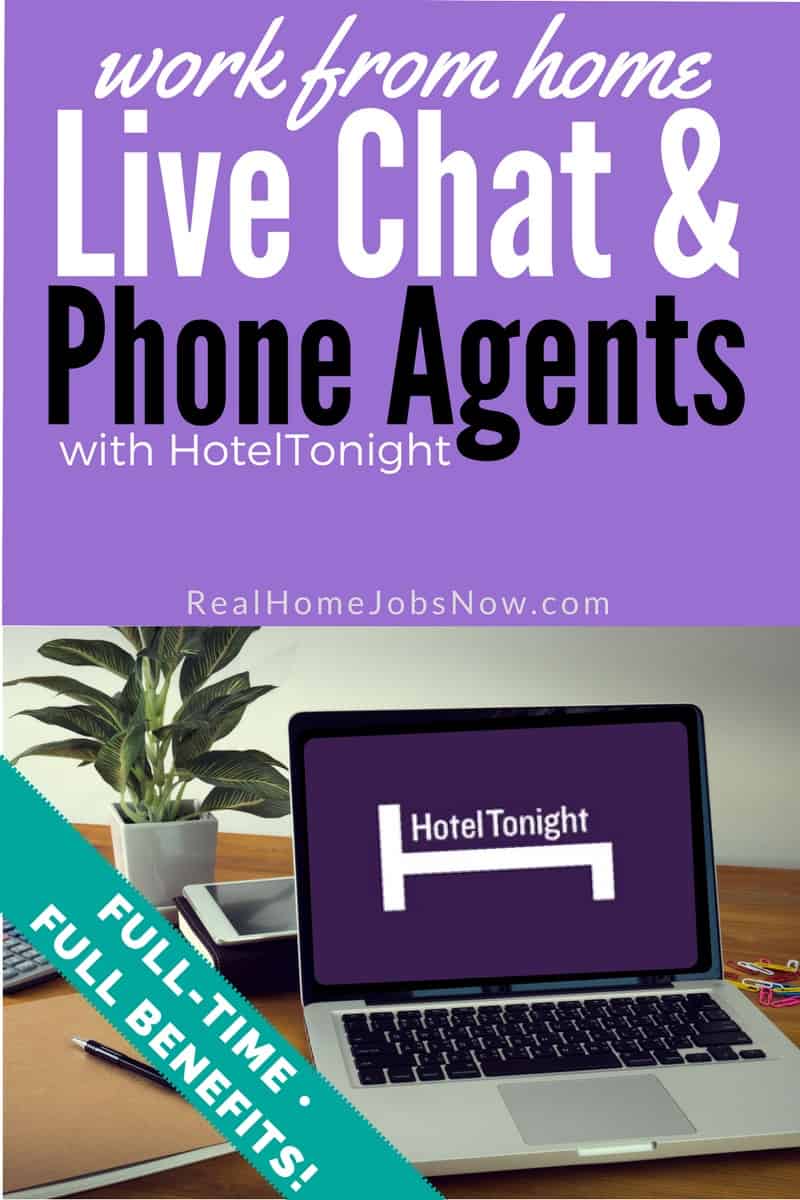 Work From Home Customer Service Live Chat Agent
In this entry-level position, you will help customers with bookings, handle complaints, and answer questions about the app via chat.
Live Chat Agents are also responsible for properly identifying conversations for record-keeping purposes, and delegating tasks to the support team when necessary.
Though the position is chat-based, you will make phone calls to HotelTonight's hotel partners to resolve customer issues, while maintaining live chat conversations with customers.
The job description states that chat is "high volume", so you must be prepared to work quickly and multitask without compromising customer service.
Here is more of what HotelTonight requires for candidates of this position:
Superb written communication skills as well as efficient, diplomatic and friendly phone manne
Intuitive ability to manage and prioritize cases based on a variety of dynamic conditions
Demonstrated experience owning customer issues and following them until the customer is happy
Comfortable being empowered to make decisions; demonstrated sensibility and understanding of the financial implications of those decisions.
HotelTonight is operational 24/7/365, so you must be available for a variety of shifts.
Work From Home Customer Service Phone Agent
Phone agents generally have the same responsibilities as chat agents.
You will assist customers and hotel partners via phone regarding customer bookings, requests, and billing. The ability to handle several functions simultaneously is also important in this position.
Just as with chat, HotelTonight relies on agents to be able to make their own decisions about customer issues as much as possible, providing one-call resolution.
Here are a few points from the job description:
At least one year of high-volume call center experience in a metric-driven environment is required
Tech-savvy and proficient with iPhone and Android – you can quickly and easily navigate and multi-task across apps, the internet, chat programs, and video conferencing tools
A strong track record of delivering exceptional customer service at a customer-oriented business, bonus for experience in the hospitality industry
Comfortable being empowered to make decisions and a strong understanding of the financial implications of those decisions
HotelTonight is also hiring remote Bilingual Customer Service Phone Agents who speak English and either Spanish, French, German, or Italian.
Benefits
HotelTonight provides great benefits, including fully-paid health plans for employees!
Here is the complete list of benefits from the job descriptions:
A full time job with benefits!
Fast-paced work environment where every member's input is needed and valued
Opportunities for advancement and a true career opportunity, not just a job
Work from your home!
No cost for health, dental and vision health care plans for employees, and we have a great discount on family plans too
Options to contribute to FSA/HSA plans
401(k) plan
10 paid vacation days to start (and more after your two year anniversary with us)
6 paid sick days so you can focus on getting well when you need to
$500 in credits every quarter to use on our app!
$50/month internet stipend to help offset the costs of high-speed internet
Stock options at a thriving San Francisco based company funded by top investors
Related – Work From Home Jobs With Employee Benefits
Apply
HotelTonight work from home jobs are entry level, full-time positions with stellar benefits, and opportunities for advancement.
You will find all open positions listed on their site.
You must provide your resume and a cover letter or your application won't be considered. You should also familiarize yourself with the HotelTonight app, available on the App Store and Google Play.
Good luck!
Want more real-time job openings? Visit the Job Leads page for regularly updated work from home job opportunities!