Have you heard of Konsus? It's a company that hires freelancers to do remote work in a variety of fields.
Konsus works with freelancers worldwide (in over 50 countries) who take on tasks covering responsibilities like writing, graphic design, data entry, research, web design, and PowerPoint.
In this article, you're going to learn more about the positions Konsus is hiring for along with what it takes to become apart of the team.
Konsus Overview
Konsus was founded in 2014 and is based out of Palo Alto, California. The company delivers on-demand outsourcing for professionals in need of freelance services. They hire top-tier freelancers to complete jobs for clients via their outsourcing platform.
Konsus was established specifically for business professionals who value file security, compliance, and consistent quality. According to their website, knowledge workers end up spending 41% of their time on tasks that can be outsourced.
This is why the company acts as the middleman connecting skilled freelancers with quality clients who can provide consistent work.They provide confidentiality for clients and a steady workflow for freelancers eager to make money flexibly.
Konsus Work From Home Jobs
Konsus provides the following services, so the available jobs will always be in one of these categories:
PowerPoint
Graphic Design
Writing
Data Entry
Research
Web Design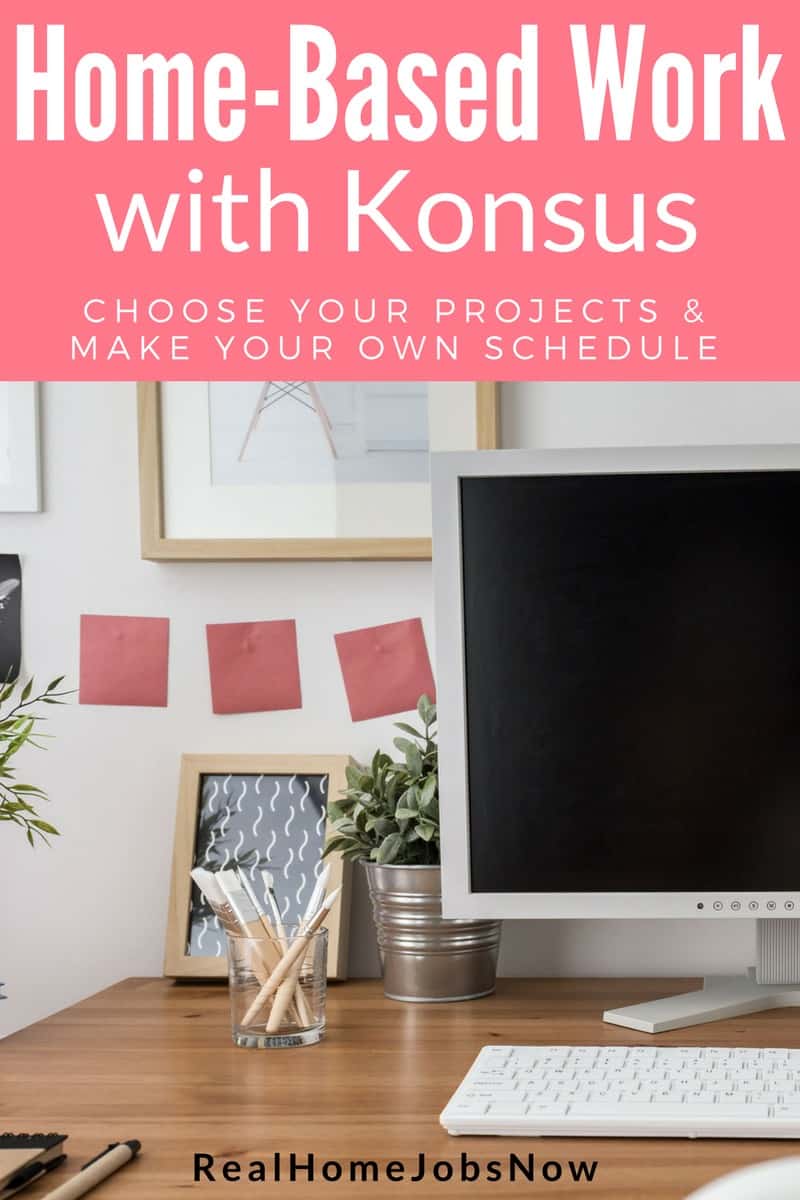 Related – Home-Based Data Entry Work
Job postings are updated regularly. Currently, they are hiring for six positions.
PowerPoint Designer
This remote position involves being able to format and design PowerPoint presentations across all the Konsus PowerPoint design services as well as making high-end infographics for slides.
You can work on your own schedule but will be expected to work an average of 25 – 30 hours per week. Having some graphic design skills and experience is a requirement as well as excellent communication skills in English, and an interest in learning and sharing about new design trends and tools.
Graphic Designer
This is a remote position where you'll work on projects across all Graphic Design Services and PowerPoint Services that Konsus offers, which includes banner ad design, brochure design, business cards, corporate branding, print ads, and more.
To be considered for this position, you must have excellent design skills and understanding of modern style conventions and techniques.
Related – Remote Graphic Design Jobs
Content Writer
Remote content writers create professional content in the form of articles, blogs, copywriting, press releases, transcript writing, website content, white papers, and proofreading.
Writers are expected to work around 30 hours per week and must have content writing experience in a professional business context, excellent communication skills in English, and excellent writing skills and understanding of writing styles relevant for online distribution.
Account Manager
This remote position involves managing client relationships, managing teams of product specialists, and overseeing projects from order to completion while conducting quality control and project management.
Account managers work 30 hours per week and must meet the following requirements:
Possess analytical skills
Excellent business communication skills
Understanding of design quality and style
Be sales oriented (you will need to build and maintain a portfolio of clients and develop close personal customer relationships to grow and nurture your accounts)
Be organized, flexible, and available
Account managers are paid for the hours they work plus a bi-weekly bonus and the opportunity for rapid promotion to more senior roles.
Illustrator
This is another remote position that requires graphic design work. Illustrators are responsible for re-creating charts across the PowerPoint and graphic design services Konsus offers.
You must be highly skilled in Adobe Illustrator to join the technical chart drawing team and will be expected to work an average of 25 – 30 hours per week.
Front-End Developer
Front-end developers can work remotely or on-site at company headquarters in Palo Alto, California. You should be a skilled coder who will be expected to develop data and business layers for the front end and integrate with the backend-server.
Front-end developers also develop complex user interfaces for web-based applications and improve SEO and overall site performance.
As a requirement, you should have 2 years of work experience, 10 years of coding experience, knowledge of SEO, OOP, UI/UX/ and CRO, along with experience with react.js, typescript, and webpack.
Application Process
Konsus freelancers work for premium corporate clients including large global corporations. Thus, the application process is highly competitive as Konsus states around 1% of applicants are accepted.
Yet and still, this shouldn't deter you from applying. You must simply make sure you meet the experience level outlined in the job description and are prepared to excel in the application and onboarding process.
The application process consists of an English test, a problem-solving test, a real work assessment, as well as an assessment of your general experience and fit.
Konsus screens applications continuously and will reach out to applicants as soon as possible after the assessment are completed. Konsus also states on their website that volume of applications they receive, response times may vary.
Employee Benefits
Most of the positions are described as freelance which indicates that benefits like 401(k) plans, medical, and paid time off are not provided.
Employee benefits are likely provided for positions described as "full-time", but Konsus does not state that on their website.
Pay and Reviews
Freelancers are compensated twice monthly based on the hours they work. They do not list compensation rates openly on their website..
We were unable to find any info online, but if details are found later we will update this and provide accurate information on compensation.
With Konsus being a newer company, we wanted to see what other freelancers are saying about the company.  As of the date of this post, there are only 11 reviews on Glassdoor, but most of them describe a positive experience when working for Konsus.
Apply
Ready to apply?  Click here to view the latest open positions and submit your application online if you feel you qualify.
Good luck!