Have you ever wanted to start a home-based business, but hesitated due to the thought of the start-up costs? It's no secret that starting a business can require quite an investment upfront.
Money is one of the main reasons why some people don't pull the trigger on their dream of becoming a business owner.
On the contrary, there are quite a few profitable, and low cost home businesses ideas that you can start without paying too much upfront or in regards to regular operating costs.
The less you spend, the lower your risk, and with these business ideas, you won't even have to consider taking out a loan to get started, and you'll earn money quickly.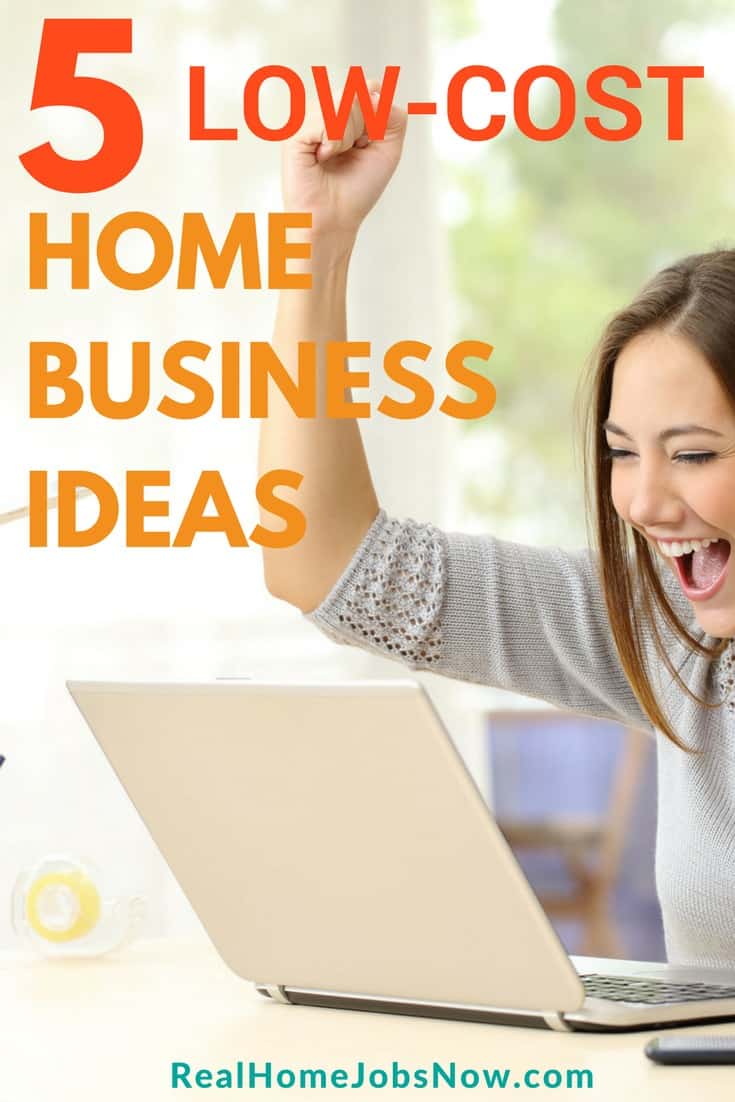 Related – More Home-Based Business Ideas
Low Cost Home Business Ideas
1. Freelance Writing
Freelance writing is a common profession these days which allows passionate writers to earn a living doing something they love from the comfort of their own homes or anywhere they please. Plus, it provides businesses and entrepreneurs with the engaging content they seek.
To start a freelance writing business, all you need is a computer and an internet connection. You may also want to set up your own professional website that will tell potential clients about your business and provide them with a few of your best writing samples.
You can sign up for a free starter website or get a self-hosted website with your own domain. Or, you can put some writing samples up on a portfolio website like Contently.
Finally, you may want to purchase coaching or a course that will help you learn how to pitch clients, narrow down your niche, and write better. However, this isn't a requirement to be successful.
2. Graphic Design
If you like to create graphics online or design websites, you might want to consider becoming a graphic designer. Graphic designers use color, illustrations, and different fonts to create digital and print materials.
According to PayScale, the median income for a graphic designer starts at $41,428. Mind you, this is most likely an employee's pay range so if you work for yourself, you could keep all your profit that your business generates and potentially earn more.
To start a graphic design business, you need a computer, internet connection, and software to create graphics and designs. Most designers go with programs like Adobe Illustrator and Photoshop.
You may have extra, smaller expenses over time like specialty fonts if your client asks for them, but you can find lots of fonts and graphics online that are free to use or included with the programs mentioned above.
3. Voice Over Actor
Has anyone ever told you that you had a great voice?
You may be able to cash in on that characteristic by starting your own voice actor business, which is another low-cost home business idea you can start quickly. Voice actors do everything from record commercials and ads to narrate audio books.
You may need to take a course or invest in some training to start, especially if you aren't familiar with the industry and how to get clients. Carrie Olsen is a professional voice over actor who provides affordable coaching services that can be found on her website.
To get started, you'll also need a computer, internet connection, and a condenser microphone which can help cut out background noise as you work. Condenser microphones are priced starting generally anywhere between $35 and $100, but you can always upgrade over time as you see fit.
Finally, you'll need recording software for your clips. Audacity is a free program you can use that works well.
4. Pet Sitting
If you have a love for animals, pet sitting, and dog walking can be a lucrative business idea. Dog walking pays $10+ per 30 minutes and pet sitting starts at $20-$30 per night.
To get started, you can use sites like Rover, put fliers up in your area, or reach out to friends and family who may need your service. Once your workload increases, you can set up a professional website so people can book your services when available.
This type of business requires hardly any start-up costs other than purchasing some business cards, marketing materials and perhaps some supplies for the animals. Marketing will probably be your biggest expense because there are most likely tons of animal owners in your area, many of which who travel often or can't get out to walk their dogs so all you need to do is figure out how to connect with them.
Your success will depend heavily on word-of-mouth so it may also be a good idea to offer discounts and freebies for people who leave reviews or provide you with referrals.
5. Tax Preparation
This may be a seasonal business idea, but you could earn a lot of money in a short amount of time, and the start-up costs are low.
Generally, some franchise tax preparation offices offer free classes to people in the community who wish to learn how to file taxes. You may need to pay for class materials like your books, but you can essentially learn how to file taxes properly, and take the test to become certified for free.
Tax offices make it clear that all the students who take and complete the tax course may not be hired on to work at the branch during tax season. This is fine because employees generally earn a low hourly rate and only receive bonuses when they file taxes for someone who receives a large refund.
You can branch off and start your own legitimate tax filing business while earning 100% of the profit by charging your own fees for the service. You'll need a computer, internet connection, and tax software after you successfully complete tax school.
You can learn more about starting a tax filing business here.
Start Your Business From Home
Starting a business can be an exciting but also uncertain experience. Starting a home-based business as opposed to a brick and mortar business will cut several of your start-up and operating costs including renting out space, office supplies and equipment, telephone lines and internet connection, licenses and permits, and more.
With these low cost home business ideas, you can avoid taking out a business loan and get started quickly without spending too much money so you can focus on doing what you love along with earning a profit.