ModSquad (formerly Metaverse Mod Squad) was established in 2007 to provide brands with support for their online communities. The service revolves around remote managers and moderators who provide digital engagement services, such as moderation, customer support, and social media management.
ModSquad Moderator Review
So, what does an online moderator do?
If you are hired as ModSquad moderator (also called "mods"), you will spend your time making sure members and users of online communities, like forums, blogs, and social networks, are following the rules of the communities.
A moderator's job includes eliminating any inappropriate content, as well as establishing positive relationships with the users on behalf of the brand for whom you work.
You can set your own schedule and choose your project.
How Does It Work?
ModSquad moderators are self-employed independent contractors. You may work on projects for brands in any number of industries, from gaming to e-commerce to entertainment.  Some of ModSquad's clients include (and one of your projects might be):
the National Football League (NFL)
Warner Brothers
The United States Department of State
NBC
PBS Kids
For each project, you will attend virtual training sessions to learn the standards and tasks which a client would like you to fulfill.
Since moderators set their own schedules, this is a great opportunity to supplement your income if you already have a full-time job.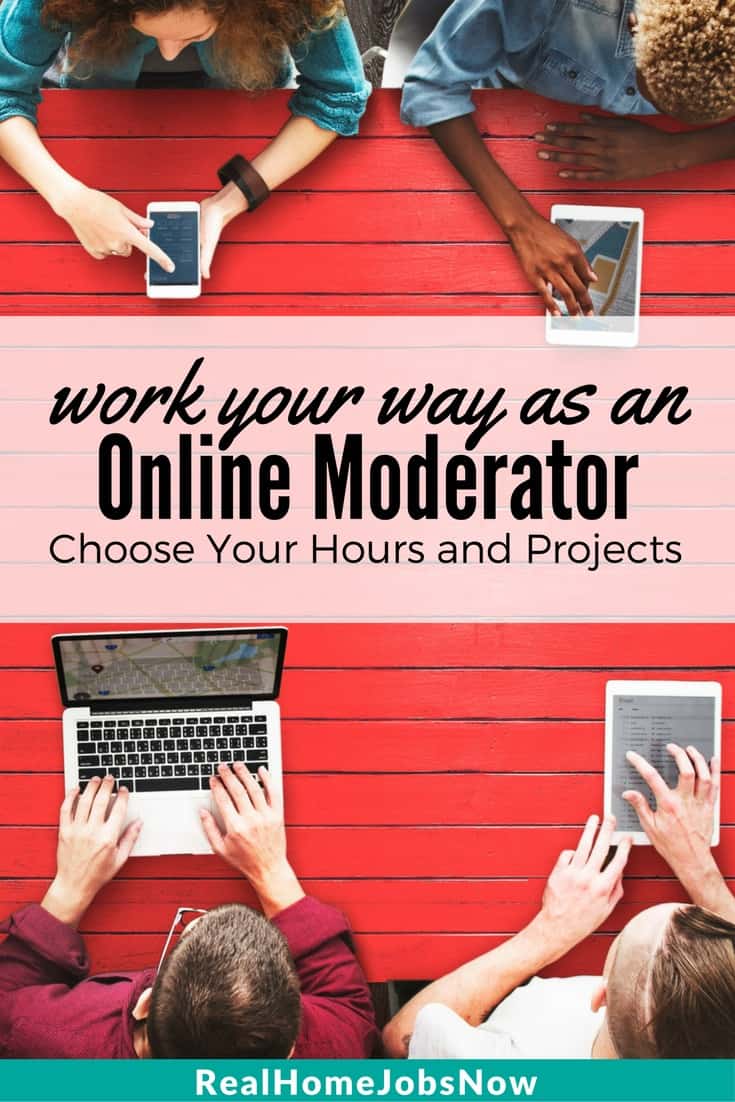 What is the Pay?
It appears that the pay for work from home moderators begins at around $8 per hour, but it varies. Pay depends on the client, the project requirements, and your skillset and experience.
Requirements
To become a moderator, you only need to have a computer, high-speed internet, and a private work location.
The company only hires persons of 18 years or older, and if you have previous customer-service or moderation experience, that is a plus on your application.
This is an entry-level job, though, so don't be discouraged if you don't have direct experience in online moderation.
You also need to pass a background check for the company to offer you a contract.
ModSquad Reviews
Nearly every review from ModSquad contractors, whether past or current, applauds the flexible hours that the company offers.
Many, however, discuss how the pay is lacking given the work that moderators do. They also mention that scheduling can be tricky as project assignments may change.
In addition to reviews on Glassdoor, ModSquad features "Mod of the Month" posts on their blog that may give you insight into moderators' jobs.
Apply to ModSquad
Before applying, I suggest that you read through the Mod frequently asked questions.  If you think that the opportunity is a good fit, apply here.
Have your resume ready, because you will be required to upload it as part of the application process. You can expect confirmation that they received your application within 72 hours.
Per ModSquad, sometimes they will have projects that match your prior experience, and you can get started right away. Most likely, it will take some time to find a project match.
ModSquad Moderator
Though pay for this position may be on the lower end of the spectrum, you have complete control of your schedule and the project you work.
This is a great opportunity to supplement your income and gain home-based work experience if you are just getting started. If you're interested in a career in digital engagement services, ModSquad can help you gain relevant experience.
Have you worked as an online moderator?  Share in comments!
Please share this post with your friends and family!