The internet provides many options for real work from home jobs, and online moderator jobs are an example of an opportunity that is specific to the internet.
If you enjoy participating in online forums, and discussing topics with people around the world, this is your opportunity to get paid for your efforts.
As an online moderator, also known as a community moderator or "mod", you will spend time reading posts submitted to a particular forum, chat room, blog, social media account, or other online platform. Large websites often employ multiple moderators, but smaller operations may just need one.
The great thing about online moderator jobs is that they are non-phone work from home (you may need a phone for training). You can work independently, and your hours are often flexible.
What Do Online Moderators Do?
As a moderator, you will fill the following roles:
Cleaning Staff: Online moderator jobs put you in charge of eliminating mess and disorganization by moving misplaced posts, deleting spam, and reminding users to leave their


comments in the correct places.

Peace Officer In Charge: You can't expect people to get along all the time, but someone has to put an end to the insanity when a war breaks out in a chat room or forum.  Moderators often step in when a discussion becomes hostile, so the ability to keep your cool in tense situations is essential.
Police Officer: Moderators are in charge of spotting rule violations and issuing warnings. In some extreme cases, they may even need to remove members unwilling to follow the rules.
Conversation Starter: If the above points sound like a drag, this is where the fun begins. Moderators are often instrumental in keeping conversations flowing, and that may include starting interesting threads and participating in conversations with members.
Resident Know It All: When a user runs into technical difficulties or asks questions about how an online platform works, it's the moderator who comes to the rescue. The mod must thoroughly understand how the system works, and is often first to know when there's a glitch. They should also have the resources needed to report or fix problems promptly.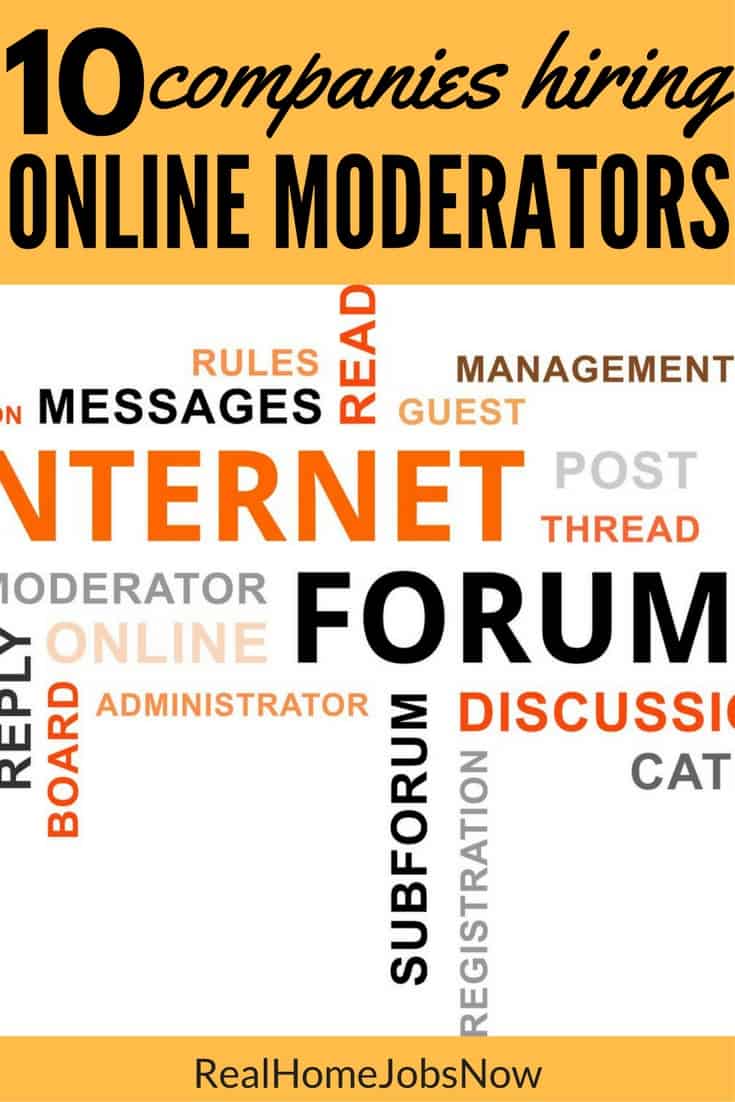 Where Do Moderators Work?
Typically, you can do a moderation job from any location with computer and internet access.
Any website with a forum, chat board, or other methods of group communication may hire moderators to ensure the environment remains productive and in line with the company's brand.
There are some freelance and independent contractor positions available, but many social media companies are now offering full-time positions with benefits to dedicated moderators.
Related – Work From Home Chat Jobs
10 Companies Hiring For Online Moderator Jobs
1. Modsquad (formerly Metaverse Mod Squad):  Modsquad hires online moderators as independent contractors. Modsquad is a well-known company for home-based moderators, and they have a long list of clients in need of active mods. Pay appears to be between $8 and $9 per hour on a part-time schedule. ModSquad also hires for a remote Social Media Manager position.
2. ICUC:  Hires experienced social media moderators (content specialists) who may manage social media activity for companies like Coca-Cola, Disney, Starbucks, and many more.  You will be hired as an employee. ICUC typically looks for candidates who speak/write English and one or two other languages. ICUC hires internationally.
3. LiveWorld:  This social content marketing service hires part-time, home-based employees to represent clients through social media. Customer service agents/moderators are paid by the hour.
4. Emoderation:  This full-service social media agency hires moderators from all over the world. They prefer to hire experienced moderators and content managers, but they've created a unique training program through Moderation Gateway for those interested in starting online moderator jobs with no experience.
5. Crisp Thinking:  Complete the online application to be considered for a freelance moderator position with this social media protection service. Clients hire the company to monitor their social media sites, escalate issues as needed, and report trends and other issues to company representatives.
6. Lithium:  Lithium is a customer service, training and professional services company that sometimes hires experienced community managers.
7. Baby Center:  This online community is currently (as of the date of this post) offering a full-time contract position for a Community Moderator. You must have pregnancy and parenting knowledge.
8. Yelp:  Yelp Community Ambassador positions are online moderator jobs, but you will also be required travel in your local community and attend events. You must live in select cities for this job.
9. Tempero:  This social media management company is based in the UK and hires online moderators to manage a variety of forums. These positions may require you to work designated hours and pick up additional shifts as needed. The main qualifications are excellent communication and basic internet usage skills.
10. Quiip:  If you live in Australia, you can apply for a Community Manager position with this social media monitoring service. You must submit a short video along with a resume and cover letter to apply.
If you know of other companies offering online moderator jobs, or if you are an experienced mod, I'd love to hear about it in comments.
Please share this post with your friends and family!