If you are looking for part time work from home for extra money, you're in the right place!
Many people are looking to work from home part time – whether you are a stay at home parent, student, semi-retired, working on a home-based business, or you simply don't want to work 40 or more hours per week.
This huge list of companies that offer part time work from home jobs in several categories gives you plenty of options to get started.
Many of the companies listed here hire regularly, but there is no guarantee that they have available positions now. Also keep in mind that you may find that the companies are hiring, but there is no part time work from home for now.
Don't be discouraged in either case.
Just keep this list handy, and check often with the companies that you're interested in.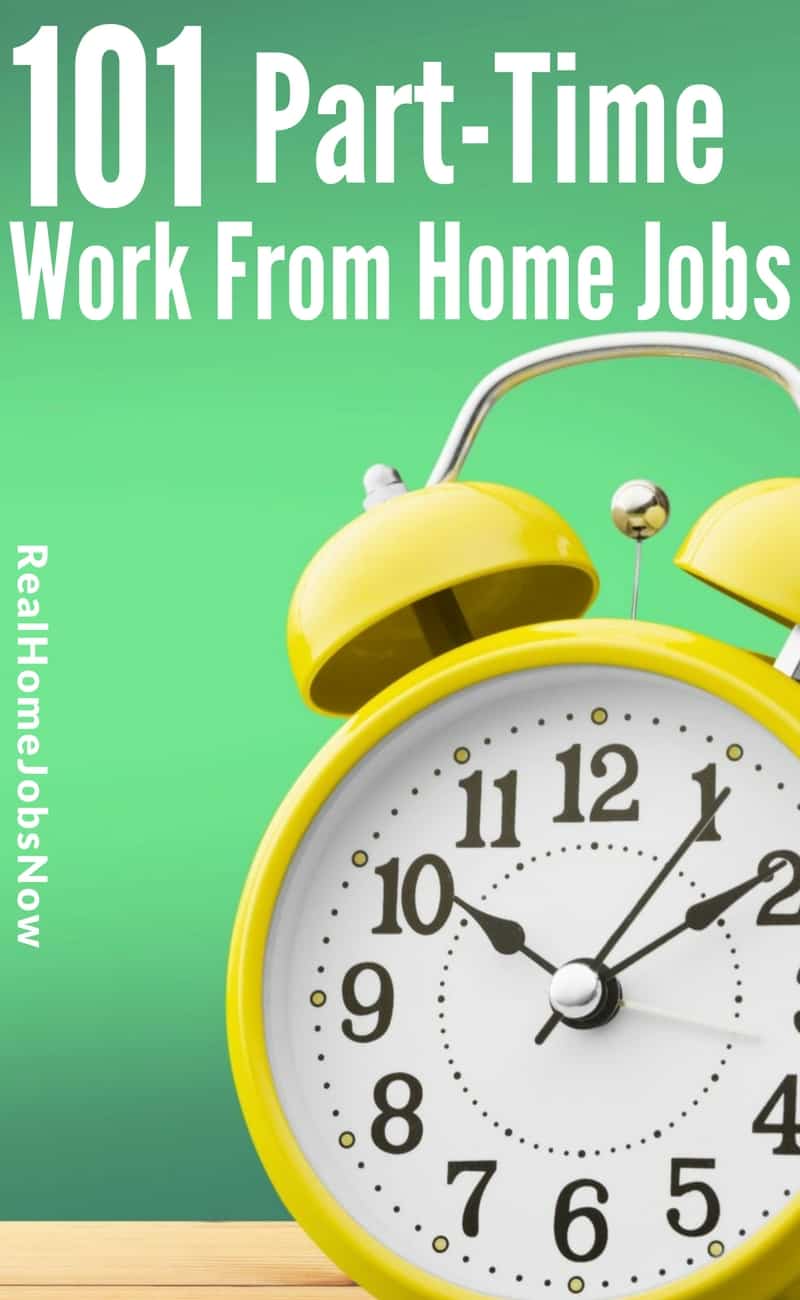 101 Companies with Part Time Work From Home For Extra Money
Chat
So many people are looking for non-phone work, so work from home chat jobs are in high demand.  Though you can get an entry-level chat job, being a chat agent usually requires that you are a super multi-tasker.
1. Talk2Rep
2. Needle
3. MyLivePro
4. ModSquad
5. SiteStaff
Related – Work From Home Chat Jobs
Customer Service
You'll find the most part time work from home for call center jobs in customer service, sales, and technical support.
1. NexRep
2. Alorica
3. LiveOps
4. ACD Direct
5. PostMates
6. Apple
7. DoorDash
8. U-Haul
9. Working Solutions
10. Active Network
11. Great VirtualWorks
12. American Express
13. Xerox
14. HSN
15. Voice Log
16. NextWave Advocacy
17. Westat
18. Envision Healthcare
19. Pier 1 Imports
20. Williams-Sonoma
21. NAVIS
22. Shyp
23. VIPdesk Connect
24. OnPoint Advocacy
25. Foodler (check Indeed.com for open positions)
26. Museum Hack
27. Convergys
28. Disney
29. GE Capital / Synchrony Financial
30. Ecolab
31. Food Junky
32. Hilton
33. Expert Globals Solutions (EGS, formerly APAC)
34. Hello Scout
36. 2U
37. TeleTech
38. TeleNetwork
39. Arise
Data Entry
Everyone seems to want a home-based data entry job, and I understand why.  It's non-phone entry-level work that allows you to work from home on a part-time basis without a lot of (if any) start-up costs.  As long as you are a quick and accurate typist, and you pay attention to detail, you can be a data entry agent.
1. Lionbridge (formerly VirtualBee)
2. Great American Fundraising
3. Axion Data Services
4. Capital Typing
5. DionData Solutions
6. Pathmatics
Research
If you enjoy research, there are companies that will pay you for your skills while you work part time at home!
Moderation
Help online communities be friendly, well-run spaces as an online moderator. Moderators monitor and engage in online communities like forums and chat rooms to keep communication appropriate, and to make sure visitors are following guidelines.
1. LiveWorld
2. ModSquad
3. ICUC
Related – Online Moderator Jobs
Mystery Shopping
Many people think that there is no part time work from home for mystery shoppers. Though most mystery shopping is conducted outside the home, I've included some telephone mystery shopping opportunities as well.
1.  About Face
2.  Amusement Advantage
3.  Bestmark
4.  Maritz
5.  Market Force
Telephone Mystery Shopping
6.  ARC Consulting
7.  InteliChek
8.  Perception Strategies
9.  Yardi-Matrix
10. TeleXpertise
Search Engine Evaluation
Search engine evaluation is a popular choice for part time work at home jobs because it is non-phone work where you make your own schedule, and earn around $12 per hour or more.
1. Lionbridge
2. LeapForce
3. iSoftStone
4. ZeroChaos
5. Appen Butler Hill
Teaching & Tutoring
Educators can work from home part time, too! These are just a few of the companies that offer part time work from home jobs for teachers and tutors.
Tutoring
1. Magoosh
2. Pearson
3. Tutor.com
4. Chegg
Teaching
5. Edmentum
6. Connections Academy
7. K12
Related – Work From Home Education Jobs
Transcription
There is plenty of part time work from home for transcription work. As with data entry jobs, you need to be a quick and accurate typist, but you also need to have good listening skills since you'll be typing from recorded speech. In the related post below, I've provided some sites where you can practice transcription if you're completely new to it.
1. Quicktate
2. Telenotes
3. Transcribe Team
4. TranscribeMe
5. Telenotes
Related – Work From Home Transription for Beginners
Virtual Assisting
So many businesses, bloggers, and other entrepreneurs need help with day-to-day tasks, projects, and other aspects of their businesses that virtual assisting has become a booming industry.  If you are new to being a VA, there are several companies that will hire you at entry-level.
You can also choose to start your own home-based VA business, and work with clients and rates that you choose.
1. Fancy Hands
2. Worldwide 101
3. EA Help
4. Zirtual
5. Time ETC
Related – Jumpstart Your Virtual Assistant Career (free course)
Writing
If you enjoy writing, or you want to give professional writing a try, being a freelance writer is the perfect way to work at home (or anywhere) part-time. Of all the categories listed here, writing will likely give you the most overall flexibility.
And since most companies hire you as an independent contractor anyway, you can start learning how to turn writing into a business making full-time income.
1. Textbroker
2. Examiner
3. Writers Domain
4. ZenContent
5. Scripted.com
6. About.com
7. PulsePoint
8. Blogmutt
9. Constant Content
Related – Kickstart Your Freelance Writing Biz (free course)
Other
The companies included here give you great part-time options, like online stylist, call reviewer, and image reviewer. Most of the part time work from home for this category is non-phone work!
1. Humanatic
2. NextWave
3. Bombfell
4. StitchFix
5. Shutterstock
Part Time Work From Home Jobs
As you can see, many companies hire people to work at home part time in several industries, so it's extremely likely you'll find something that's perfect for you.
Make sure to check out the related posts for additional options, and I'll keep this list updated as I find more part time work from home for extra cash.
Please share this post with your friends and family!
This post contains affiliate links, and I only recommend products/services that I trust. You can learn more in the Disclosure.