Proofread Anywhere teaches you how to proofread court reporters' transcripts. The work can be completed entirely electronically, so it's an excellent home business option for those who want flexibility.
If you have a good eye for catching errors, here is how you can turn that skill into a home-based business.
What Is Transcript Proofreading and Why Should I Make a Business of It?
Proofreading is identifying and correcting mistakes in written work. In the legal field, court reporters attend legal proceedings to transcribe everything that is said into a written record, or transcript. Though the method of capturing the spoken word varies, many court reporters use a stenotype machine to record proceedings.
Since transcripts contain every word spoken by each person involved in the proceedings, you can understand why these documents are a crucial part of the legal process, and why court reporters need to have them proofread prior to releasing them into official records.
With all the legal proceedings that happen across the country on a daily basis – courtroom trials, depositions, arbitration hearings, and more – court reporters' services are in high demand, which means plenty of opportunity for you to develop a thriving home-based business as a proofreader.
And in keeping with the name, this work really can be done anywhere!
The founder of Proofread Anywhere, as well as many of the course graduates, travel extensively or live overseas because the work only requires an internet connection and computer.
Proofread Anywhere will help you learn the skills you need to proofread transcripts, as well as how to obtain court reporters as clients.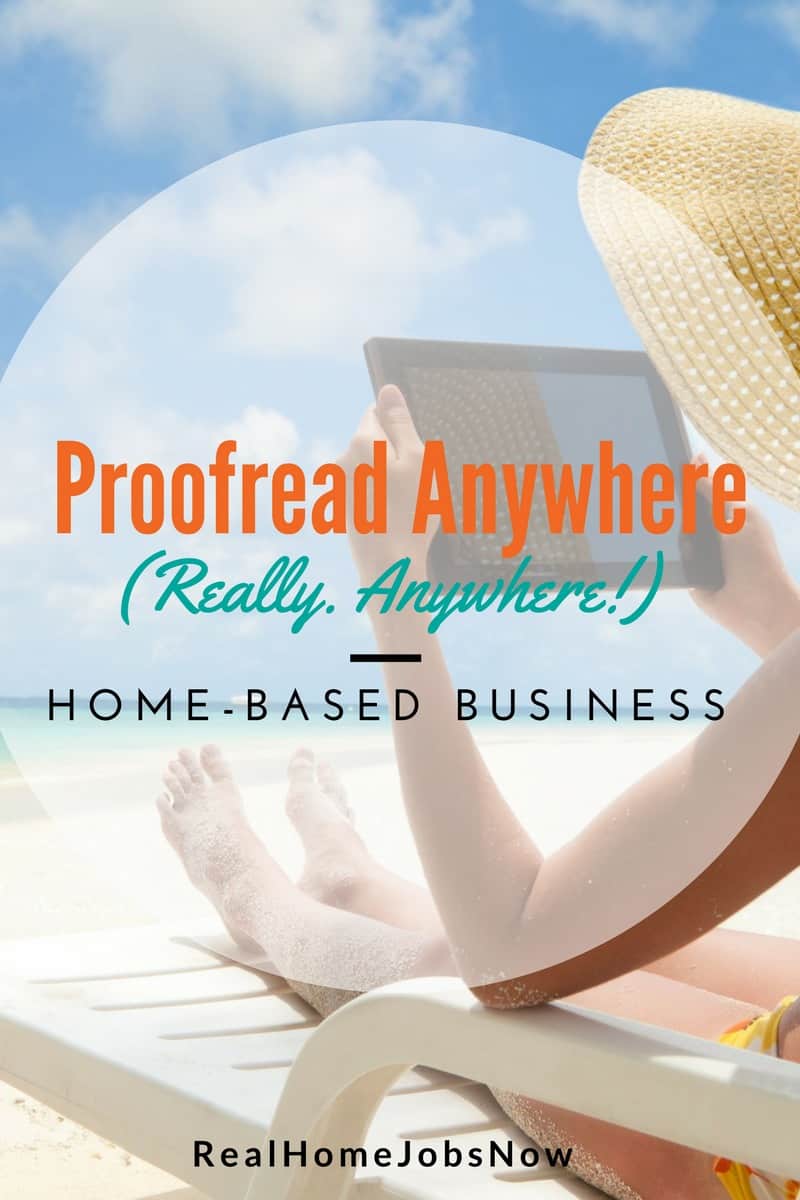 Proofread Anywhere
Caitlin Pyle is the founder of Proofread Anywhere. During her time working for a court reporting office, she became so proficient at spotting errors that she earned the nickname "Eagle Eyes". She perfected her methods and practices, which led her to share that expertise with others.
Proofread Anywhere began as a blog and grew into the course Transcript Proofreading: Theory and Practice™. The course debuted in February 2015, and now has many graduates who are earning a living as transcript proofreaders!
What Does It Take To Be a Professional Proofreader?
Officially, there are no required tools or qualifications for proofreading. However, you need to have an "eagle eye for error" and a basic knowledge of grammar and punctuation.
Since you will be proofreading legal transcripts, grammar is less important than punctuation. Transcripts capture spoken words exactly as they are stated, so you are not proofreading to ensure that what was said is grammatically correct :-). In legal transcripts, punctuation becomes a tool to ensure that meaning is clear, even if it was stated it in a grammatically incorrect way.  You'll also look for misspellings and inconsistencies within the document.
You do not have to be an English major to proofread!
You must also have the time to dedicate to learning. You need patience to read through the transcripts and adapt to looking for various errors. One of the great things about the course is that it is completely self-paced, so you can work through it on your own schedule.
As long as you are open to learning the new skills, which may be quite different from anything you've done previously, then you can have a business proofreading transcripts.
Related – More Home-Based Business Ideas
Technology
Proofread Anywhere strongly recommends using an iPad with the iAnnotate app to make proofreading easier. If you don't already have an iPad, you can opt for a version that has WiFi only, since you only need to be able to download and send pdf files.
You can proofread offline.
The course includes instructions on using iAnnotate and customizing your workspace for transcript proofreading.
You can also choose to complete work using a desktop or laptop computer.
Though an iPad is not a necessity, it is recommended because it allows portability, ease of making notes inside the transcripts, and the Android version of iAnnotate does not have as many functions and receives mostly negative reviews.
How Much Can I Earn?
Proofreaders are paid per page. After completing the Proofread Anywhere course, many proofreaders find work within a month, with several saying they made $1,500 or more within the first two months.
Court reporters may send varying amounts of work each month, so your income will fluctuate. However, with enough clients, you should be able to develop a steady income.
What Will I Learn?
Transcript Proofreading: Theory and Practice™ takes about 2-4 months to complete, but it is self-paced.
The entire course is over 50 modules with thousands of pages of practice transcripts!
The course can be broken up into four sections, and you can also choose to pay per section instead of needing to pay for the full course upfront. Here's the course breakdown from the site (full tuition is $1,174):
• 7-Day Beginner Basecamp. This starting point includes Module 1 + beginning resources — $77
• 30-Day Jumpstart (Modules 1-2) — $197. Very common starting point.
• 60-Day NextSteps (Modules 3-5) — $400
• Lifetime Launch & Earn (Modules 6-9) — $500
Why provide the course in sections?
So you can be absolutely certain that you want to move forward before investing the full course amount.  Once you have the course, you have lifetime membership with all future updates at no additional cost.
Please note that Proofread Anywhere reserves the right to change their prices at any time, so though I will try to always keep tuition updated here, I might not be aware of changes.
Reviews
Online reviews are mainly positive. From those who have completed the full paid course, reviews state if you put in the effort, you will make money quickly and steadily. They received their first clients in days or weeks and then used their money to travel and pay off debt.
Some reviewers even go on to quit their full-time jobs!
Not Ready to Take the Plunge? Take the FREE Mini-Course!
Proofread Anywhere offers a free 7-day intro course. It includes an introduction to proofreading, a grammar quiz to see where your skills really are, biggest mistakes and the solutions to those mistakes, marketing strategies, how newbies can get their first client, and the opportunity to ask questions about the field of proofreading.
The free course is a great opportunity to check out transcript proofreading, and find out if it is really something you want to pursue.
Got questions? Proofread Anywhere has a great FAQs section, too.
If you like the work in the free course, then you should take the full course and let Proofread Anywhere help you start your own transcript proofreading business!
This post contains affiliate links, and I only recommend products/services that I trust. You can learn more in the Disclosure.
Updated: June 22, 2017