Do you want to start a blog?
Blogging is a terrific way to help others by sharing your expertise, and a great way to earn a flexible income from home!
Blogging can be very profitable, and if you enjoy writing it's one of the best ways to make money online.
When you start a blog, you can
write about whatever your interests are,
grow an online community, and
monetize your blog through ads, sponsors, affiliate marketing, and even sell your own services and products.
According to WordPress.com, 409 million people spend time reading blogs online each month!  This creates a huge opportunity for bloggers to earn a full or part-time income doing something they love.
If you're ready to start your own profitable blog, this step-by-step guide will show you exactly how to get set up in just minutes!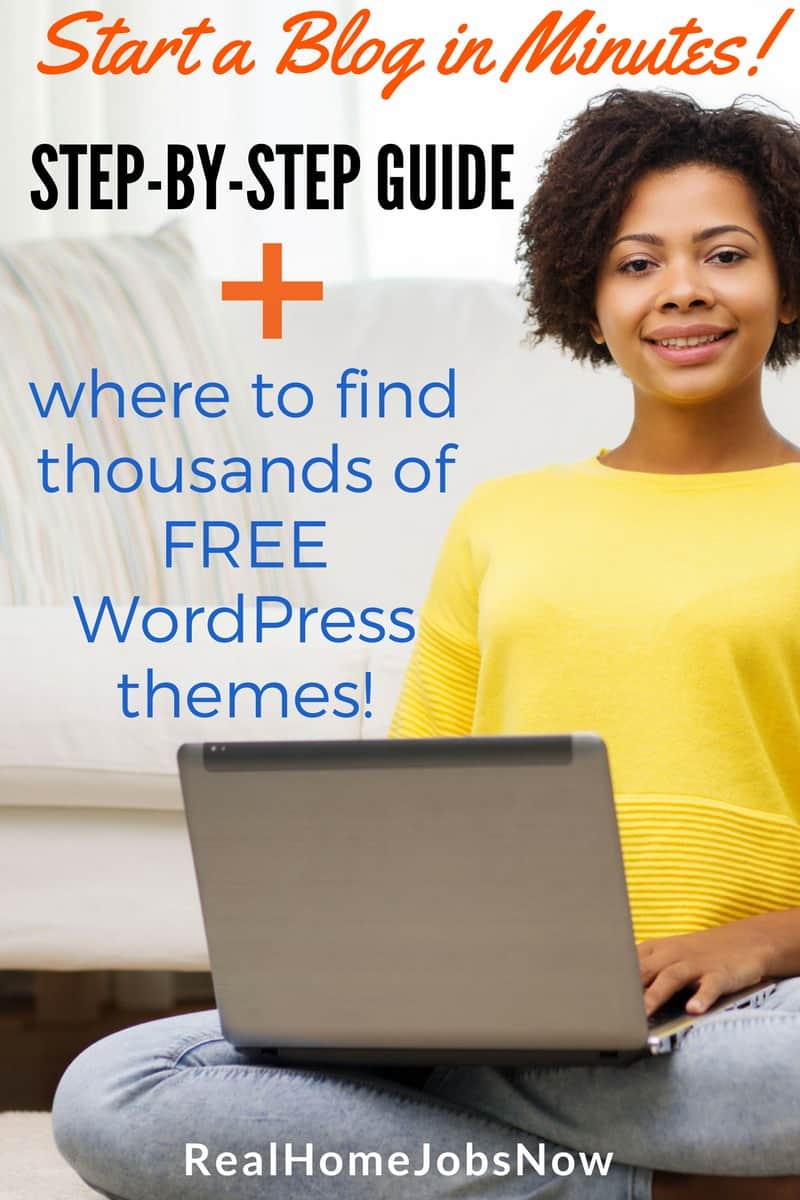 Step 1 – Start a Blog: Decide What You Want to Blog About
Your first step to start a blog is to decide what you want to write about. It's important to consider your interests and experience with certain topics before the idea of making your blog profitable.
Blogging is a lot of work, and you want to blog about topics that engage you and help others, otherwise you may find yourself quickly losing interest. There are blogs about everything these days so regardless of what you choose to write about, you can likely make your blog profitable.
Think about any skills you have or interesting perspectives. Are you a stay-at-home mom or a working mom? Are you a retiree? Do you love pets? Are you a music enthusiast? Are you a relationships expert? Do you want to help teens get into college without taking out a ton of student loans?
Narrow down your passion and you'll surely find a suitable blog topic. Keep in mind that you can incorporate several sub-categories as well once you choose your main topic.
Step 2 – Choose a Blog and Domain Name
Next, you'll want to choose a name and domain name for your blog. The domain name is just the URL people will type into their internet browser to find your site.
Take your time when it comes to naming your blog. Ideally, you want it to be easy to remember while reflecting what your blog's main topic is.
Once you have a blog name you like, I recommend jotting down a list of domain names you are interested in.
A domain name can only be used by one person. For example, this site's domain name is www.RealHomeJobsNow.com, and no one else can use the domain name for their website.
Step 3 – Set Up Hosting
Once you've got your blog name and domain name picked out, you'll need to set up web hosting. This is a very important step.
If you want to monetize your blog one day, it needs to be self-hosted which means it can't be on a site like Blogger or WordPress.com.
When your blog is self-hosted, you do have to pay a monthly hosting and maintenance fee that is often paid annually, but it's well worth it.  One of the most affordable hosting companies to use is Bluehost, and I'll be showing you exactly how to set up your blog with them.
First, you'll need to go to the Bluehost website and click 'Get Started Now'.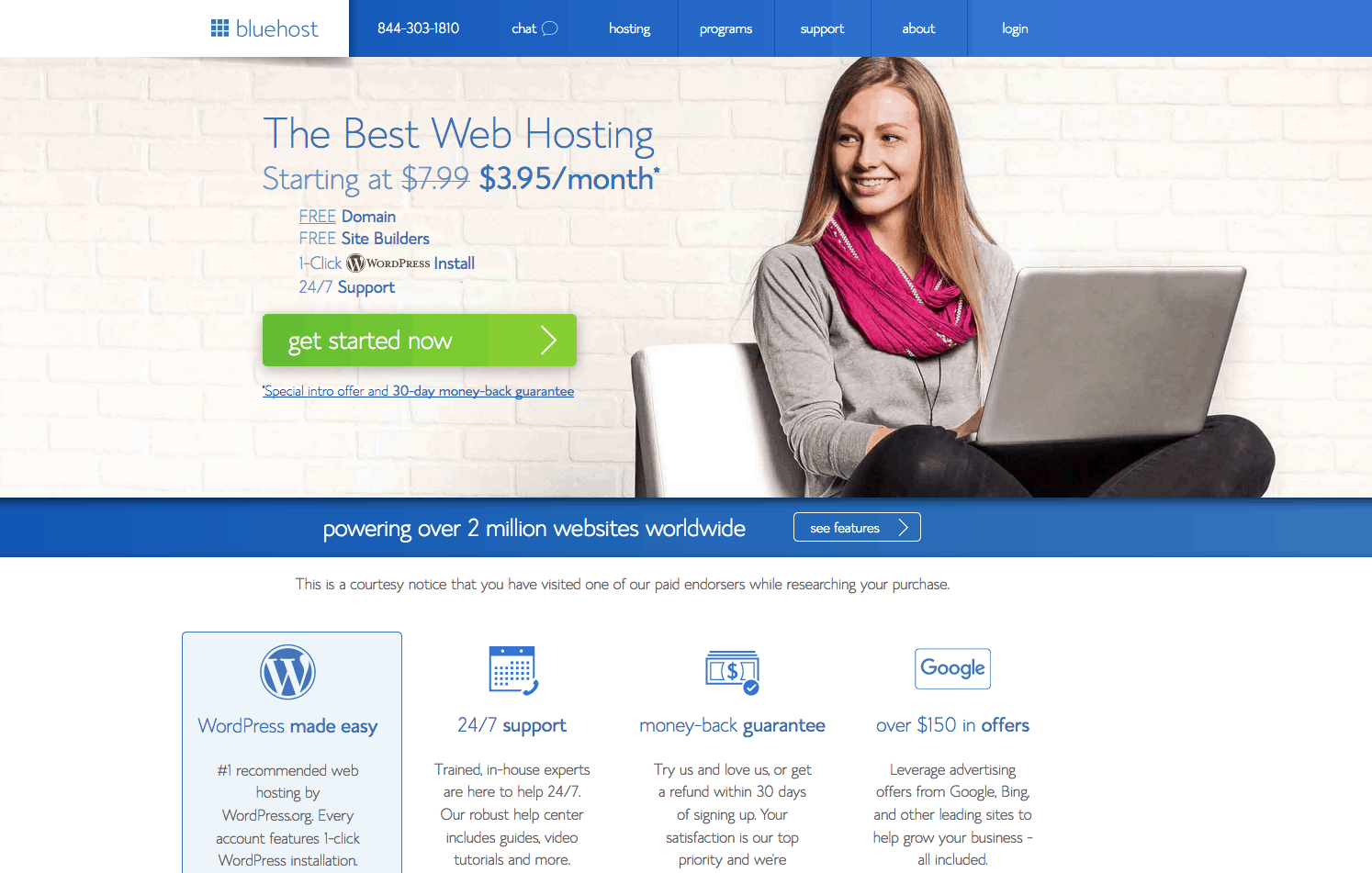 There are 3 different plans you can choose from so make sure you carefully review what each one offers. The basic plan is offered at only $3.95 per month, which is a steal and should be more than enough to get you started for the first year.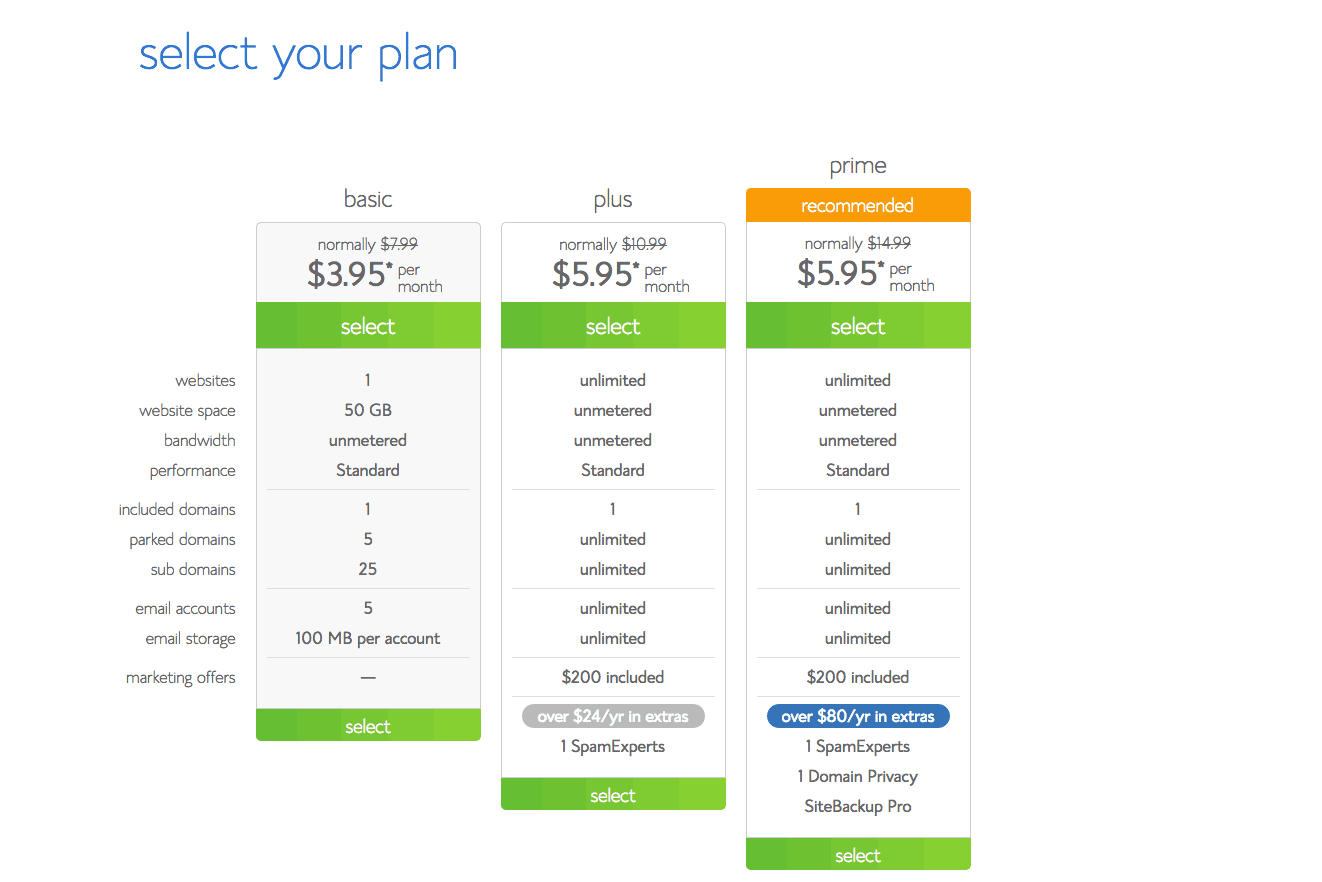 Once you select your plan, you will need to enter the domain name you decided on. I love that Bluehost offers a free domain name if you sign up for one of their plans.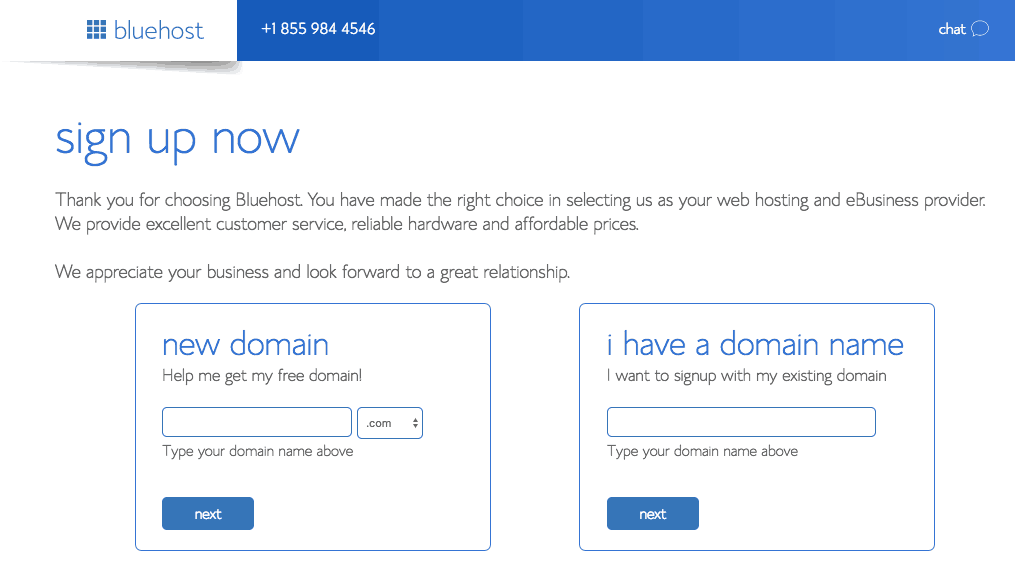 Next, you'll just need to follow the prompts to add your account information and check the boxes to purchase any extra add-ons. I'd highly recommend getting the domain privacy protection for just $0.99/month along with Site Backup Pro.
With the Domain Privacy Protection, personal information like your name and address won't be revealed if someone were to search for information on your domain name.
Site Backup Pro is also important and could come in handy down the road if anything unexpected happens to your site, like a hack or if it accidentally goes down.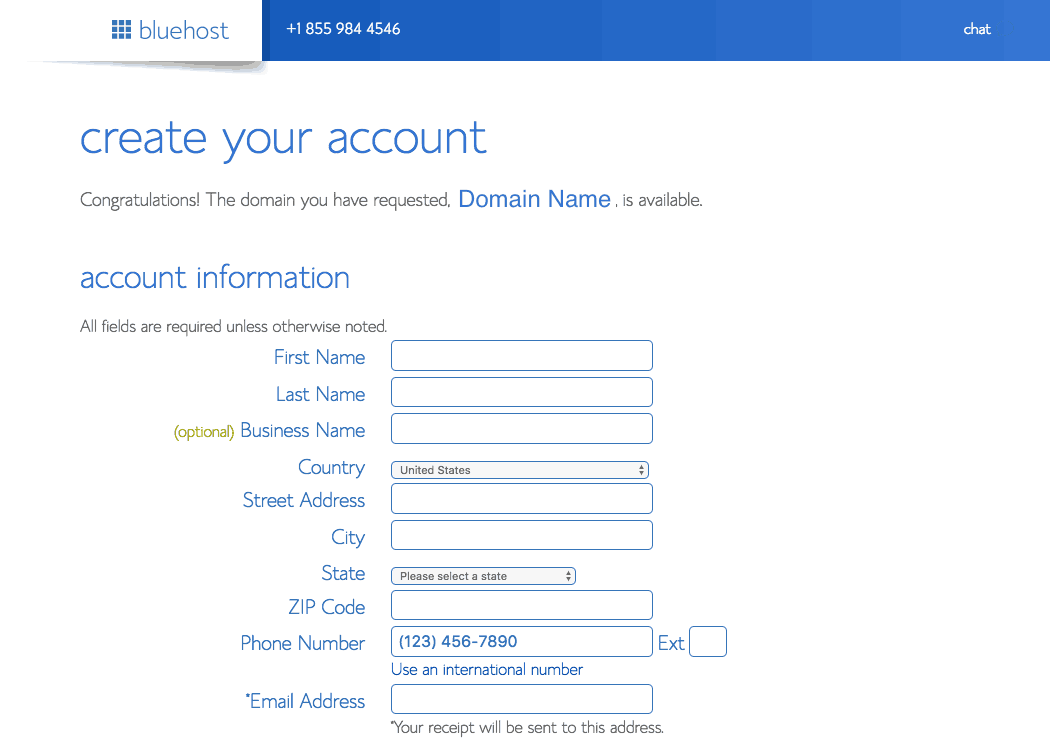 You will then pay for your hosting package and setup a password for your account.
Step 4 – Install WordPress
Once you've set up hosting with Bluehost, it's smooth sailing from there and all you need to do is install WordPress.
Bluehost makes it super easy to do this, and once you're logged into your Bluehost account, you'll need to go to the Website section on the cpanel tab and click on the green 'One-Click Installs' button.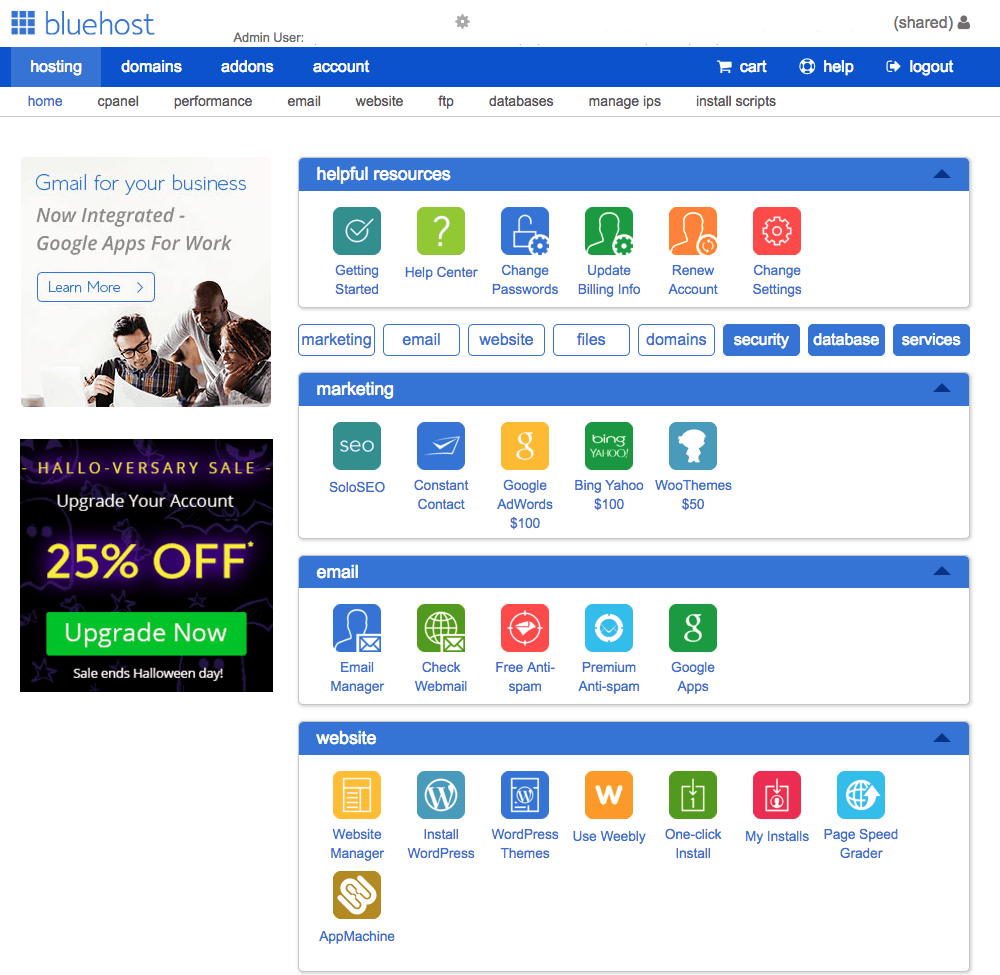 Once WordPress is installed, you just need to find the domain name you just registered and enter in an Admin username and password. Be sure to record this information somewhere safe.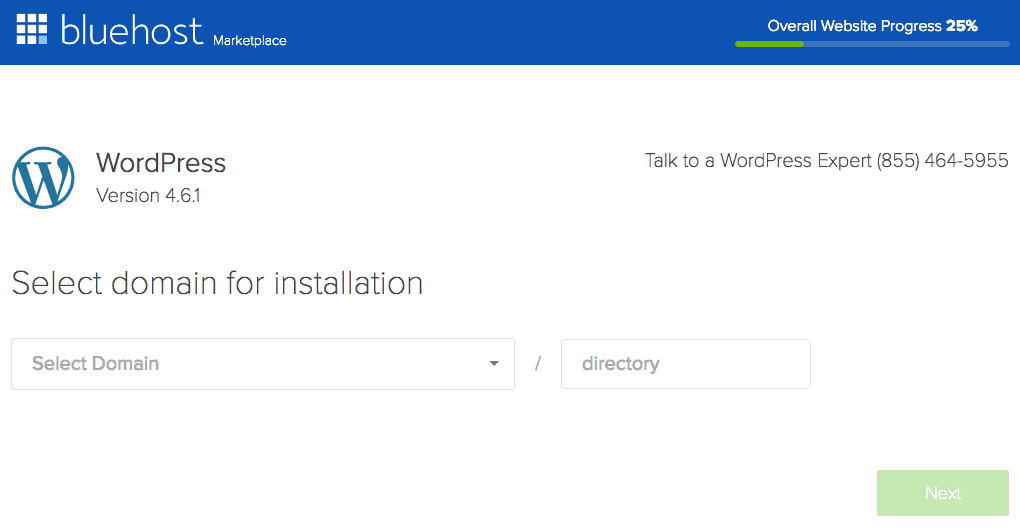 Finally, click 'Install'.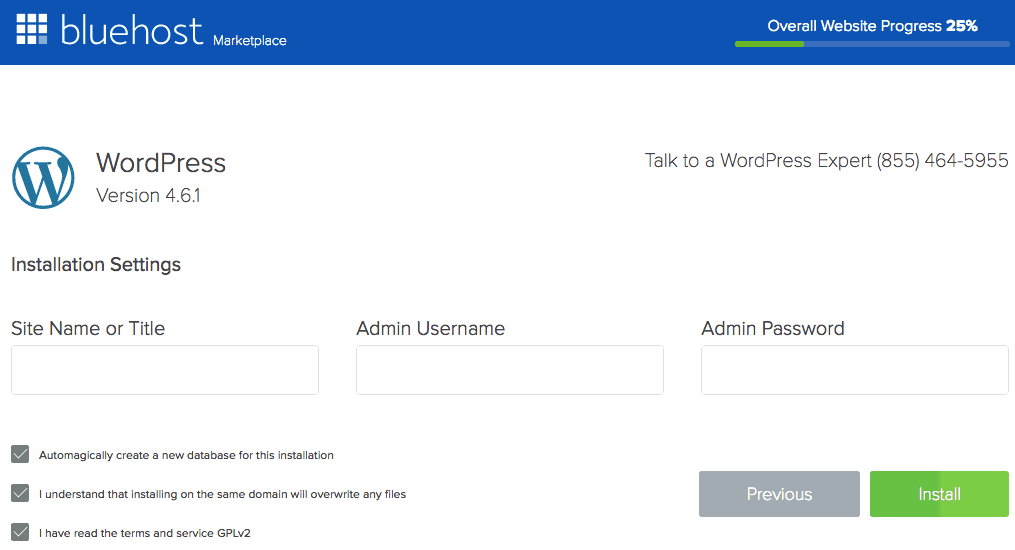 That's it for your hosting account.
Step 5- Start Blogging!
Now that your blog is all set up, you can install a theme and create your first post. WordPress has several free design themes that are easy to install with one click.
As promised, here are thousands of free themes ready for download. Make sure to review each category (Featured, Latest, etc.) to see the over 4,000 available themes.
If you want to go with a paid theme, make sure it is compatible with WordPress. You can certainly start a blog with a free theme, but you'll find that premium themes usually have more features and capabilities.
Two of my favorite places to look for affordable WordPress themes is ThemeForest and StudioPress.
ThemeForest has WordPress themes starting at around $13.
WordPress is the platform you'll be using to create and publish all your posts and pages for your blog. It's super easy to use once you get the hang of it.
To create your first post, you'll need to make sure you're logged in and go to the dashboard. To log in, type in your domain name and add: /wp-admin so it will look like www.mydomainname.com/wp-admin. Then, log in with the credentials you created in step 4.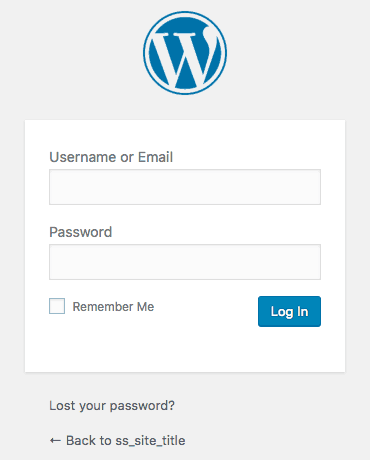 From the dashboard, scroll down to 'Posts' and hover over that link, then click on 'Add New'. You can add a title for your post, upload some images, then start typing away.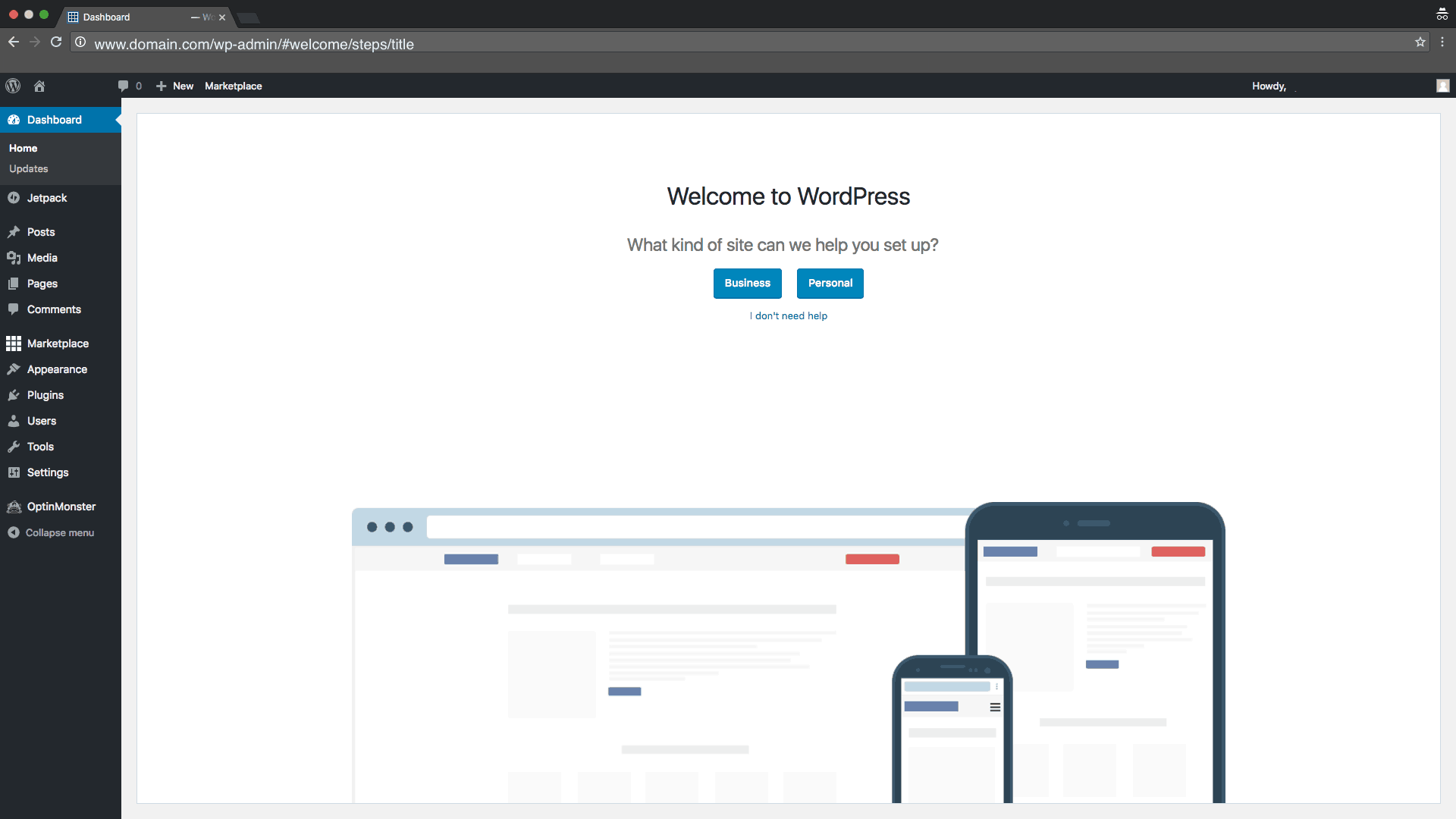 You can save posts as a draft, schedule some for the future, or hit 'Publish' to put the post live on your blog.
Once you make it through these 5 simple steps, give yourself a pat on the back and take the time to really have fun with creating posts and exploring your blog's topic.
Step 6- Grow Traffic and Monetize
There is a lot to be said about getting people to your blog (traffic) and making money with your blog. There are books dedicated to these topics alone.
For now, just know that you should focus on growing some traffic before you worry about monetization.
It makes no sense putting all your efforts into making money when no one is visiting your site, right?
For starters, you can grow traffic by sharing your posts on social media, and literally telling everyone you know about your blog. A Facebook page is one of the quickest ways you can begin to build a community around your blog.
You can also join forums and other online interest groups that match your blog's topic to find like-minded people who can use your content.
When you're ready to monetize, many people start with Google Adsense.  Adsense allows you to earn money by placing ads on your site. The program is very straightforward, and it's free.
Are you ready to start a blog? Feel free to share your ideas and any questions you have in the comments!
Here are more home business ideas that you might like.