Looking for a real work from home job that lets you work with background noise, and doesn't require a phone?  Talk2Rep Sales Chat Agent may be just the position you're looking for.
Talk2Rep
Talk2Rep headquarters are located in Fort Lauderdale, Florida, and they have multiple facilities throughout the United States and the Dominican Republic. In 2005, they began offering work from home positions.
With over 25,000 certified agents, Talk2Rep services government agencies and private sector clients across various industries.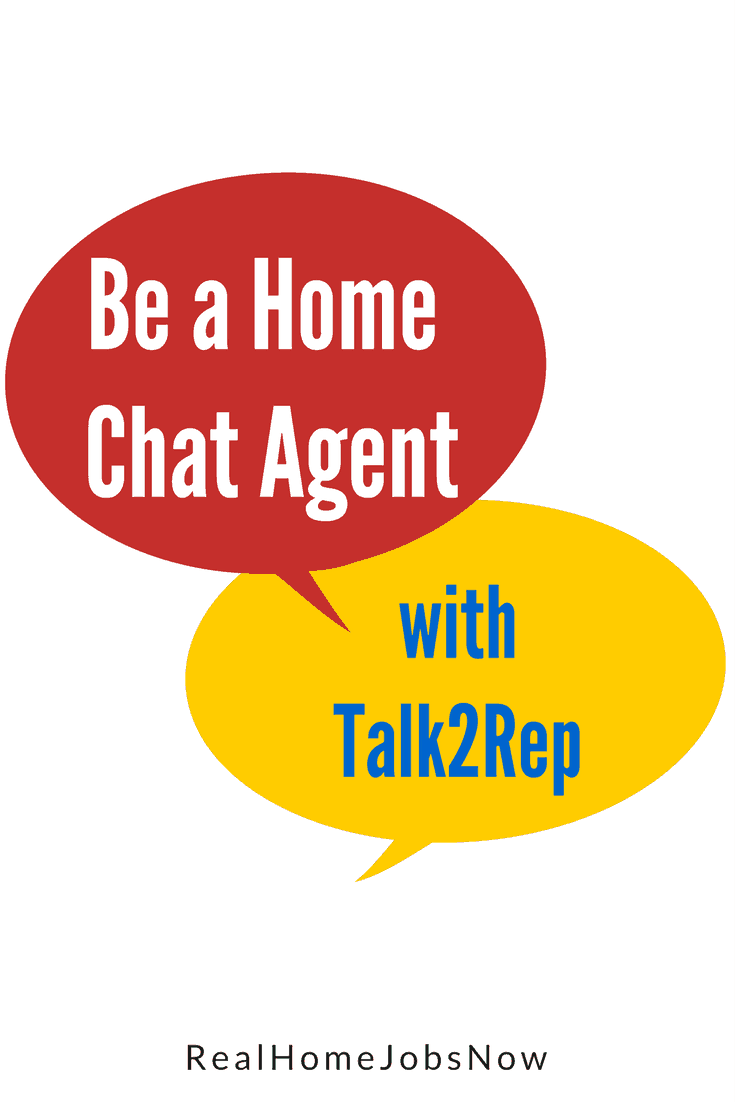 Talk2Rep Chat Agent
As a work at home sales chat agent, your job is to respond to inbound chat sessions from customers, and consult them about products. You must be able to multi-task, since you are expected to handle up to three chats simultaneously, along with any necessary research you must do to successfully complete each session.
The current job posting says you'll chat with customers of a telecommunications company, and based on my research, the company is likely AT&T.
Related – Work From Home Chat Jobs
Talk2Rep Pay
Though the pay rate is not listed on Talk2Rep's website, recent reviews state that the rate is $9 per hour, with the opportunity to earn bonuses for completed sales.
Agents are hired as independent contractors.
Schedule
You will be asked to provide your availability and scheduling preferences, which is taken into consideration to produce your set schedule. Generally, you must be available in 4 hour increments, and you are required to work at least one weekend day. It seems that Talk2Rep requires a minimum of 25-30 hours per week.
If you are selected as a Talk2Rep Sales Chat Agent, you will complete about two weeks of training (not paid) on a set schedule.
Technical and Other Requirements
Talk2Rep requires that your computer is hardwired to the internet with a minimum upload speed of 1.0 mbps. The computer must also use a Windows operating system; MACs are not supported.
All applicants must pay for and pass a background check; it is reported that the background check is $50.
You must be able to type at least 50 words per minute with no errors. Sales and chat experience is a plus, but not required.
Here's the complete job posting.
Talk2Rep Chat Agent Reviews
Talk2Rep reviews are a mixed bag, with many of the negative reviews from agents who report that their contract was terminated without warning.
If you take a look at reviews on Indeed, Glassdoor, or forums, take note of the review date. The sales chat agent position was once paid solely on commission, and many agents complained about working numerous hours with no pay.
At some point in late 2013 to early 2014, Talk2Rep changed the pay structure to hourly pay plus bonus potential, and the situation was remedied.
Application Process
To begin the application process, visit the Talk2Rep careers page and select "Work At Home Positions" in the location drop-down box.
When you select to apply for the sales chat agent position, expect to complete a full application including past employment, references, computer information, and some screening questions.
According to my research, if you are approved for the next step, you will be contacted to complete skills tests, and an interview with a chat session included. From there, a Talk2Rep representative will let you know if you have been selected for the final steps.
Have you worked with Talk2Rep as a Sales Chat Agent?  Working with them now?  Please share your experience in comments!