Ready to put your typing skills to work and earn money from home as a transcriptionist? Transcribe Anywhere teaches you how to become a professional transcriptionist.
If you are detailed, have great listening skills, and you can type quickly and accurately, you can launch your own home-based transcription business.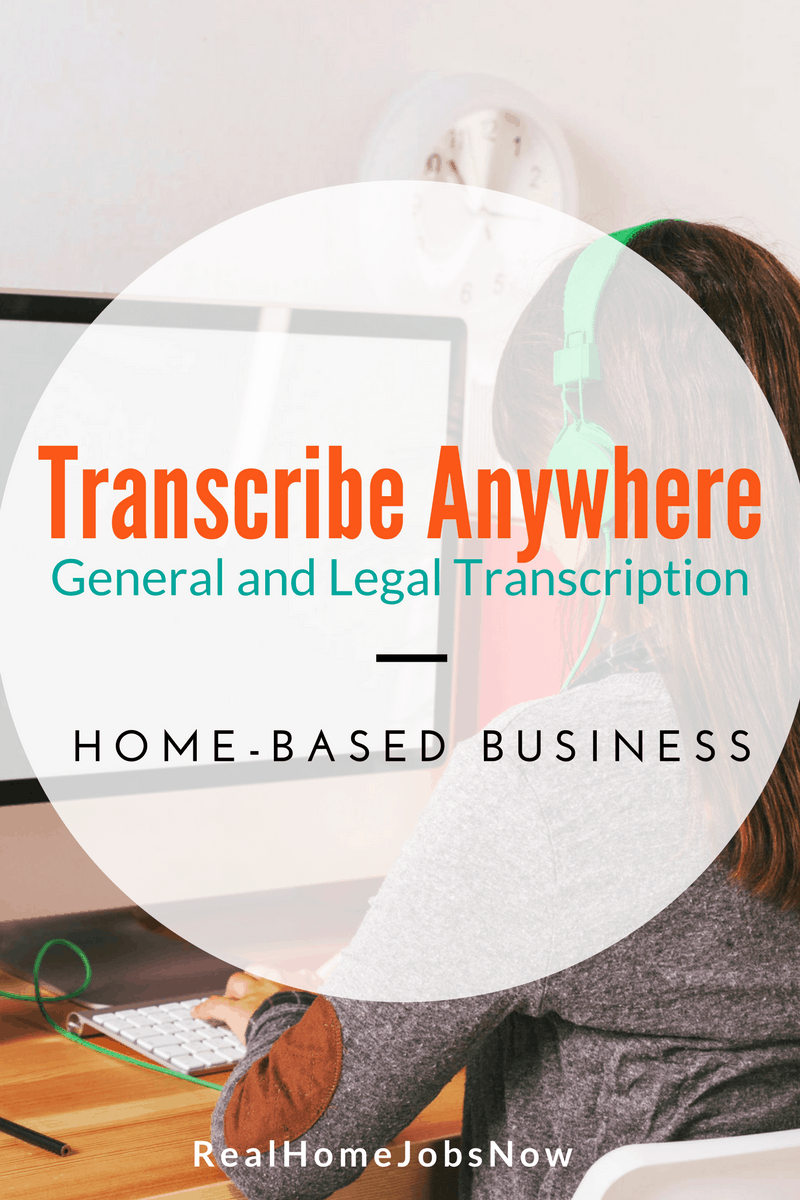 What Is Transcription and Why Should I Make a Business Out of It?
Transcription generally means taking what is said from an audio or video recording, and typing it out in complete sentences or a summary. Transcription re-purposes audio content to create a written record of it.
Some transcriptionists are asked to transcribe audio clips word-for-word while others are expected to edit what they hear or paraphrase it.
Some of the media a transcriptionist may be asked to transcribe include video recordings, live presentations, webinars, voice mail messages, phone call recordings, conference calls, and more.
There are quite a few types of businesses that hire transcriptionists. For example, insurance agencies, entrepreneurs, and medical facilities often don't have time to transcribe important audio files, which is why a transcriptionist can come in handy for them.
By starting your own transcription business, you will set your own rates and hours so you can scale up or down as needed.
Another perk is that you can work from home (or anywhere) as long as you have the necessary equipment and a quiet space.
When it comes to developing and improving your skills so you can land quality jobs, Transcribe Anywhere will provide you with the instruction, tools, and support you need to learn how to deliver quality professional transcripts for various different types of audio in a timely manner.
Transcribe Anywhere
Janet Shaughnessy is the founder of Transcribe Anywhere. She began working from home as a medical transcriptionist in 2007 and later developed her own legal and general transcription company called Zoom Transcription Services.
One of her biggest obstacles with building her business was a lack of qualified transcriptionists to work with so she considered creating a course.
Janet knew that many people believed transcription consisted of merely listening and typing but the truth is that it's so much more. She created TranscribeAnywhere.com as a self-paced e-learning platform for aspiring transcriptionists who want to learn general, legal, and medical transcription.
Related – Become a Professional Proofreader with Proofread Anywhere
What Does It Take to Become a Professional Transcriptionist?
Generally, transcriptionists do need to be fast and proficient typists, but that is only part of the requirements. To be successful at transcription work, you need to have a good grasp of English grammar and punctuation. You also need to be highly skilled in using word processing software and the internet.
You should also be able to sit for long periods of time. Since you'll most likely be working from home, you need to be self-motivated and self-disciplined in order to get all your work done in a timely manner.
Simply put, transcription work is not as easy as it may seem, but it's a real job and a viable business opportunity.
And the great news is that Transcribe Anywhere offers training for both general transcription and legal transcription!
Legal transcription is quite different from general transcription because you must learn legal terminology and the proper styling format for legal transcripts.
Whichever niche you choose, Transcribe Anywhere provides comprehensive coursework so that you can become an expert and land clients.
Technology
To get started as a transcriptionist, you'll need a computer with high-speed internet, a quality pair of headphones, and word processing software.
Eventually, you might need other transcription equipment like a foot pedal so you can pause and rewind audio, but Transcribe Anywhere's course content will help you choose any appropriate additional equipment you'll need.
How Much Can I Earn?
Transcriptionists can get paid by word, audio minute, audio hour, per line, or per page. It's important that you understand how compensation is measured to determine how much you're going to make.
Getting paid $25 per hour is not the same as getting paid $25 per audio hour.
When audio content is measured per audio hour, it refers to the length of the actual audio and not the amount of time it takes you to transcribe it.
For example, let's say you're given an hour of audio to transcribe. It will most likely take you more than an hour to transcribe it since you may have to pause and rewind the audio from time to time.
If you're being paid per audio hour, you'll be paid a flat rate for transcribing that one hour of audio regardless of how long it takes you, whereas if you're getting paid per hour, you'd get paid for the time you spent instead.
According to PayScale, the average beginner transcriptionist can expect to earn around $15.09 per hour while industry specific transcriptionists like medical transcriptionists can earn $40k – $70k per year working full-time.
What Will I Learn?
Transcribe Anywhere provides two courses: General Transcription: Theory & Practice and Legal Transcription: Theory & Practice. Both courses take an average of 2-4 months to complete.
The general transcription course has 6 modules, while the legal transcription course has 16 modules.
Both courses give you lifetime access and provide video tutorials on software, time coding, and more along with printable worksheets, a style guide, and practice transcripts
The courses share where to get the best deals on transcription equipment, so you don't have to buy anything specific before you get started.
As an added bonus, these courses help you find higher-paying work as an independent contractor so you can launch your own small business. Transcribe Anywhere is not a job placement agency, but they will help give you the skills, tools, and resources to find quality work from home transcription jobs.
Transcribe Anywhere offers pay as you go options and easy content upgrades so you can start with a lower level package with limited-time access, then upgrade to the all-inclusive version with lifetime access.
For the general transcription course, there are 3 levels:
Level 1 – Learn the basics plus punctuation knowledge necessary for transcription and access to modules 1 and 2. – $127
Level 2 – Gain access to modules 1, 2, 3, and 4 including the how-to's of transcription, software video tutorials, and their state-of-the-art 7-level practice system. – $362
Level 3 – This is the all-inclusive course that also provides you with the tools you need to build your business and market yourself as a transcriptionist. You will receive lifetime access. – $597
For the legal transcription course, there are also 3 levels to choose from:
Level 1 – Gain access to modules 1-4 where you'll learn the basics, including typing drills, tools of the trade, punctuation, and word processing features and tools. – $197
Level 2 – Practice your skills by gaining access to modules 1-9, including practice dictations and training in the legal process and court procedures. – $497
Level 3 – This is the full comprehensive version of the course that also helps you build and market yourself as a transcriptionist in order to find work after you complete all the lessons. You will receive lifetime access. – $697
Reviews
Online reviews from people who have taken this course are mainly positive. Students say that the course was well worth the investment.
If you're new to the idea of working from home as transcriptionist, it's understandable that you'll have some questions regarding the work in general along with whether you'd be a good fit.
Transcribe Anywhere has a Frequently Asked Questions page on their website that you can use to learn more about this flexible line of work so you can properly weigh the pros and cons before signing up for a course.
Not Yet Ready to Take the Plunge? Sign Up For One of the Free Mini Courses
Transcribe Anywhere offers two 7-day mini courses for general transcription and legal transcription.
In these courses, you'll learn more about the industry and the current need for transcriptionists, along with how much you can earn, where you can find work, and what equipment you'll need to get started.
If you're on the fence about whether transcription work is something you'd like to pursue, the free course option is where you should start.
This post contains affiliate links, and I only recommend products/services that I trust. You can learn more in the Disclosure.