Knowing how to identify job scams and how to research for scams are the major keys to avoiding them. But just as people are learning more about work at home scams, the scammers are getting better at scamming.  And they are making these bogus offers appear more legitimate and enticing.
Some work at home scams are tried and true, and they've been around forever because people keep falling for them.
Save yourself time and money by understanding what some of the most common scams are.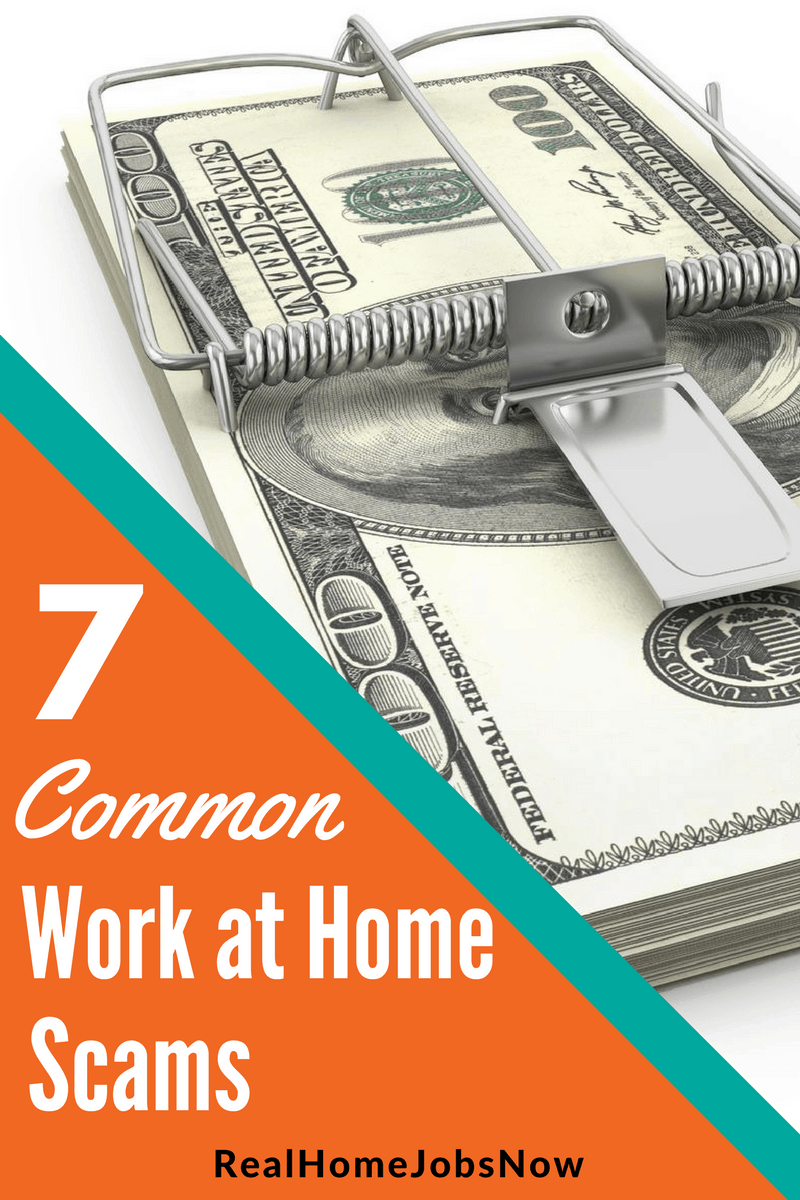 Don't Fall For These Common Work At Home Scams
Bait and Switch
---
These work at home scams promise you a job but don't deliver.
Envelope Stuffing
Envelope stuffing is an old scam that continues to lure well-meaning potential workfromhomers.
The claim is that you will learn how to make thousands of dollars a month with envelope stuffing! All you need to do is send a small fee and everything you need will be shipped to your door.
What you'll really receive for your fee (if you get anything at all) is an information packet describing how to start your own envelope stuffing work from home business by contacting other businesses and offering your services. Though there will always be envelopes that need to be stuffed, what is the likelihood that another business will pay you the kind of money that you were promised in the ad? Most businesses will use existing staff or machines to perform this task and would never outsource.
In another iteration of this scam, in return for your payment you will be sent a letter describing how to place ads for the exact same advertisement that you responded to! Supposedly you will only get paid if other unsuspecting people respond, and the scam continues.
Rebate Processing
Much like envelope stuffing, you are promised thousands of dollars for processing rebates and the entry into this venture is just a "small fee". If you receive anything, it will be instructions on how to setup your own rebate processing business.
Email Processing
"Get paid $25 per email you process! No limits to your income! Easily make hundreds of dollars a day and work from home!"
Sound familiar? What you'll do is send payment, usually around $25, to the person who posted the ad. They will then send you a link with ads that you can "customize" and instructions about posting your own ads and setting up a PayPal (or other) account to accept payments. The "email processing" happens if other people respond to your ad and you send them the same link with the same information that was sent to you. There is no job, product, or anything of value here.
Business in a Box
---
Medical Billing Business
These work at home scams claim that they'll give you everything you need to start a successful work from home medical billing business making $50,000 or more per year – training, marketing materials, software, and leads. The scammers usually state that no experience is necessary and remind you that health care is a booming business with money available for the taking. For your fee, usually around $500, you will receive worthless information, software, and non-existent leads.
Though a medical billing business is a great home-based opportunity, you will not get what you need for a few hundred dollars. Medical billing requires specialized knowledge including medical terminology, coding and fees, an understanding of how insurance works, and other knowledge specific to the industry.
The software alone might cost you more than fee for the whole package that these work at home scams promise you. Doctors pay professionals to process claims, and they absolutely will not contract with someone who does not have the necessary experience and knowledge.
There are some legitimate companies that offer a turn-key solution for entry into the medical billing industry, so research extensively if you are interested. You can also check with local vocational colleges as many offer medical billing courses.
Explore your options and find out what it takes to be truly proficient in the industry. Whatever training you choose, make sure that it prepares you to sit for national certification exams.
Craft/Product Assembly
In this case, you pay the scammer for a kit consisting of materials and tools to make jewelry, sewing crafts, and other projects that you will attempt to sell back to the scammer. The catch is that even though you follow assembly instructions to the letter, your finished products somehow will not "meet standards" of the company so you will not be paid.
There are some legitimate assembly opportunities, but exercise extreme caution.
Even if you are interested in this work and you find a legitimate company, remember that your finished products will still need to be approved and you might not pass inspection initially. When you consider the amount of time it takes to hand assemble products, send them for inspection, wait for a response, and what you are paid if your items are approved (maybe $2- $3 per item), is it really worth your time?
Financial
---
Check Cashing
You are recruited as a "personal assistant", "sales manager", "payment processor" or any other official-sounding position where part of your job responsibility is to handle payments.
You are sent a check and instructed to cash it from your own personal bank account, take a percentage as a commission, then wire the remainder to your "employer" who will usually be overseas.
By the time the check bounces the scammers will have the money and be long gone. You'll be left holding the bag and owing the bank to cover the counterfeit check. No reputable employer will ever ask you to use your own bank account to conduct transactions on their behalf.
Re-Shipping
Some of the most dangerous work at home scams are re-shipping schemes. You may be hired as a "shipping manager" or "logistics manager". The scammer purchases high-ticket items with fraudulent credit cards, sends the merchandise to you, and you then repackage and reship the items to them overseas.
Other than the fact that you are already participating in a crime, shipping stolen goods may be just the beginning.
Prior to being "hired", the scammer will require you complete an employment application including the usual personal information – social security number, date of birth, home address. Just like the check cashing scheme, you'll be sent a check as payment. Again, the bank will eventually learn that the check is counterfeit and expect payment from you.
In the meantime, not only have the scammers received stolen merchandise from you and sent you a bogus paycheck, they may also use the information from your application to get credit in your name and continue the scam.
If you've run into these common work at home scams or any others, please report them.  You'll help put work at home scams out of business, and help educate your fellow workfromhomers.