The companies listed here hire for various work from home education jobs – teaching, tutoring, and scoring, but many also hire other staff, such as department chairs, admissions representatives, curriculum developers, principals, and more.
You will find online opportunities for K-12 and post secondary.
At home education jobs require the same educational and certification credentials as offline positions. Please review requirements carefully.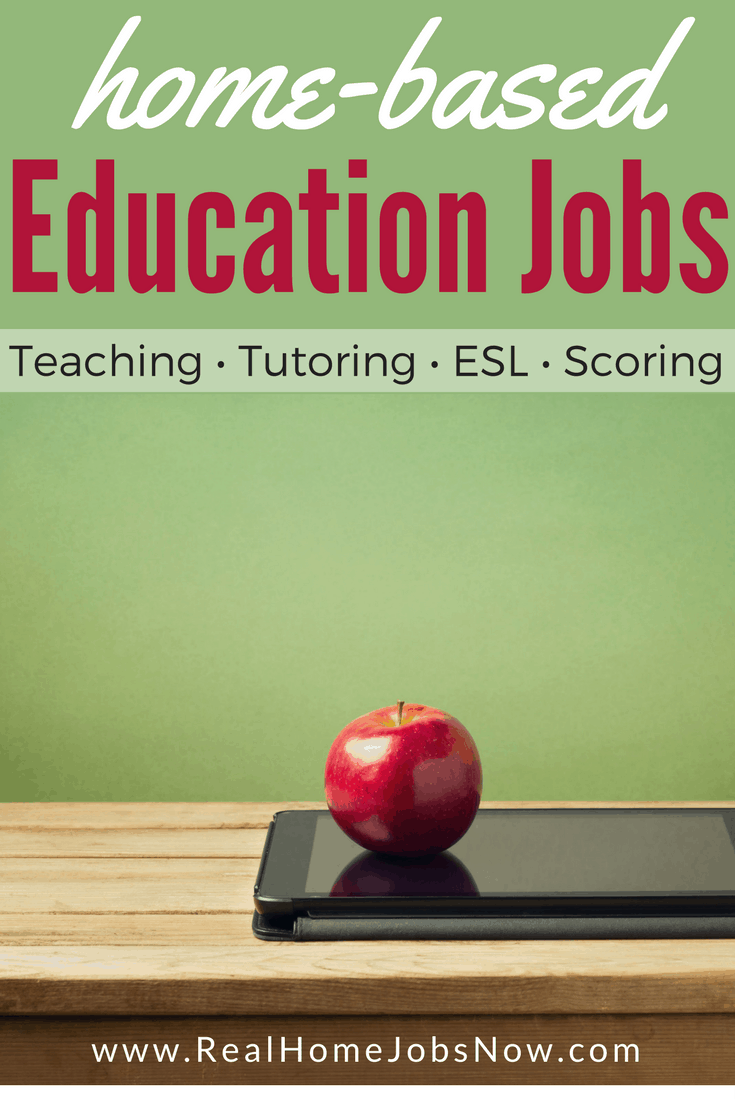 Work From Home Education Jobs
TEACHING
Connections Academy
Connections Academy is a free online public school for K-12 in participating school systems. Connections consists of four platforms with different educational goals, providing online teaching and other professional positions across each.
K12
K12 hires state certified teachers for K-12 students enrolled in online public and private schools.
Liberty University Online Academy
Liberty University Online Academy is a private academy hiring teachers for K-12 subjects.
Liberty University
Liberty University is a private university in Virginia that hires online adjunct faculty to teach undergraduate and graduate courses.
Laurel Springs School
Laurel Springs School is a private online K-12 school.
Edgenuity
Edgenuity hires virtual instructors for grades 6-12 with state certification in core subjects, world language, business, technology, art, health, or physical education. Teachers are not responsible for course development.
Edmentum
Edmentum provides online learning programs. They hire teachers as independent contractors, primarily those who are certified to teach grades 6-12.
TUTORING
Learn about work from home tutoring jobs.
ESL (English as a Second Language)
EF English Live
EF English Live hires independent contractors to teach at least 15 hours per week. Must have a TEFL or equivalent ESL certification and be a native English speaker.
goFluent
goFluent is a distance training provider for business English. They are looking for home-based native English speakers with training and/or corporate experience for the Business English Trainer position. You must be able to work at least 4 hours per day/20 hours per week. Hires in most areas of Florida, Kansas, Missouri, Oregon, New York, and Washington.
Open English
Open English provides their learners with real-time access 24 hours a day to native English speakers. You must have ESL or TESOL (Teachers of English to Speakers of Other Languages) experience.
Golden Voice English
Tutor children in English part-time between the hours of 6am to 10am EST Monday-Saturday with Golden Voice English. You must have at least three months of teaching/tutoring experience.
Berlitz
Berlitz Virtual Classroom hires part-time Language Instructors for all languages. Teaching experience is preferred, but not required.
Cambly
Tutor by chatting with people around the world with Cambly. No experience is necessary.
Learnlight
Learnlight gives you several opportunities to work online in the education field. As a foreign language teacher, you must have a minimum of two years foreign language teaching experience, and hold a qualification such as TEFL, TESOL, or others.
SCORING
In the world of home-based education jobs, many people still aren't familiar with test scoring.
Online test scorers read and evaluate student responses to the written portions of various testing programs, such as the SAT. You will be provided with the clients' criteria to score responses.
In addition to meeting technology requirements, scorers are required to have a degree (usually a bachelor's, but some companies may accept an associate degree) and be a United States citizen. Some companies will require that you pass a certification exam before you begin work.
Scheduling will vary depending on the company. Some hire seasonally, usually beginning in August, while some companies have positions available year-round.
Scorers generally earn up to $15 per hour, with some companies paying by the hour and per writing sample that you score.
ETS
ETS hires scorers to work part-time scoring students' written responses.
Pearson
Pearson hires candidates to work on a temporary basis as professional scorers.
The College Board
The College Board hires experienced teachers to score the essay portion of the SAT.
Write Score
Write Score hires seasonal scorer to score essays. These positions are not listed on their site, but are sometimes posted on CareerBuilder.
This work from home education jobs list will be updated with even more opportunities!