Are you artistic or do you enjoy creating images and graphics? One career that is in high demand and expected to grow over the next 10 years is graphic design.
You may not realize, but graphic design work is all around you – from the images you see on social media, to the flyers at the coffee shop, and the logo of your favorite brand.
Think you can do similar work?
One appealing aspect of this career field is that you can do this job completely from home.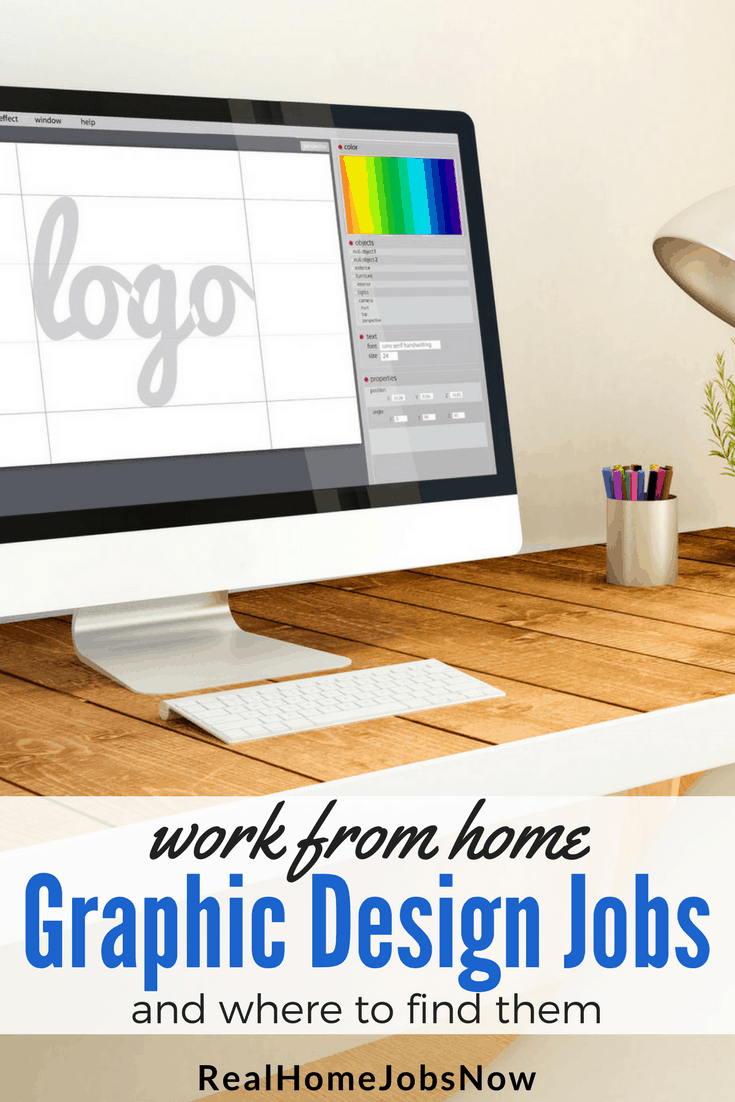 Work From Home Graphic Design Jobs
What Do Graphic Designers Do?
Graphic designers create visual concepts using computer software (or by hand), to communicate ideas that inspire, inform, and captivate consumers.
They develop design concepts for brochures, magazines, advertisements, websites and logos, and more.
What Experience Do You Need?
Graphic designers generally need a bachelor's degree in graphic design or a related field. If you don't have a degree, you could also use a graphic design certification to establish your credibility and allow you to gain some experience.
Otherwise, you could become self-taught and let your experience and work speak for itself. You can take courses online, read books, and take advantage of other resources to improve your skills.
How Much Can You Earn?
According to the Bureau of Labor Statistics, graphic designers earned an average of $47,640 in 2016 with the highest being $82,020 and the lowest being $27,950.
How To Find Work From Home Graphic Design
For home-based graphic design jobs, here are some of the best sites:
Job Boards
FlexJobs
FlexJobs hand-screens remote, part-time, freelance, and flexible jobs across a variety of job fields. You can view much of the information on FlexJobs for free, but to have access to full job listings, you must pay to join. FlexJobs starts at $14.95/month ranging to $49.95/year.
View FlexJobs work from home graphic design jobs here.
Krop
Krop is a creative industry job board and portfolio hosting website that began in 2005. You can search for work from home graphic design jobs on this site for free and create a profile website for $8.25 per month. Most of the positions are freelance to full-time (permanent) opportunities.
Start searching here for remote jobs with Krop.
Indeed
Indeed is a popular job board website that allows you to search for job leads in your field, upload your resume, review companies, and compare salaries.
Indeed is a useful resource for finding non-remote full-time jobs, as well as work from home opportunities.
Search Indeed.com for home-based graphic design jobs.
Dribbble
Dribbble is an online community for graphic designers. One of their top features is their job board which lists various graphic designer opportunities.
Many of the companies listed offer remote part-time or full-time positions. It appears that for most positions listed, you would be hired as an employee.
Start searching for jobs here.
Find even more jobs in the Work From Home Directory!  Over 200 jobs and counting…
Freelance Graphic Design Jobs
UpWork
Upwork is a popular job board website that lists opportunities for freelancers in various niches. Most of the opportunities are short-term gigs, but you may be able to find ongoing work or contract opportunities.
View Upwork's online graphic design jobs here.
Konsus
Konsus is an on-demand outsourcing resource for professionals. Konsus hires freelancers to help with tasks like graphic design, data, entry, web design, writing, etc.
Companies submit a task through the platform, and projects are automatically distributed to a team of pre-vetted freelancers based on skill and availability. Konsus hires freelance graphic designers to work 25-30 hours per week from home, and may sometimes offer full-time remote positions.
The application process is highly competitive, but you can search for the latest opportunities here.
Crew
Crew is an online platform for freelancers looking for work in fields like graphic design, software development, and small studios. They connect freelancers with legitimate work opportunities with clients on their project management system.
With Crew acting as the middleman for your freelance design projects, their platform helps things run smoothly so projects are completed on-time, within budget, and without any major issues.
Currently, there is a waitlist to become a Crew freelancer, but you can sign up here.
Authentic Jobs
Authentic Jobs is a job board that provides leads on companies that are hiring full-time graphic designers and other creatives.
Most of the opportunities listed are for traditional in-office jobs with benefits but some offer the opportunity to work from home part-time.
Search Authentic Jobs for work from home graphic design jobs.
Graphic Design Contest Sites
99 Designs
99 Designs is a site where freelancers can offer their graphic design services via "contests" on the site. Customers describe the project they need completed then choose a design package which starts the contest.
Then, you and other designers will have the opportunity to work on a design and submit it for consideration. The customer will rate, comment, and provide feedback on designs they like as they narrow down their choices. If your design is chosen, you will win the contest, get compensated, and have the ability to work with that client one-on-one for the next step or a different project.
The minimum payout threshold is $25, then your payment can be received either via Payoneer transfer or PayPal.
Design Crowd
Design Crowd is another site for freelance designers to compete for projects similar to 99 Designs. Aside from the design contests, freelancers can also create profiles on this platform so customers can see samples of their work, and invite them to work on their projects or hire them for a custom order.
HiretheWorld
HiretheWorld is a site for freelance designers to bid on gigs to design logos, websites, brochures, and business cards via a contest similar to Design Crowd and 99 Designs. You can also create your own profile on this site to showcase the designs you've created, the feedback you've received, and any featured projects you have.
48hourslogo
48hourslogo is a growing graphic design contest site that connects freelance designers with business owners needing new material whether it be a logo, website, or print designs. More than 20 new contests are hosted each day and there is an opportunity to work 1 on 1 with clients for projects. Designer payouts are sent via PayPal.
These are just a few of the top places you can search for reputable flexible graphic design work. To enhance your chances of finding a solid job or freelance gig, be sure to create an online portfolio with samples to showcase your work.
Do you have any experience in work from home graphic design?
Please share this post with your friends and family!