Yes, Canadians can work from home, too!  Home jobs are not just limited to the United States – there are many legitimate work from home jobs in Canada as well.
This subscriber-requested post gives several companies that provide home-based jobs for Canadians, in fields ranging from translation to social media content evaluation.
Work From Home Jobs In Canada
Advanis is a market and policy research company that hires home-based Telephone Research Interviewers. You will need a landline phone, a corded headset with a noise-cancelling microphone, a minimum typing speed of 30 WPM, and a personal computer with high speed internet. Positions include fully paid training and an hourly wage. Apply here.
     Appen is a language technology solutions and consulting firm offering online jobs for web search evaluators all across Canada. Typically, evaluators must be available five hours a day (flexible), Monday – Friday. Technical requirements include a computer less than three years old (PC or Mac, no tablets allowed) and high speed internet access. Appen also hires candidates for crowd sourcing projects.
     Arise offers remote call center work to Canadian residents. You must have your own business to contract with Arise, or contract with an existing Arise independent business owner (IBO). You can choose your schedule within set hours.
     Causeworx is a telefundraising company, where remote callers help nonprofits and charities raise funds through monthly giving events, reactivation, membership drives, and more. You can apply by sending your resume to hiring@causeworx.ca or call the Employee Hot Line at 888-339-8047.
     You will work as a Remote Contact Agent, an independent contractor running your own customer service call center business for ContractWorld clients. Agents typically earn an average of $11 to $16 an hour, and you can work your own schedule.
     If you are bilingual (or multilingual) you can provide phone interpretation services for CTS Language Link. Most positions require applicants to pass English and target language proficiency tests, with two years of previous experience in providing interpretation services. Remote workers can set their own schedules, logging in at any time since the call center is in service 24 hours a day.
     goFluent offers work from home jobs in Canada for Business English Trainers in Ontario, Quebec, and British Columbia. If you are bilingual or multilingual (check the site for required languages), goFluent hires in all Canadian provinces.
If you are interested in the Business English Trainer position, you will be required to work 4 hours a day, 5 days a week, with your choice of days as long as you can provide training services within specific time zones. High speed Internet, a PC/Mac computer, computer headset, and a landline are required.
     ICUC looks for experienced social media content moderators or community managers who speak English as their primary language, with a preference for those fluent in German, Italian, Portuguese, Chinese, Arabic, Dutch, Polish, French and Spanish as well. Positions are offered all over Canada, and include positions that involve monitoring social media communities. Positions are paid by the hour.
     InteliChek offers remote telephone mystery shopper positions to Canadian candidates who speak fluent French. InteliCheck is looking for shoppers who can work a minimum of 15 hours a week.
     Choose your own schedule search engine evaluation. Leapforce hires Canadians to work from home for English evaluation, as well as those fluent in other languages.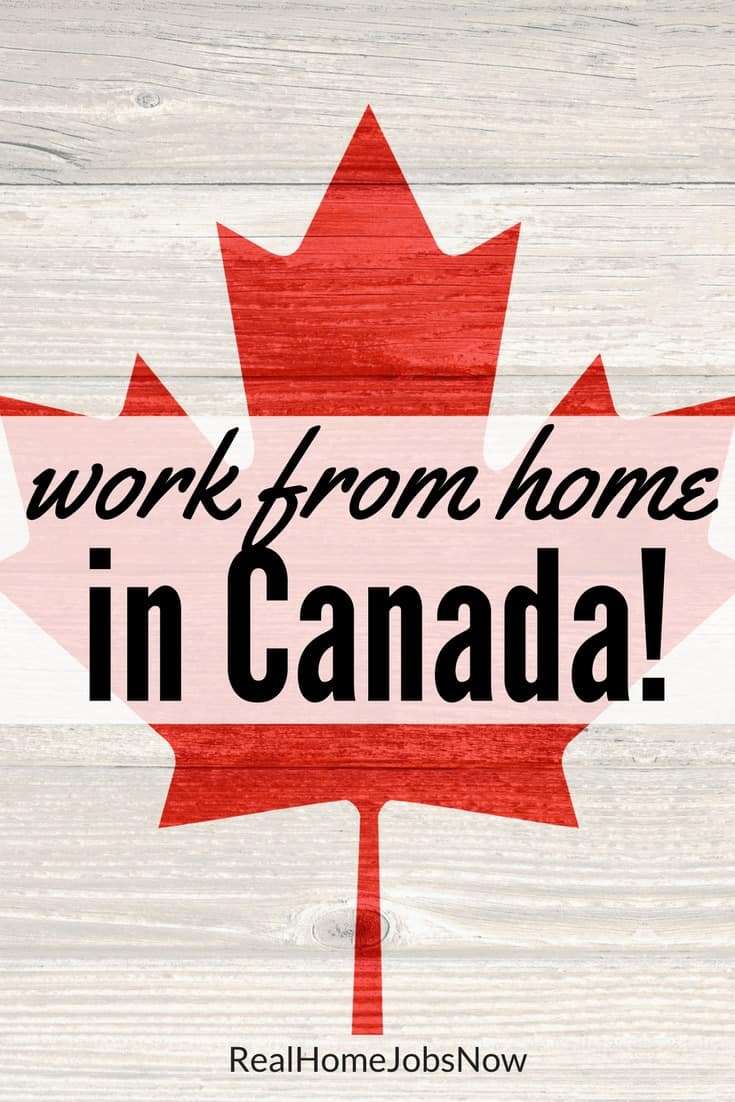 Lionbridge hires Ads and Internet Assessors across Canada.
MarketLinc provides sales and marketing solutions to IT companies.  They hire remote Sales Agents, and possibly other home-based positions.
     Pizza Pizza hires bilingual (French) work from home Customer Service Agents. You must be available to work nights and weekends. The program offers competitive wages plus a 5% bonus program.
     Shopify hires remote Customer Success Gurus and Overnight Gurus, with positions in British Columbia, Ontario, and New Brunswick. Overnight Gurus should be available between the hours of 10PM and 8AM. Most work will be done answering customer questions via email or chat, or on the phone.
     Staples occasionally posts positions for work at home customer service representatives in Canada (type "work from home" in their keyword search).
     Work at Home Customer Care professionals are paid by the hour, and available positions are offered to those in Alberta, British Columbia, Manitoba, New Brunswick, Nova Scotia, Ontario, Prince Edward Island, and Saskatchewan.
     Transcom hires Home Agent Customer Service Representatives. To apply, you must complete an employment test (it takes 30-45 minutes).
     Tutor.com hires tutors who are college sophomores or higher, and who can tutor at least five hours per week. The service is available 24/7 except for a few holidays, and you can set your own schedule.
     With U-Haul's Contact Center Work From Home Program, you can work from home anywhere in North America.  Most positions are moonlighting/part-time flexible hours.
     VIPdesk Connect provides customer support and other services for their clients.  They hire in some Canadian provinces.
     Sutherland hires in Canada for work at home customer service and technical support positions.
This list gives you a great start with finding online jobs in Canada, but I also occasionally post work from home jobs in Canada to the job leads page as well.
Share in comments if you know of other companies with work from home jobs in Canada.
Please share this post with your friends and family!
Updated:  January 18, 2018