"Are there any work from home jobs that allow Mac computers?"
I've been asked this question, and I've seen this question asked many times. Most companies are strictly Windows users with no plans to change, and there are various reasons for that.
Windows has been the standard in business for a long time, and most seem to feel that the learning curve, expense, and possible risks of changing aren't worth it.
But there are companies that hire Mac users, and I've listed several options for you.
There are also companies that provide computers and other equipment.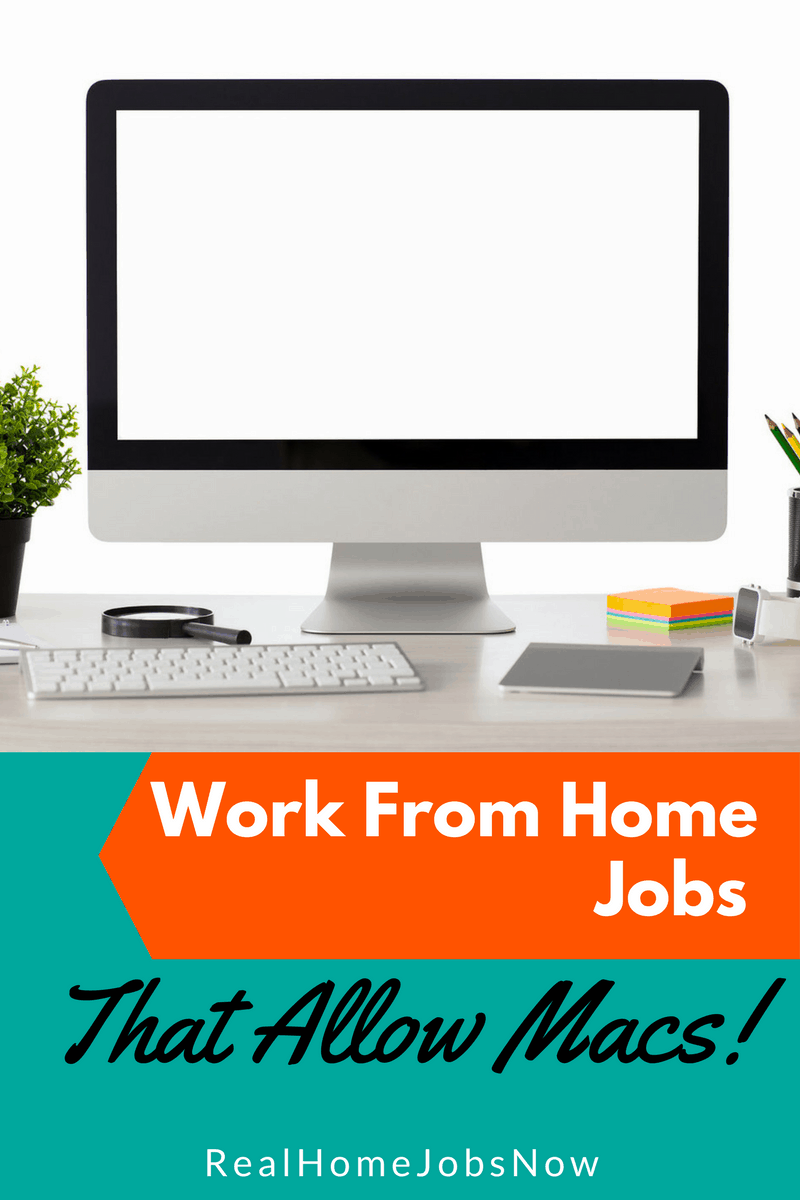 Work From Home Jobs That Allow Mac Computers
Customer Service/Support/Sales
Apple (of course!) 
Apple hires At-Home Advisors for technical support and customer service positions in multiple U.S. cities. You'll provide support for popular Apple products like iPhones and MacBooks. Apple will provide you with an iMac and headset.
Arise 
Supports Windows 7 and Windows 8/8.1, but opportunities for Mac users sometimes arise 🙂 . Please note that Arise specifically states that dual boot machines are prohibited (we'll talk more about dual booting below).
Buffer 
Buffer hires for various professional positions, and will provide you with a MacBook.
DoorDash 
Hires Order Placers to call in restaurant orders.
Foodler 
Hires Customer Service Reps in AZ, CA, CT, GA, IL, MA, ME, MO, NC, NY, OR, TX and VA. You might need to search for this position on Indeed. The CSR position is full-time, but Foodler will accommodate part-time schedules.
NexRep  read NexRep review
Work as an independent contractor Sales, Tech Support, or Customer Service agent with Nexrep. Set your own schedule and availability.
NextWave Advocacy 
NextWave hires telephone agents to conduct outreach campaigns for various public affairs/political issues. You can also be a writer for NextWave.
OrderUp 
OrderUp hires remote Call In Order Experts and Customer Experience Experts. You must live in the Baltimore, MD area since you will be required to work on-site occasionally.
Shyp 
Shyp is an on-demand courier service hiring Customer Experience Reps. Shyp will provide your equipment.
Sutherland 
Sutherland CloudSource hires for service and support positions, and Macs are allowed for some positions.
Data Entry
Lionbridge Smart Crowd 
The Smart Crowd (formerly VirtualBee) offers data entry and other types of work.
SigTrack 
Data entry for voter registration and petition signatures. You must have dual monitors.
Search Engine Evaluation
Search engine evaluators help improve the quality of search results by providing feedback about page relevance and usefulness.
Appen 
Leapforce 
ZeroChaos 
Virtual Assisting
Virtual Assistants provide the same tasks as their in-office counterparts, but they do it all remotely.
Fancy Hands 
EA Help 
Time Etc 
Website Testing
Website testers review and test various sites for ease of use, defects, and any other useful information that may be required.
Userlytics 
UserTesting 
Whatusersdo 
Tutoring
Most companies require that you hold a bachelor's degree in the subject area that you are tutoring for. You may be required to hold certain certifications as well.
Aim For A Tutoring 
goFluent 
Golden Voice English 
Other
Humanatic  read Humanatic review
You will listen to and categorize recorded business calls. Login whenever you want for as long as you want.
Shutterstock  
As an Image Reviewer or Footage Reviewer with Shutterstock, you'll review and approve images or clips based on Shutterstock's standards. These positions are available internationally as well. You can also sell your photos online with Shutterstock.
Other Work From Home Jobs That Allow Macs
BSG – Customer Service
Axion Data – Data Entry
DionData Solutions – Data Entry
Telenotes – Transcription (via dual boot – see below)
TED – Customer Support (you may be provided with a Mac for some positions)
Williams-Sonoma – Customer Service
Amazon – Customer Service
Companies That Don't Allow Macs, And How You Can Work For Them Anyway
If you choose this route, please know what you're doing.  Make sure you understand any associated risks, and if it's even a viable workaround for the company you are considering.
A dual boot machine is a computer that has two operating systems. A multi-boot machine has more than two operating systems.
With dual-booting, you can install Windows on your Mac, and only run Windows when necessary. This process usually involves partitioning your hard drive (usually with Boot Camp), but there are virtual options as well.
Again, some companies (like Arise as mentioned above) expressly prohibit this practice.
If you know of other work from home jobs that allow Mac computers, please share in comments.  If you're a Mac user running Windows to work from home, please share that, too!