Two of the most common work from home misconceptions are that jobs tend to be only low-paying micro job opportunities, or that you can earn a killing online after only putting in minimal effort.
While there are quite a few minimum wage online jobs out there, there are still plenty that pay $10 per hour or more, or a livable wage of at least $15 per hour.
More and more companies are now expanding opportunities to accommodate telecommuting workers who can perform the responsibilities of their position without being confined to an office.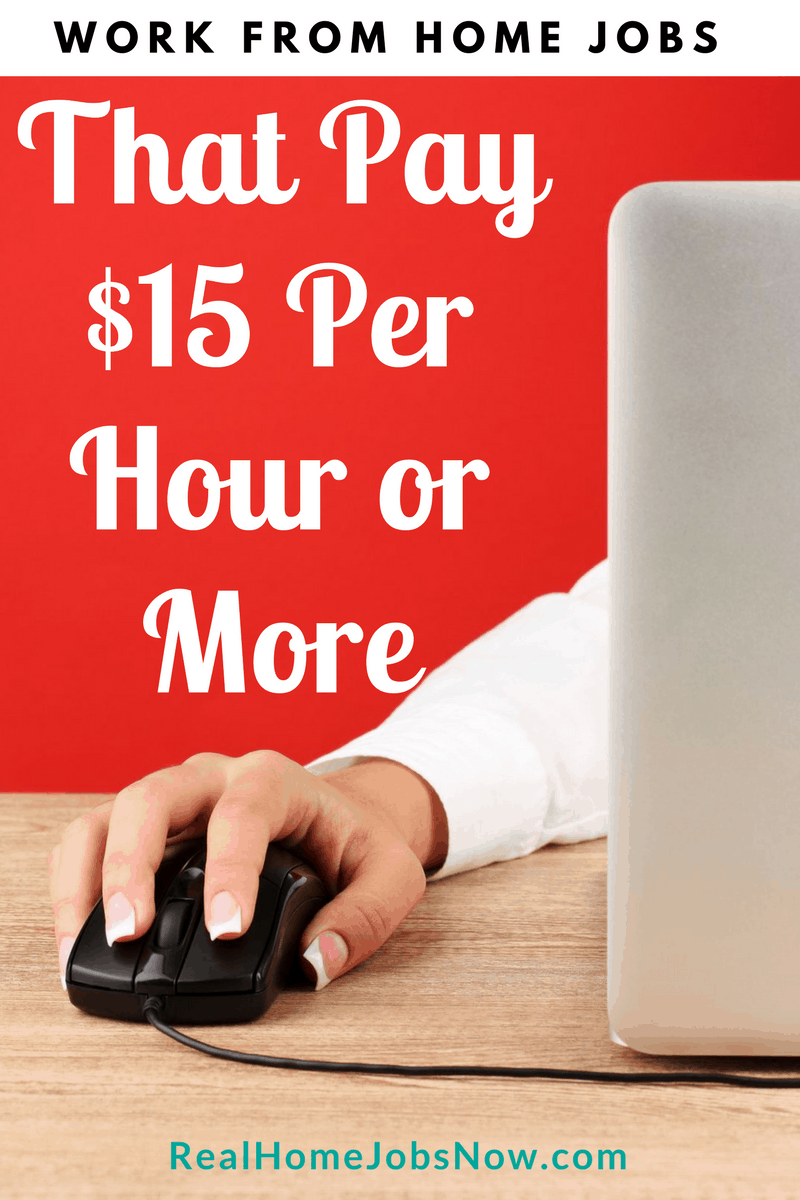 These companies offer work from home jobs that pay $15 per hour or more.
1. American Express
American Express hires virtual team members in the U.S. only, but the locations vary.
American Express was named one of the top 20 companies for remote jobs and offers positions in fields like customer service, travel, sales, human resources, and more. Minimum starting pay is over $15/hr for a full-time employee.
2. Pleio
Pleio is a virtual call center with call center agents who call patients and remind them to take their medications. According to an employee's review on Glassdoor, callers make money for each call completed, they can pick their own hours, and on average earn $17-$21 hourly.
The hiring process can take a minimum of one week. Once you apply, you need to complete a screening process, pass testing, and complete a mock call.
3. Chegg
You might have heard of the popular textbook website called Chegg, but you may not know that they allow tutors to earn money by connecting with students who need help with certain subjects.
Chegg tutors make a minimum of $20 per hour, and on Chegg's website they state that tutors can make $1,000+ per month. While the hourly rate is high, this doesn't sound like a full-time job but it could be a nice side income opportunity.
Chegg tutors are paid weekly and receive leads from the popular website so they can virtually tutor students without having to do any marketing to advertise their services.
4. Stitch Fix
If you love fashion, you may be interested in working as a personal stylist with Stitch Fix.
Stitch Fix is a popular online personal styling service. When someone signs up for Stitch Fix membership, they fill out their style preferences and are matched with a personal stylist who handpicks items they might like. Stitch Fix ships the clothing to the member's doorstep.
Members pay a $20 styling fee to have the clothing shipped to their home. If they like a particular item and want to buy it, the $20 styling fee will be applied to the price as a credit. If they don't want to purchase anything, they'll simply send the box back.
Stitch Fix is now hiring stylists in certain areas across the U.S. including San Diego, Austin, Cleveland, Ohio, Los Angeles, Minneapolis, and more. Stylists work and train remotely, have flexible hours, and earn $16 per hour to start.
However, it's important to note that Stitch Fix requires stylists to work an average of 15 hours per week according to reviews on Glassdoor. This position would be great to supplement your income and serve as a second job.
5. Rosetta Stone
Rosetta Stone is a software company that helps clients learn a new language with their education software. The company has been around for several years and hires for remote language coaching positions that pay up to $17 per hour.
Rosetta Stone offers benefits like a 401(k) plan, health coverage, tuition reimbursement, and more.
6. Appen Butler Hill
Appen Butler Hill has been named by Forbes Magazine as one of the Top 100 Companies Offering Flexible Jobs in 2014, 2015, and 2016.
The digital research firm hires virtual search engine evaluators starting at $15 per hour. Applicants need a high-speed internet connection and a working computer.
7. Worldwide 101
Worldwide 101 is a company that matches virtual assistants with paying clients. Qualified individuals will hear back within 14 days of applying and must complete 2 video interviews along with testing, submitting references, and passing a background check.
Virtual assistants work a maximum of 25 hours per week and earn between $15 to $20 per hour depending on skills, experience, and seniority.
What to Keep In Mind
Clearly, there is a wide selection of work from home companies with jobs that pay at least $15 per hour. While this is a decent living wage in most areas of the country, you must keep in mind that some positions are not full time and may only provide a part time income.
That being said, it's important to carefully read through the job description when you are considering applying for a work from home job to make sure you understand all requirements of the role, and that you are qualified for it. Some jobs may require that you work a set schedule, while others allow you to choose your own hours.
It's important to understand all those details first, then actively apply for the job of your choice. Good luck!
Do you know of more work from home jobs that pay $15 per hour or more?