One of the many misconceptions about working from home is that there aren't any work from home jobs with employee benefits. Not only are there virtual jobs that offer health insurance and other benefits, there are a lot of them!
I worked over 500 miles away from headquarters in my last full-time job, and received the same benefits package as employees who did not telecommute, and so can you.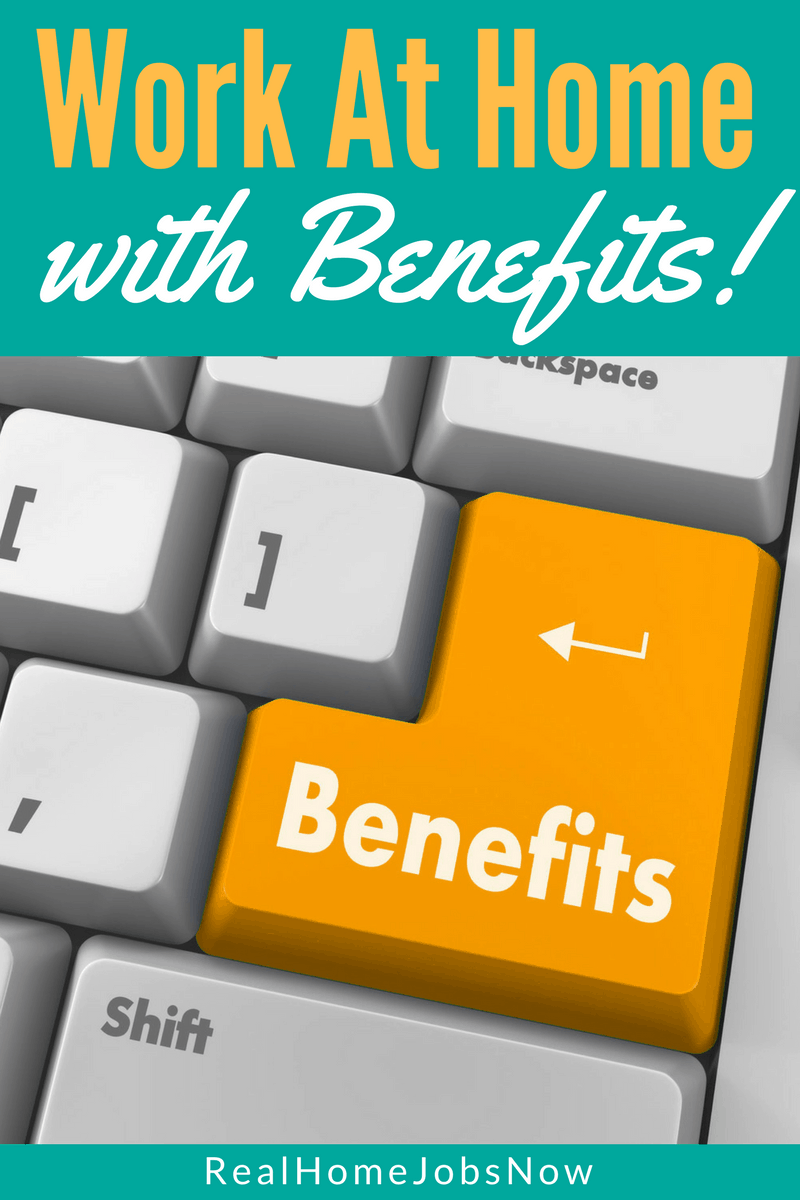 Work From Home Jobs With Employee Benefits
Some positions are location-specific.
In most cases, you will need to work full-time to receive benefits.
All companies listed here offer a minimum of health insurance (* unless otherwise noted), and most companies offer much more in their benefits packages.
Though there are plenty of companies here, this list is not exhaustive, and will be updated regularly.
1. ABC Financial
ABC Financial hires customer support and tech support representatives. Not only will you receive benefits as a full-time employee, ABC Financial provides equipment, too!
2. Automatic Data Processing (ADP)
ADP provides business processing and cloud-based solutions including human resources, payroll, and benefits management. Various professional positions at ADP are eligible to work from home such as jobs in project management and sales. Search for "work from home" or "home office".
3. Aetna
Aetna is a leading health insurer hiring healthcare and allied health professionals for home-based work. Use the Potential Telework Position option to search the at home positions.
4. Amazon
Many people know that Amazon hires work from home contact center agents, but Amazon also hires people to work in sales, management, IT, and other fields. Amazon hires in the United States and other countries around the world. View remote career opportunities directly from the main jobs page.
5. American Express
American Express hires travel agents and customer service agents to work from home around the world. In addition to day one benefits, AmerFican Express offers 401(k) and other perks.
6. Apple
Apple hires At Home Advisors, Team Managers, and Area Managers to serve Apple's customers in service and support roles. Part-time employees also receive benefits at Apple, including product discounts.
7. Best Western
Work as a reservation agent based in Phoenix, AZ.  Best Western also has other work from home jobs with employee benefits.
8. Capital One
Capital One hires customer service representatives to work from home with benefits. I've seen this position offered in Florida and Virginia only, and candidates are required to live within 100 miles of Tampa, FL or Glen Allen, VA.
9. Connections Academy
Work from home jobs with employee benefits include online teacher, tutor, administrator, or many other home-based education positions.
10. Princess Cruises
Hires work at home customer service agents in California. Cruise and travel privileges are part of the benefits package!
11. Sutherland Global Services
Sutherland hires for a variety of positions, including technical support and sales, customer service, and gaming support.
12. Enterprise Holdings
Enterprise hires work at home reservations, customer service, insurance support, and escalations support representatives. Rental car discounts are part of the benefits package.
13. GE
Hires remote customer service agents and other professional positions such as project managers.
14. GitHub
GitHub hires remote employees around the world in support positions from customer care to engineering.
15. Ecolab
Ecolab hires remote customer service agents. I've only seen this position offered part-time, but Ecolab still provides medical and dental benefits.
16. Groupon
Groupon hires work from home customer service representatives.
17. * Hilton
Hilton hires remote reservations sales associates and customer care coordinators. These positions have been offered on a part-time basis, and though healthcare benefits are not included, part-time employees receive PTO, 401(k), Hilton's incentive program, and travel discounts (these jobs may be offered full-time in the future).
Hilton also provides some equipment. I've also seen a full-time remote project manager position.
18. Alorica
Hires at home agents to process incoming customer service calls.
19. HSN
Candidates must live in/near St. Petersburg FL, Roanoke VA, or Nashville, TN to work at home as a sales or service agent.
20. Convergys
Hires home agents with a full benefits package, including tuition reimbursement.
21. Support.com
Support.com hires Remote Services Technicians, Client Services Technicians, and Remote Guest Services Technicians to work from home.
22. Disney
Disney occasionally hires Guest Services Representatives to work at home.
23. Carlson Wagonlit Travel
Hires experienced travel and support professionals.
24. A Place For Mom
Hires Senior Living Advisors (sales) in various locations. In addition to employee benefits, you will be provided with a computer (LINK).
25. Alaska Airlines
Work remotely as a Reservations Agent. I've seen this position offered in Idaho and Washington, but it may be offered in other locations.
You are eligible to work from home after six months of employment, and you will be required to join a union.
26. Expert Global Solutions (EGS, formerly APAC)
EGS hires part-time Customer Service Representatives, and they have also posted a home-based Team Leader position. It appears that part-time employees receive a full benefits package!
27. Best Buy
Earlier this year, Best Buy posted two at home jobs with benefits – Support Chat Agent and Fulfillment Agent. Both were overnight positions, and may not be available often.
28. Blackboard
Blackboard hires remote Customer Service Advocates.
29. Coach
Coach may not have home-based positions open often, but they were looking for an HR Service Center Representative earlier in the year. Search using "remote".
30. CVS
CVS hires Call Center Representatives, Call Center Supervisors, and other positions for home-based work. Search "work from home" on the careers site.
31. Sitel
Work at home agents with Sitel receive benefits, and only need to supply internet service and a monitor.
32. FROSCH
FROSCH hires experienced virtual travel agents for both corporate and leisure travel.
33. SYKES Home
Hires customer care professionals in 40 U.S. states and eight Canadian provinces.
34. Intuit
Intuit hires seasonal Tax Advisors, Tax Support Specialists, and other positions as home-based employees.
35. Doximity
Doximity says that it is "the largest professional network for U.S. healthcare professionals".  Doximity hires customer service professionals to work from home with full benefits.
The company has posted an email tech support position, as well as a remote Client Success Manager position.
36. UnitedHealth Group
UnitedHealth has telecommute jobs available in various disciplines – from nursing to business analysis.
37. Anthem
Anthem, formerly WellPoint, is a health benefits company that hires nurses and allied health professionals in telecommuting positions.
38. Connections Academy
Free online public school for K-12 in participating school systems. They hire online teachers and other virtual staff.
39. K12
Hires state certified teachers for K-12 students enrolled in online public and private schools. They hire online teachers and other virtual staff.
40. Humana
Humana is an insurance company that hires in the United States and the United Kingdom.
41. Edgenuity
Hires licensed teachers as virtual instructors.
42. Buffer
The entire Buffer team, regardless of role, works remotely.
43. Marketlink
Hires At Home Agents in Wichita, KS and Des Moines, IA.
44. Nordstrom
As a Member Care Representative, not only can you work from home with benefits, you'll also receive a CPU for work (you provide monitors, keyboard, and mouse).
45. Concentrix
Work as a Product Support Advisor with benefits in all states except California, Vermont, and Alaska.
46. Transcom
Transcom hires Home Agents in the United States and Canada.
47. Carnival Cruise Lines
Though the position may not be available often, Carnival has hired Vacation Planners to work from home.
48. Paychex
Paychex hires for various home-based positions (HR, sales, and more), and you'll find a link on the Careers page for opportunities available anywhere in the US.
49. The Hartford
Hires Claims Representative, Investigators, and other positions to work remotely.
Do you already have a home-based job with employee benefits?  Share in comments!