If you want a work from home phone job, but you don't have or want a landline phone, you're in the right place. This list of companies will give you options to work from home with your cell phone or via your internet connection.
When using your internet connection to support calls and the applications necessary to do your job, technical requirements become even more important. You have to be able to maintain call quality and work efficiently all based on your computer and internet, so make sure everything meets or exceeds what is required.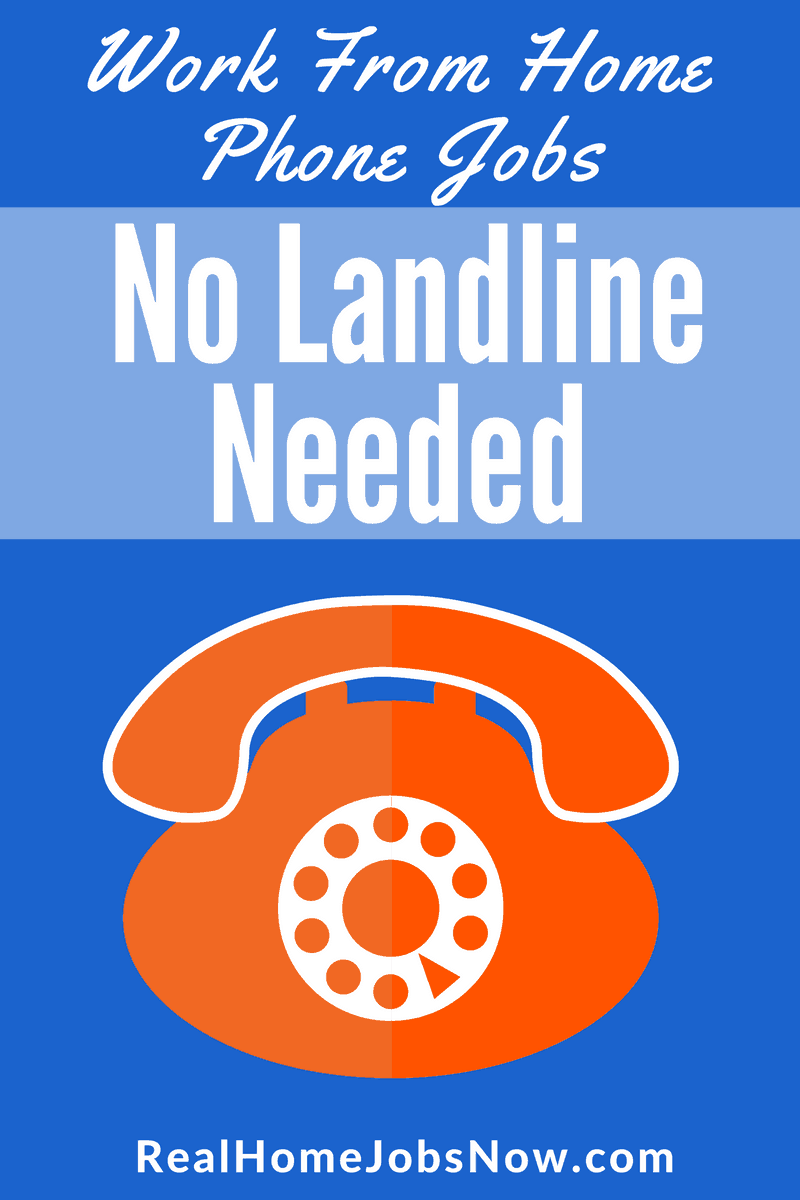 Phone Jobs With No Landline Needed!
Employee Work From Home No Landline
Convergys
Work at home customer service. You will need a landline or cell phone for training, but live calls are over your internet connection (VOIP).
U-Haul
Work from home customer service and sales. For some positions, training will be be at the corporate office (Phoenix, AZ) and/or may be location specific.
Transcom
Customer service and technical support. Select "Agent Positions North America and Asia".
Sitel
Customer service and technical support.
Apple (At Home Advisor)
Customer service and technical support.
Enterprise Holdings
Enterprise Holdings includes Enterprise Rent A Car, Alamo, and National. Hires work from home reservations, customer care, and escalations agents.
Support.com
Technology support and services. Hires remote services technicians for phone and chat.
Sutherland
Customer service and technical support.
XACT Telesolutions
Call Center services. Some positions require that you submit pictures of your workspace and laptops are not permitted.
Marketlink
Call center services. Marketlink prefers previous call center or work from home experience.
Independent Contractor Work From Home No Landline
InteliCheck
Telephone mystery shopping.
OnPoint Advocacy
Work as an Advocacy Coordinator making outbound calls to educate the American public on various issues. You must be interested in current events.
NexRep   read review
Sales and customer service.
Parameds.com
Medical records retrieval. Please note you will be paid by case with this company.
Pierce-Eislen
Telephone mystery shopping. You will call apartment complexes in the Rent Surveyor position to ask various questions.  Background noise is acceptable since you will call complexes to act as a typical customer. Pierce-Eislen conducts rent surveys seasonally.
CallCenterQA
Telephone mystery shopping. Candidates across the United States are accepted.
Fancy Hands
Fancy Hands hires virtual assistants. As I was researching, I read that with Fancy Hands phone jobs pay more.
Zirtual
Zirtual hires full-time virtual assistants paid by the hour. Though VA jobs aren't technically phone jobs, they will require making calls on behalf of some clients.
NextWave Advocacy
NextWave hires work from home telephone outreach agents to educate the American public about various issues. As with OnPoint Advocacy you must be interested in the news and current events. This is project-based work with projects of 2-12 weeks. Also hires home-based writers with no experience required.
teleNetwork
Customer service and technical support services.
PharmMD
Clinical analytics and medication management services. You must be an RN, LPN, NP, pharmacist or have a "similar pharmacotherapy background" to work as a Medication Case Manager from home.
If you know of any other phone jobs that let you work from home with no landline, or if you have experience with any of the companies listed, please share in comments.