Work from home nursing jobs are on the rise as healthcare companies try to provide both excellent service and cut costs.  If you want to be a work from home nurse, the possibilities have never been better!
As a nurse, you may think that your direct care experience won't be helpful in seeking a job that allows you to work from home. Fortunately work at home nursing jobs, particularly for RNs, are growing.
Though most companies that allow nurses to telecommute are looking to hire RNs, many hire LPNs/LVNs as well.
Take this work from home nursing jobs list to-go! Download it here, PLUS get home-based jobs for nurses and other healthcare professionals right to your inbox.
Most of these remote nursing positions involve telephone-based patient service or reviewing medical records.  A few work from home nurse job titles to search for are telephone triage, case manager, and medical records reviewer.
The companies listed will give you a great starting point to begin looking for these types of jobs.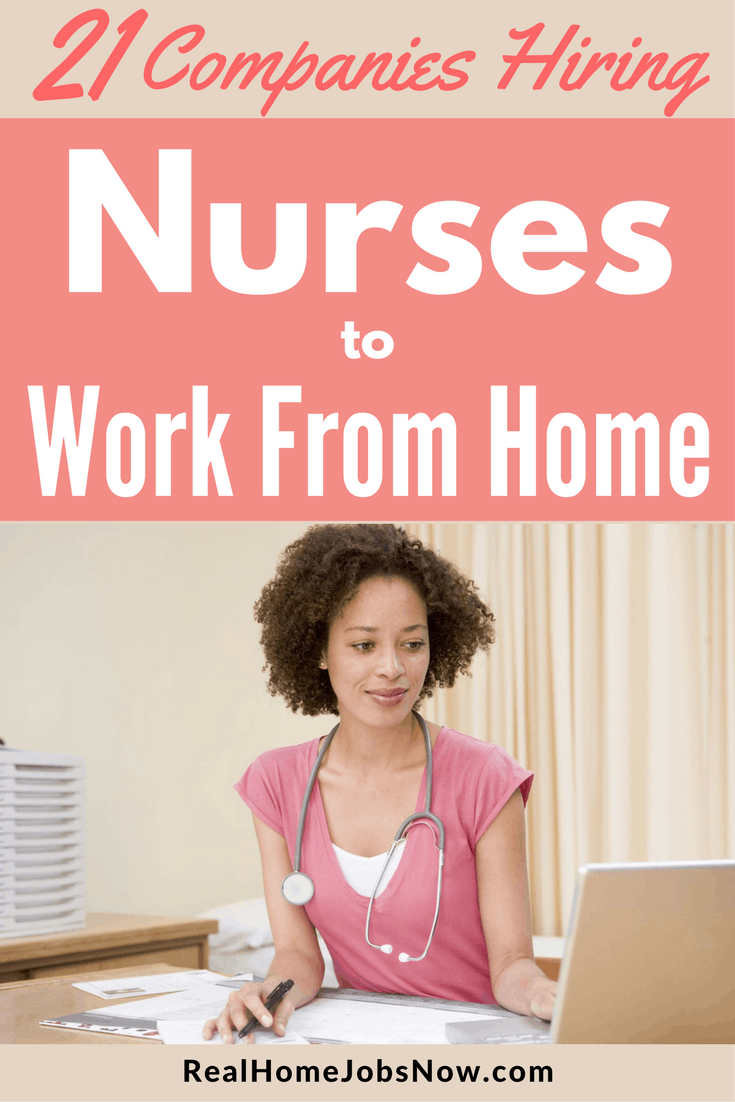 21 Companies Offering Work From Home Nursing Jobs
Aetna is an insurance company with multiple positions that allow you to work from home. Some of their nursing positions require you to be an RN, but others allow LPN/LVNs. They offer their employees continuing education, the chance to work towards additional certifications, and reimbursement for licensing expenses.
Alere develops and manufactures medical diagnostic products. It isn't always clear on the website which jobs allow the employee to work from home, but there are opportunities available if you have a minute to search.

Anthem, formerly WellPoint, is a growing health benefits company. Some of the work from home nurse jobs can be found under "Membership and Enrollment," "Claims," and "Customer Service."
Best Doctors is a benefit that is offered by some employers and insurance companies. Their experts review medical records to provide a second opinion, or provide support to the patient in deciding which treatment option to take.
Catamaran offers pharmacy benefit management that works to keep healthcare costs down by maximizing communication between patients, caregivers, pharmacists, and other members of the medical team. Most of their positions for nurses require a bachelor's degree in nursing, and often the ability to get licensed in multiple states.
Cigna is an insurance company with open positions worldwide. They hire LPNs, RNs, counselors, and other health professionals from a variety of backgrounds to improve their customer service and clinical outcomes.
Express Scripts, a mail order pharmacy, has virtual jobs available in nursing, pharmacy, customer service, and other professions.
Humana is an insurance company that hires in the United States and the United Kingdom.
McKesson is part of the supply chain for many medical and pharmaceutical products. Their customers are typically businesses, not end users. Use the keyword "remote" when searching jobs from the Careers page.
PharmMD, based in Nashville, focuses on communication and collaboration between patients, pharmacists, and physicians. They don't appear to have many work at home nurse positions currently open, but keep checking back because they do allow some positions to work remotely.
The Hartford offers a variety of insurance products and services. They offer work from home nursing jobs primarily in case management.
UnitedHealth Group is a health insurance company with multiple work from home nursing jobs. Searching for "telecommuting" in their career search brings up over ten pages of open positions.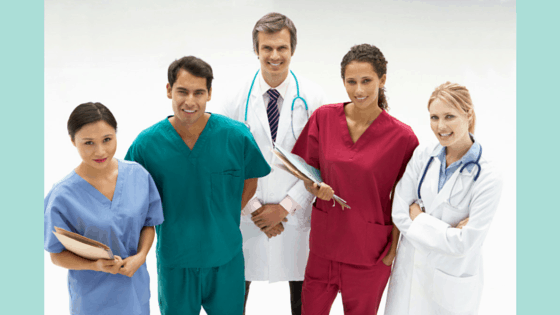 Work From Home Nurse Jobs in Telephone Triage
The following companies have jobs available for nurse telephone triage. This service is often contracted by doctor's offices for after-hours contacts. Sometimes insurance companies have openings for this position as well.
When a patient calls in, the nurse listens to their concerns and symptoms and helps them decide if they can wait for a doctor's appointment or seek immediate medical care.
Carenet nurses are there 24/7/365 for patients. They provide triage, remote device monitoring, and support for medical decision making. Their work from home position requires an RN in specific states.
Fonemed provides a nurse advice line, remote device monitoring, and emotional support for mental health. Their jobs require experienced RNs, with emphasis on emergency room triage and pediatric experience.
Citra Health Solutions (formerly SironaHealth) provides a nurse advice line with focus on general health information, self-care advice, referral to a physician or other health services, recommendations about how urgent a particular issue might be, and can escalate a call to emergency services when necessary. They employ nurses in specific states.
More Companies Hiring Home-Based Nurses
Find more options at the healthcare work from home directory page.
If you know a nurse who can benefit from these work from home nursing jobs, please share this post!
Updated: