Update: West At Home is now Alorica At Home as of early 2015.  Alorica acquired several of West's agent services businesses.  The links in this post will lead you to the Alorica At Home site.  

About West At Home (now Alorica At Home)
Through the West At Home platform, West Corporation was one of the best known employers of home-based contact center agents.
Founded in 1986 and headquartered in Omaha, Nebraska, West Corporation is a global company providing communication and network infrastructure services.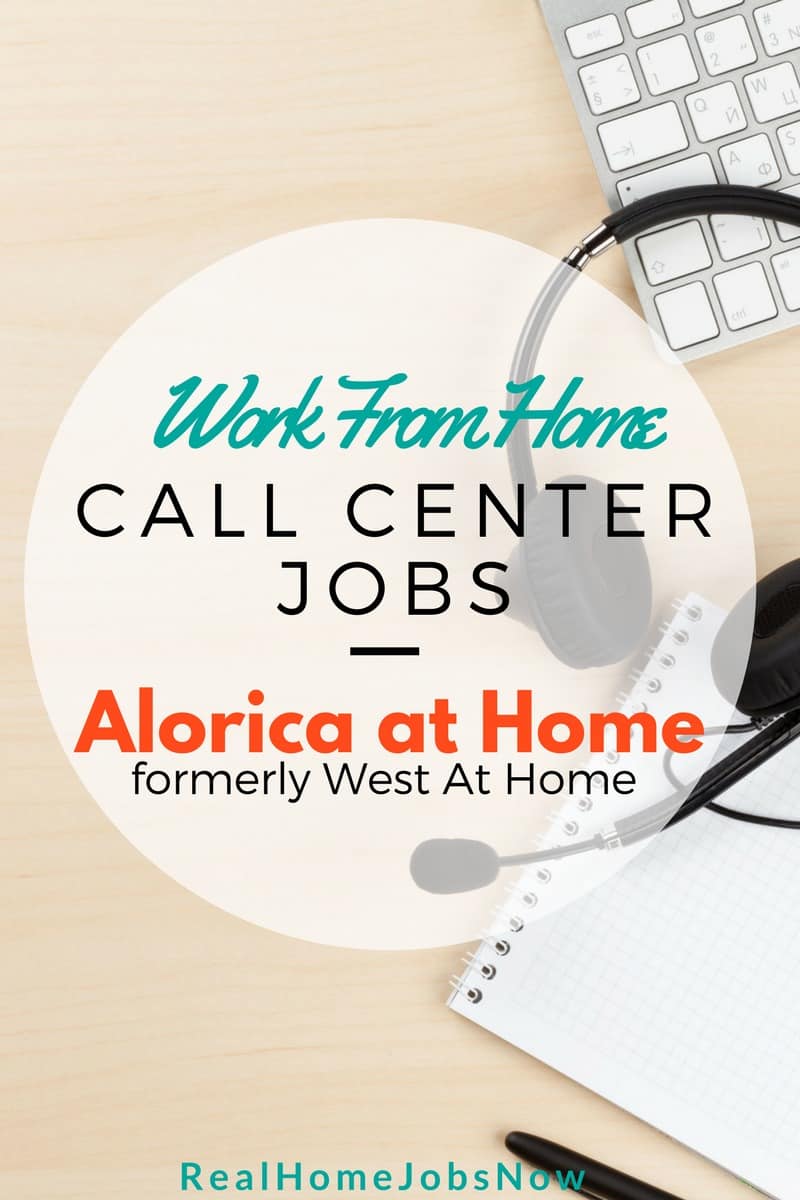 Working for Alorica At Home
Alorica At Home hires customer service, sales, and technical support agents to represent a variety of clients, mostly via inbound calls. Job responsibilities may include answering billing questions, general sales, and/or direct response sales (order processing from people responding to TV ads/infomercials).
You may also communicate with customers via chat or email depending on the client program.
You will be hired as an employee who is eligible to receive benefits.
Training is paid at an hourly rate and conducted in an instructor-led virtual classroom. Some projects may require that you complete self-paced computer training.
You'll provide support for one of several clients.  West at Home's clients included HSN, GE, ProFlowers, ShopNBC, and many more.  It is likely that Alorica at Home retained many, if not all, of West's clients.
How Much Does Alorica Pay?
You will always be paid at least minimum wage for your state, and there may be commissions or bonuses for some clients.  Pay may be per minute, per call, or hourly, and it depends on the client you work for.  
Alorica says that average pay is between minimum wage and $10 per hour.
Related – Work From Home Making $15 per Hour or More
Location
Alorica At Home only hires agents in certain states, and in some cases, only in certain counties in those states.
If you are interested in working for Alorica At Home, you will find out immediately if you live in an eligible state and county when you start the application process.
Screening
You must pay for and pass a background check. Currently the cost is $31.07.
Scheduling
Alorica gives you a combination that is rarely offered: employee plus flexible hours.
Even though most people seem to enjoy the employee status while still having the flexibility to make their own schedules, many West employees complain about the lack of available hours. 
Technical Requirements
Alorica At Home's tech requirements are fairly standard.  You must have
PC (Macs are not supported)

Latest version of Windows Operating System

Minimum 1 GB RAM

Headset

Landline phone service with no features (no voicemail, answering machines, call waiting, etc.)

Internet Connection: DSL, cable, or fiber optic (no dial-up, satellite, or 4G wireless connections)
Related – 26 Work From Home Jobs that Allow Mac Computers
How to Apply
You can review the work at home program and apply here.
If you're already working for Alorica At Home, or you have experience with Alorica please share in comments.