Working Solutions was established in 1996, and they state that they were the first company whose workforce was made up entirely of home-based sales and service agents.
More than a million people have applied to Working Solutions, and they currently have approximately 110,000 active agents.
Read on to find out how to become one of the 10%… 🙂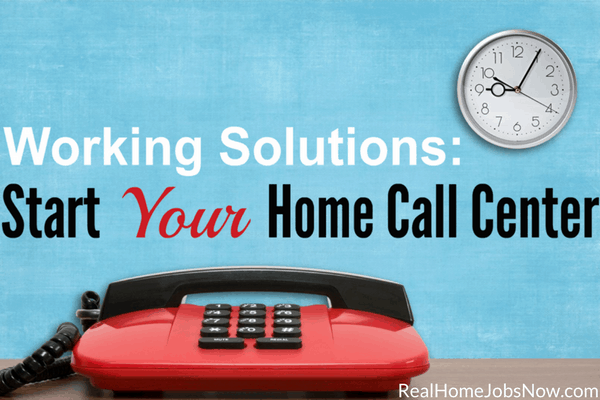 Working Solutions Review
Working Solutions contracts with businesses in a variety of industries including travel and hospitality, healthcare, and communications.
As an at home agent, you will provide customer service, sales, and/or tech support for your assigned client.
Working Solutions matches your professional background with their clients' needs, and in some cases they will require specialized experience.  As long as you have general customer service or sales experience, you will likely find a position that interests you.
You can even choose to work on up to two programs at a time, as long as you meet eligibility criteria.
All agents are independent contractors, and you will receive details regarding your assignment before you sign the independent contractor agreement and begin training.  
Most of your interactions with customers will be via phone, but there may be some email communication as well depending on your program.
Related – LiveOps – Start Your Own Call Center
Training
You will undergo training for a few days to a several weeks depending on the client. You must meet program requirements to receive pay for training.
When I was an agent, there was also a small number of production hours that agents had to meet in order to invoice for the training period.
Training is at no cost to agents.
What Does Working Solutions Pay?
Pay rates and methods vary from one program to another, but Working Solutions states that agents typically earn between $9 and $30 per hour.  Some projects measure pay based on active talk time, while others are based on sales.
You can have payment direct deposited to your bank account, or they will mail you a check twice a month.
You also have the opportunity to make extra money for referring other agents to Working Solutions. You'll earn $100 for every agent that meets all requirements.
Scheduling Details
You will set your own working hours, but there is typically a minimum required – usually 20 hours a week during the client's operating hours.  Weekend work is required for most programs.
Working Solutions gives priority scheduling to agents who consistently perform well and maintain their schedules.
Technical Requirements
The technical requirements are standard, but please note that Working Solutions requires:
• Landline phone service
• Internet Explorer
• Windows operating system
• No wireless connections
Review the FAQs for a complete listing of requirements.
Other Requirements
Working Solutions hires nationwide.
You may be required to pass a background check, including social security number verification and a criminal history check.
Agent Reviews
Working Solutions has received more than 200 worker reviews on Glassdoor.com, and 72% say that would recommend the company to a friend.
Many past and current agents appreciate that the service allows them to maintain flexible working hours. They also tend to agree that payment is fair, even if it does vary from one project to another.
My own Working Solutions review is favorable. I worked with them a few years ago, and it was the most enjoyable independent contractor position I've had for call center work.
My program was with a hospitality client. I didn't mind the work, and the Working Solutions team was organized and responsive.  Most of the time I actually considered it fun! I only left Working Solutions due to a personal issue that I knew would require a lot of my time. Otherwise, I would have stayed on much longer.
The Application Process
Review active opportunities, and apply directly from the job posting.
When you submit your application, Working Solutions includes a scan of your computer to ensure that it meets certain technical requirements, so apply from the computer that you will use for work.
You will then complete a series of assessments. You will not get a second chance to pass, so make sure you have time to focus without interruptions before you begin.
If you're qualified for any open programs, Working Solutions will contact you via email.
You only need to apply once to be considered for all open programs, so don't give up if you don't hear from them right away.
Do you have a Working Solutions review?  Please share your experiences in comments.